If you're starting a new job, these guys will give you free knickers – true story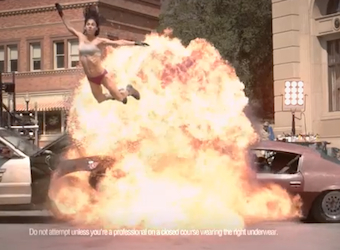 US-based underwear company Fruit of the Loom is giving away 25,000 pairs of underwear to LinkedIn members who have recently started a new job. The promotion, called 'Fresh Gigs', is working as part of the larger Start Happy campaign, aimed at proving the 'power of positive underwear' in everyday life.
On 22 October, the company will send a message to  LinkedIn users who have switched jobs within the last 30 days asking their size and preferred type of underwear. Fruit Of The Loom will then ship a free pair of knickers out straight to their door and on the box, a simply message saying: "Contents: A Fresh Pair for Your Fresh Gig."
The #starthappy campaign is already causing a stir on social media, with a TV spot getting plenty of attention on YouTube featuring a women working as a stunt double in her Fruit of the Loom underwear. Take a look.
http://youtu.be/CoqOCW4qERg