Reaching highly engaged audiences on Twitch: Interview with Ricky Chanana
With Australian TV viewership on the decline, brands, advertisers and marketers are beginning to look to digital platforms to reach highly engaged audiences.
We recently spoke with Ricky Chanana, head of sales ANZ at Twitch, about creating communities and connecting with Gen Z and Millennial audiences through live streaming.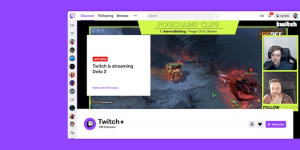 Twitch is the largest live streaming platform on the internet right now. It initially built a reputation in the gaming industry and is now used by millions of people to stream content and build active and engaged communities. For advertisers, Twitch is beginning to be recognised as an opportunity to target Gen Z and Millennial audiences at a high frequency.
Locally the Twitch team has seen notable growth over the last six months, with Chanana thinking of ANZ as a 'significant' target market for the platform.
Since regional operations launched in January 2020, Twitch's ANZ sales team has run campaigns with Sony, Dell, Mars Wrigley 5 Gum, Dare Iced Coffee and UnLtd, and cemented partnership deals with brands such as the National Basketball League.
Chanana believes that advertisers' perception of Twitch as a 'gaming' platform has changed, particularly during the COVID-19 pandemic, where it's seen organic growth in other areas, particularly music and sports. Recently rapper Logic (real name Sir Robert Bryson Hall II) made waves when he signed an exclusive deal with Twitch. Then there are comedians, like James Buckley, who have been using the platform for wildly popular live streams.
Chanana says that a big draw of the platform is beyond its audio and visual capabilities, but rather in users' ability to have live conversations with a community of like-minded people while streaming. During COVID-19 this need for connection has only intensified.
"Our content creators are creating anywhere between 35 to 40 hours a week – that is a lot of live content being created. So in the absence of live sports and in the absence of live gigs, people are coming onto our platform and going, 'I can relate with this person because he speaks my language'," says Chanana.
Twitch is a platform that connects with young people who are not reached by traditional TV. "Thirty-nine percent of our audience is not reached for traditional TV. In fact, nine percent do not watch TV at all. So what we are seeing is that Gen Z and Millennial people are coming onto the platform because they trust each other. They trust the content creators and trust that community because they find their tribe and they continue being on the platform for longer hours."
Advertisers and marketers are permeating streams via campaigns with influencers and content creators. Chanana believes that forming these relationships with influencers allows advertisers to create a relevant strategy for a community who have "their own lingo, their own rules". 
Other brands are using creative means, like custom built games, to create unique campaigns. "We launched one of the biggest non-endemic travel campaigns with Tourism New Zealand, [which is] a virtual game released on Twitch exclusively. It shows that Tourism New Zealand really understood the streaming platform and created a virtual game… and used one of the top influencers, Loserfruit, to activate that."
Twitch is a diverse option for marketing and advertising efforts – if a brand understands the platform and works in a collaborative way. 
"What they need to do is work with the platform and the creators to make something bottom-up rather than top-down. And if that is a content integration, if that is custom creative or something bespoke, that's where the real value is."