Exciting times for Snapchat, but will the social media fairytale last?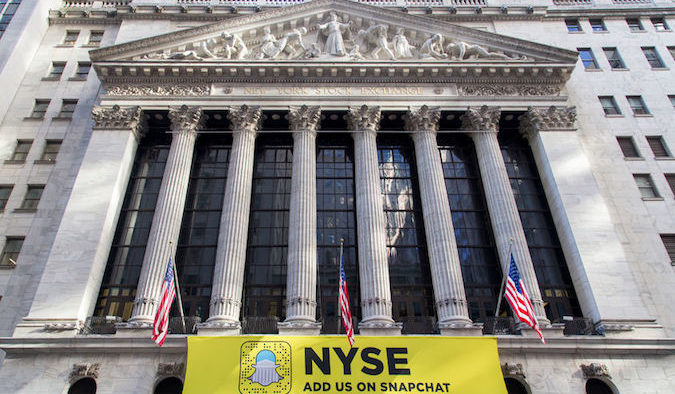 Snap Inc's growth to-date and IPO last week mean it's a social platform with real opportunity, but some sceptical analysts are calling for a reality check.
Snapchat's public trading on the New York Stock Exchange – which began last week on 2 March – is another step in its optimism for its potential growth.
Forrester senior B2B analyst Jessica Liu, with Melissa Parrish, Laura Naparstek, Wei-ming Engelman and Christine Turley, warns the optimism should come with a dose of scepticism and raises a few key considerations.
First of all, Facebook's success is an anomaly. When Facebook went public in 2012, it had 483 million global daily active users (DAU) and US$3.7 million in revenue. Today it stands at 1.2 billion global DAU and $8.8 billion in revenue.
With Snapchat's 158 million global DAU and $404 million in revenue, it "would be foolish to expect a similar trajectory," says Liu. "It would do well to temper its expectations to the more realistic growth trajectories of pretty much any company other than Facebook.
Liu's article, 'Quick Take: Snap Aims to Capitalise on Social Millennials with IPO,' also issues a warning to marketers and advertisers rushing to the platform.
Wall Street has been celebrating Snap Inc's growth, while advertisers gravitate to its 'cool', but it has to grow users and advertisers for the growth it hopes to achieve. Before you jump on the bandwagon, says Liu, remember that Snapchat:
is already being copied – and Instagram Stories is already closing the user gap. Instagram Stories already has 150 million DAU, only eight million shy of Snapchat, despite only launching last year. Furthermore, "marketers are vocal that advertising on Instagram Stories is better with its ad-friendly integration and easier to build followers," says Liu.
is only good for reaching younger audiences – Snapchat can deliver only the Millennial demographic, believes Liu. According to Forrester, 79% of its users are Millennials (aged 18-34). Instagram, on the other hand, has 61% Millennials, Twitter 50% and Facebook 38%. "Unfortunately for Snapchat, the older audience it needs to grow may already be comfortably using Instagram Stories."
Snapchat's growth reports, however, reveal that over-35s is, in fact, its fastest-growing user group. Between Q4 of 2015 and Q4 2015, Snapchatters over 35 increased by 10 million users to 33 million. These figures were revealed at its IPO filing.
Liu also warns marketers that Snapchat has limited user data compared to other social networks, and offers measurement that "falls well short."
Facebook, LinkedIn and Pinterest know a lot more about their users than Snapchat, they collect more data and can offer more robust personas and therefore more accurate targeting.
Image copyright: olli0815 / 123RF Stock Photo