Social media newsroom at the Clipsal 500
Project:  Clipsal 500 social media newsroom
Client: Clipsal 500 / South Australian Motorsport Board
Agencies: PPR, Stencil
Background
With the adrenalin rush that comes with any motorsport event, it's no wonder more than 270,000 people from around the country embark on Adelaide every March for four days of electrifying race action at the city's annual Clipsal 500.
As one of the country's largest meets on the V8 Supercar calendar and with a forever-growing social media following, the South Australian Motorsport Board were quick to recognise the opportunity to intensify its social media presence to give back to passionate fans after a record-breaking 2013 event.
A dedicated social media operation for 2014 was created whereby Clipsal 500 would not only share race content in a real-time format, but create custom content in direct response to its avid motorsport fans to harness their passion. The model looked to create advocacy and excitement amongst the online audience whilst taking them along on the exhilarating Clipsal 500 journey.
Objectives
PPR in collaboration with their digital partner, Stencil, were engaged in the lead up to the 2014 race with the objective to increase social media participation during the event. PPR and Clipsal 500 wanted to give back to the fans. We aimed to create and manage an exciting online space to engage, interact and create rousing content in real-time during the Clipsal 500 event. PPR needed to design and implement a structure that met the core objective, but also addressed customer service, content sharing and content amplification. Born was the concept for the 2014 Clipsal 500 social media newsroom. 
Strategy
The overall strategy behind the PPR social media newsroom was to listen, engage and amplify through a real-time management model with a team of community managers, creative directors and designers who would instantaneously monitor, react and respond to race-day events in a relevant, timely and impactful manner.
Clipsal knew they had a passionate fan base who wanted instantaneous updates on things that mattered, including on and off track action, behind the scenes insights and race-day highlights. The fan base also wanted their questions answered, their concerns addressed and their passion for the race acknowledged.
There were three tiers to the strategy that needed to be rolled out across Clipsal's existing social media channels including Facebook, Twitter and Instagram. This included a customer service aspect to handle all conversations, a content creation model to leverage content for maximum engagement, and an amplification strategy to ensure maximum exposure for all shared material.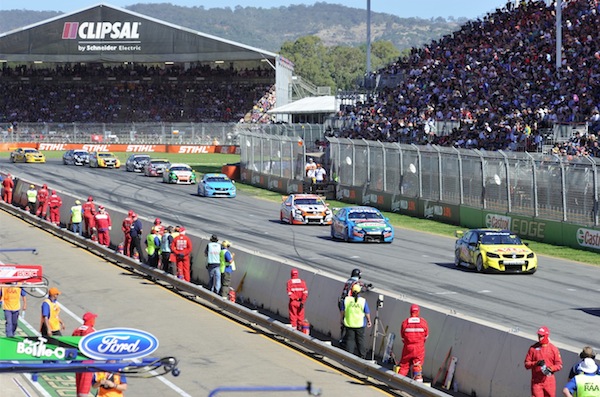 In the first element of the overall approach, PPR developed a customer service strategy including roles and responsibilities and a series of situational roadmaps to ensure the team were equipped to handle the incoming volume of query from avid fans and racegoers. Included was our responsibility to engage, interact and share in the passion of our audience to experience the Clipsal 500 ride together.
The second important element was a strategy to stimulate the community with exciting content to engage, inspire conversation and create hype around all of the on and off track action. A plan was devised in line with live race-day events whereby our creative directors and community managers worked in sync with designers to create custom content in a real-time format based on the trends of the race.
And finally, an amplification strategy was employed whereby the quality content being shared was to be broadcasted far and wide using a dedicated social media advertising spend to target motorsport enthusiasts across Australia and encourage fans to connect with Clipsal 500 on Facebook.
Execution
The inaugural Clipsal 500 social media newsroom was activated for three key days across the four-day Clipsal 500 Adelaide event from 28 February to 2 March 2014, with the operational hours on each day defined around key race action each day to allow the leverage of stand-out events such as the V8 Supercars and the Dunlop Series.
The newsroom was located trackside at Clipsal 500 to allow the creative directors and community managers' easy access to real-time events to harness the opportunity to report on them in with the real-time philosophy in mind. Being in a single location allowed the PPR team to not only collaborate with each other but also the wider media and communications team on relevant events and news.
To activate the real-time content development, PPR's creative directors kept actively abreast of all on and off track activity including upcoming events, races, presentations, winners and results which saw them work with the team's graphic designer in creating customised content to share immediately on each platform. This content was highly specialised in orchestrating engagement and inspiring the community to provide their opinions and insights.
Key to providing other effective content throughout the campaign was the important element of 'roving reporting' whereby members of the PPR newsroom were granted special access behind the scenes of Clipsal 500. This included several aspects with access to pit lane, the track and backstage, whilst also interviewing drivers, mechanics and engineers for their perspective on team performance. This content was turned around and shared across all channels to reward fans with special insight into the race.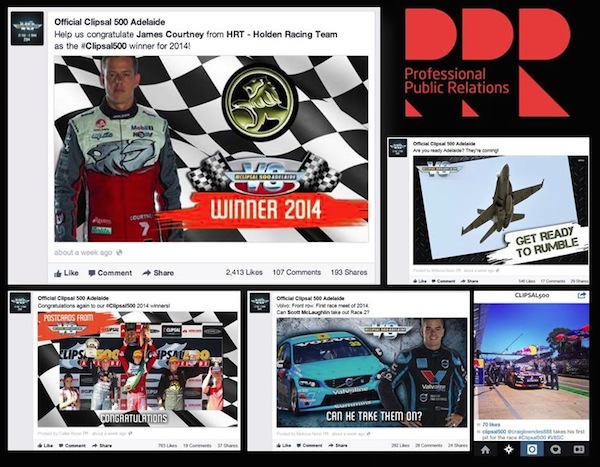 Twitter was utilised as a valuable real-time commentary source during Clipsal 500, with the PPR newsroom constantly monitoring and tweeting with live race updates, leaders and results whilst monitoring the Clipsal 500 hashtags and trends to tap into wider conversations about the race.
As an important element to the overall Clipsal 500 newsroom, the team of dedicated community managers were constantly monitoring and addressing all incoming questions, complaints and conversations directed to Clipsal 500 to ensure each community member was heard and their opinions made count. This also included the logging of any issues whereby PPR worked with Clipsal 500 to resolve in an effective measure.
The final component of the execution saw a strategic advertising budget put in place with the focus of reaching a broad number of Australian's to amplify content and increase the community. This was implemented through a series of promoted posts, plus the efficient use of a 'like' advertisement to draw attention to the event and raise awareness.
Results
The campaign reached over 2.5 million people during the race period through the strategic use of custom content which was supported by an effective advertising spend to reach broadly across Australia.
From 2013, activity on Facebook increased by 131% during the newsroom period, achieving a total of over 12,000 likes on posts, 870 comments and 719 shares of content. This was in addition to the growth of the community which saw an additional 10,000 new members connect with Clipsal 500 during the race week.
Twitter also saw an exceptional increase of activity during the campaign period with a huge 723% jump in activity on the previous year. The PPR newsroom team used the platform as a truly live source of race-day commentary which saw an average of one tweet every two minutes throughout the three days. The #Clipsal500 hashtag received over 8,000 conversations, trending nationally on the Saturday and Sunday of the event.
As a new platform for Clipsal 500 in 2014, Instagram also demonstrated positive results with a 59% increase on fans during the campaign, and over 4000 likes on shared content, achieving a 7.45% engagement rate.
From a customer service and engagement standpoint, the PPR newsroom addressed each and every question that was directed at Clipsal 500 through Facebook and Twitter during the campaign, as well as effectively shared in the excitement of passionate racegoers by interacting, sharing comments and encouraging excitement. An average of a 7.01 minute response time was observed across the board including addressing all questions, complaints and general passing comments.
From a strategic advertising perspective, PPR reached a broad audience across Australia at a total cost of $0.01c per impression, an effective yet cost-efficient strategy that delivered results and awareness for Clipsal 500. PPR also observed one of the highest click through rates ever witnessed by the agency, with a 23% click through on a 'highlights' style album post following the first two V8 Supercar races.
Overall, the PPR newsroom not only changed the way in which the South Australian Motorsport Board interacted and rewarded its fan base, but it effectively increased excitement, conversation, engagement and awareness, putting Clipsal 500 at the top of the social media podium.