The solid planning behind a successful Twitter contest
Matthew Yeoman breaks down the five parts of the anatomy of a well-run Twitter contest.
Twitter contests are great articles for sharing, and growing your brand reach. You can see your follower numbers grow rapidly with a great one, but first you're going to have to put in the work that will see it succeed.
This article is going to look at five important things you have to do:
Follow Twitter's guidelines and rules,
develop your interesting message,
plan on how you'll run the contest,
work on your engagement strategy, and
work on keeping momentum going.
With these five steps in place ready, your Twitter contest has the best chance of finding you new followers.
1. Follow Twitter's guidelines and rules
All Twitter contests are subject to Twitter's guidelines and rules. They are the absolute first stop for you before you start any planning as you don't want your work to come to nothing thanks to a violation of a rule you weren't aware of. You can read the guidelines on Twitter's support website.
Two easy things to steer clear of that hope to cut down on spam include:
Pushing participants to tweet your message or link over and over again, and
having the basis of your content be a 'Retweet as many times as you can' to win format.
Be sure to create a webpage on your website with the rules. You can get away with many more contest styles on Twitter than you can on Facebook, but there are limits.
2. Develop your interesting message
Most of your time is going to be spent right here, developing your first idea into the final form that you'll unleash on the Twittersphere. The building blocks of your message are going to be:
Why are you running this contest? Do you want to get new followers, expand your brand reach, promote a new product, give back to your current fans, etc?
Why are you choosing the time that you'll launch it at? Are you having a special sale, is there an event like a company anniversary, or is it coinciding with an event in popular culture?
How will this Twitter contest fit into your overall brand identity? Make sure your contest 'fits' your established style of messaging, language, and visual style.
This is all going to involve the actual words you'll tweet out, any hashtags you choose to use, and your call to action that's the main point of your campaign. If something doesn't quite 'fit,' or if your call to action isn't clear, your Twitter contest won't be as successful as it could be.
You can see that in this contest from @9xo they had their plan in place well in advance. You can see why they're running the contest, what time it starts at, and how they're using it as a way to promote this show they're organising.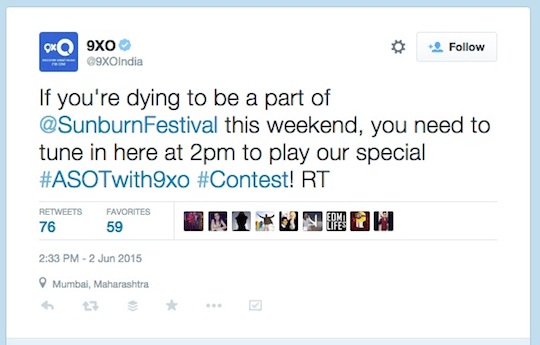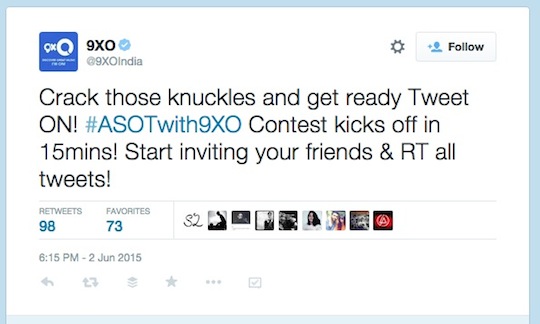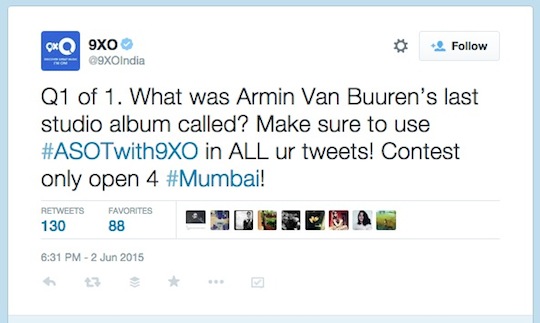 3. Plan how you'll run the contest
This is the not so fun stuff that actually makes your contest a contest, rather than a bunch of random tweeting:
How will your Twitter followers enter the contest?
How many times will they be allowed to enter?
Will this expand to other social platforms, and how do the rules of those platforms affect your contest?
How will you keep track of who has entered?
What are the start and end times, and how will you communicate them?
I know that this isn't the fun part of it, but you need to give it this structure in advance. Of importance is the stop and start times. You need to build up to your contest before it happens to gain some traction. Having an end time established also creates urgency – even contests are subject to procrastination!
4. Work on your engagement strategy
Having people become aware of your brand by entering your contest in some way is why 99% (no data, just a hunch!) of contests happen. the last thing you want is for them to enter and forget about you 30 seconds later.
Finding a way to get people to engage with you a little more deeply, and to touch base with you a second or third time, is how you'll get beyond 'drive-by' contest entering. You can try 'Favoriting' their tweets which mention your contest, give them a @mention after they enter, require a second tweet, or make the contest a little more involved – like having them take a photo and then tweet it to you. Breaking out of 'RT to enter' contests to engage deeper is an important strategy.
5. Work on keeping momentum up
Launching your Twitter contest successfully is the easy part, keeping it going is the challenge. This is because your message will hit your followers, cause a sensation, and then die off after that first excitement.
You need to have a plan for how you'll keep it going, here are some ideas:
Schedule tweets in advance that talk about the contest, don't wait for it to fail – plan for it to succeed.
Incorporate your engagement into the continuing momentum, like mentioning people by name who enter and asking them to RT this tweet.
Launch the contest on other platforms at different times to keep momentum going across social media.
Send the contest out to your email subscribers to get them involved.
Feature the contest on your website homepage with a link to Twitter.
Your Twitter contest will eventually start to wane in popularity, but you need to – and I've said this before – plan for success rather than wait for failure. Every successful Twitter contest has had this type of planning going on before it was ever launched, and you need to put this effort in as well.
Matthew Yeoman is writer and analyst at Devumi Social Media Marketing. Follow the @Devumi Social Media Gorilla on Twitter for 24/7 updates on the social world, as well as bad banana-themed jokes.