The world's cartridge – HP brand profile
This feature first appeared in the September 2010 issue of Marketing magazine.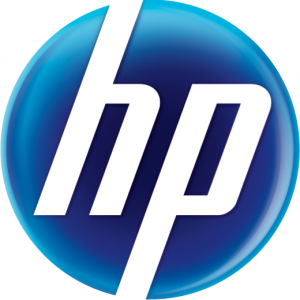 From 'Halo Rooms' to Seoul, Sean Greaney takes a look at the many faces of Hewlett-Packard.
"Everything that can go digital, will go digital," the Israeli messiah repeats to his rapt 'parishioners'. He has brought the prophecy that ushered in the era of digital print east to Seoul, and stands by it. The messiah is Benny Landa, an Ogilvy-level enigma in the printing world.
In 1977, Landa moved to Israel to found Indigo, a company that would focus on research and development. And for years it did: according to Landa it produced no whole product for 16 years and generated $200 million in that time (he coined the term 'patent fence' and owns over 500). In hushed and deferential tones at Seoul's Grand Hilton I'm told that if I own a printer, Landa probably invented some part of it.
Among his many patented (don't you forget that!) miracles, Landa is credited with inventing digital offset printing. By extension, that's a modern marketer's ability to create personalised direct mail. Seven years later, Hewlett-Packard (HP) would recognise the value of Indigo to the tune of $882 million (after Indigo achieved long-term revenue goals).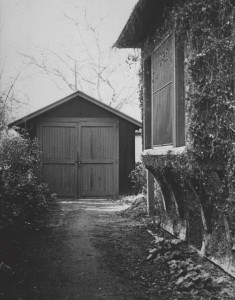 Upon acquisition, Landa remarked, "Our vision has always been to lead the printing industry into the digital era and to see Indigo technology pervade the commercial printing market. Now, as part of HP, that goal is in sight."
The Indigo story mirrors HP's somewhat, though HP's is the progenitorial Silicon Valley start-up success fable. When starry-eyed entrepreneurial minds drool over the houses Apple and Microsoft built, they're really gagging over the second generation.
In 1938, two men, Bill Hewlett and Dave Packard, electrical engineers out of StanfordUniversity, flipped a coin in a one-car garage to determine whose surname would take pride of place in their new company's brand. Bill won. The garage is now Heritage-listed.
With $538 investment capital, they founded a company that in 2009 would generate US$114, 552 billion in revenue: the world's largest technology company by revenue – excepting Samsung, the interests of which are even more diverse than HP's, roaming as wide as real estate.
An acolyte of the big idea
In 2002, following its acquisition of Compaq, the brand launched 'Everything Is Possible', centred on the equation device '(customer) + HP = everything is possible'. It leveraged some of HP's big clients: the New York Stock Exchange (NYSE), Amazon.com, FedEx, DreamWorks, National Aeronautics and Space Administration (NASA) and Bang & Olufsen. It groped some celebrity brands, but the focus was corporate juggernauts.
At the time, VP of brand and marketing communications Garry Elliot explained the move, saying, "This is the most assertive, creative brand campaign HP has done. We decided the best way to become recognised as the world's leading technology company was to simply tell it like it is. But rather than focus on what we make, this campaign focuses on what we make possible on behalf of our customers, our clients and our partners."
Four years later, with a new CEO (more on that later), HP launched 'The Computer is Personal Again'. This campaign has been a no holds barred, rub-against-as-much-cool-as-possible, celebrity endorsement love-in, albeit a well-executed one. Those lending themselves to the cause include: Jay Z, Jerry Seinfeld, Serena Williams, Vera Wang, Mark Cuban, Pharell, Vivienne Tam, Petra Němcová, Jessica Simpson, the Sex and the City girls, Gwen Stefani, Mark Burnett and Shaun White. And I think I missed some. These endorsements roam from Jay Z's nonchalant TVC telling us he's got his "whole life in this thing… new Frank Gehry plans for my team, in Brooklyn… gotta track all my investments 'cause I'm gonna retire, right? Ha. My passport says Shawn, but you may know me by another name," as "Jay Z, CEO of Hip Hop" pulses toward the screen, to designers sexing up netbooks, to product placement.
Goodby, Silverstein and Partners (GSP) has shown a restraint that probably raised client-side eyebrows in decommodifying product through a more translatable, if perhaps lower-impact, communication than Apple's lauded campaigns of the noughties: the TVCs deliberately obscure the endorsing celebrity's face – and the ads are all the more artful and engaging for it. Imitation, flattery and that whole axiom are the true mark of a successful campaign though; it has spawned a few spoofs ostensibly 'starring' Bill Gates, Steve Jobs and Keanu Reeves.
Both brand campaigns, they have seen HP climb Interbrand's 'Best Global Brands' from number 15, valued at US$16.7 million in 2002 to 10th place valued at nearly US$10 million more (although rivals of varying degrees Intel, GE, Microsoft and IBM all place more highly from a brand value perspective). Any CFOs, CSOs or sales directors who've wandered into the wrong magazine may balk at my next juxtaposition, but in 2002 HP sat at 28 on the Fortune500. In 2010 its Fortune500 rank matched its 'Best Global Brands' rank: 10th.
Both campaigns were developed by GSP; its evolution, and I'd say strategic convergence, is the recently launched 'Let's Do Amazing'. Hosted by Rhys Darby – better known as Murray the manager from Flight of the Conchords – the campaigns walk the now very familiar territory of endorsement, this time from Annie Leibovitz, Viacom, DreamWorks, an unnamed, sort of 'everyman' financial services company, the International Space Station (!), HP Labs and HP's CeNSE sensors, United Parcel Service (UPS), Dr Dre, The Venetian Hotel in Las Vegas and Avatar. The difference being the convergence of corporate and celebrity interests alongside media brands, likely moving toward a more cost-effective campaign for both business and consumer audiences.
"From an imaging and printing perspective our strategy is to focus our marketing efforts through the line. For example, in the consumer printing area HP's focus is on promoting our innovative and leading 'web printing' offering and we have done this with some above the line activity in print and digital media, experiential activity focused on high traffic locations where consumers would be to showcase the product, such as airports, press relations activity targeting tech, daily and lifestyle media and in-store activation programs with aggressive promotional offers, sales training and incentive programs for the sales reps on the store floor, as well as point of sale materials that explain the range and highlight the differentiations of HP," touts Jacqueline Ibrahim, marketing manager, printing and imaging group, South Pacific.
"One program that we have implemented is the HP live demonstration program, which allows consumer and small business users to go into a store and test HP product for themselves. This allows them to test the print quality as well as see a live demonstration of HP's innovative ePrint and Print Apps available across the new consumer range… We will be expanding this program to include live wireless internet enabled units in-store, which allow us to showcase HP's innovative web connected printing."
Pretty standard stuff, eh? But wait, there's more.
"We are also focused on leveraging social media to communicate our products and technology and will be launching a social activation program partnering with a reputable museum in Melbourne that allows consumers to send their prints via ePrint (simply by sending an email) and watch them being printed in this world famous museum. This is designed to demonstrate and communicate the simplicity of HP's ePrint technology with the aim of this activity being viral and communicating this value proposition to the masses," says Ibrahim.
I'll break one of my rules and call the idea innovative. But HP hasn't embraced, or at least resourced, social media across the board, or if so has elected to adopt the ostrich strategy regarding negative commentary. The comments to your right, at time of writing were found unanswered (and not unique in that state) on the first page of HP and HP Australia's Facebook pages.
Tough
"The HP board just made the worst personnel decision since the idiots on the Apple board fired Steve Jobs many years ago. That decision nearly destroyed Apple and would have if Steve hadn't come back and saved them," wrote Lawrence Ellison, CEO of Oracle and friend of former HP CEO Mark Hurd, to The New York Times ('former' following accusations of sexual harassment from HP employee Jodie Fisher, one time reality TV contestant and loosely defined as a 'marketing contractor'). The allegations were eventually disproven by HP, but a probe did find falsified expense claims concealing a relationship between the two.
"In losing Mark Hurd, the HP board failed to act in the best interest of HP's employees, shareholders, customers and partners. The HP board admits that it fully investigated the sexual harassment claims against Mark and found them to be utterly false," continued Ellison.
Hurd's five years at HP saw a number of successes and tough decisions: he cut 10 percent of the company's workforce (15,200 people), reduced the number of software applications from 6000 to 1500, halved the IT department to 8000 and shrank the company's 85 data centres to six. The savings went toward more salespeople.
Facing the recession, he imposed a five percent pay cut on all employees, took a personal cut of 20 percent and, following HP's acquisition of the company, enforced EDS (Electronic Data Systems) employee salaries into line with HP structures – meaning cuts of up to 20 percent. He then predicted a five percent sales fall, but six percent profit rise. Of course, his 20 percent pay cut was refunded by the compensation committee.
When questioned on the impact the scandal has had on B2B relations, HP declines to comment, but is happy to confirm its partnership with Oracle continues – a significant interest at 140,000 shared customers.
Whatever the impact, Hurd's ejection was a costly affair at US$34.6 million in severance, options and stock. He's now residing on Oracle's board, a tense position given the shared customers and Oracle's recent acquisition of Sun Microsystems, putting it in direct corporate hardware competition with HP.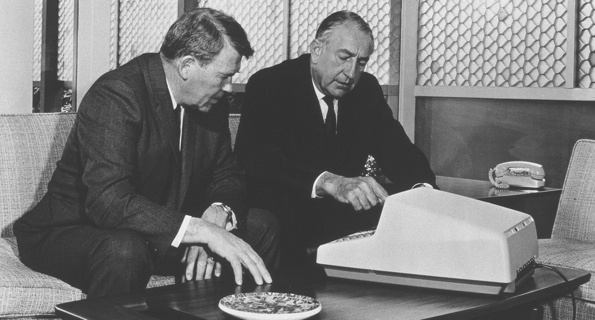 United we stand
It's cold, wet and I'm finding out about the downside of last month's Superbrand Profile, Vespa, as trucks buffet me about the Burwood Highway. Uncharacteristically running late, I'm ushered rapidly into the apparently heavily booked 'Halo Room' for a product-focused session with Ivy Liang, VP of marketing for HP, Asia Pacific and Ibrahim. Liang appears to be sitting about a metre and a half from me, but is actually in a Singaporean 'Halo Room': three crisp screens provide a wraparound view of her room, while a fourth above allows those meeting to share videos and presentations. Lag is non-existent.
Every conversation and presentation I am involved with while researching HP focuses on four trends clearly driving the day-to-day, and this meeting is (repeatedly!) no exception: content explosion, mobility, digitisation and moving to a service-based business model. An internally conducted digital content audit predicts that by 2012 available content will have increased tenfold. A function of this, says HP, will be a threefold increase in printed pages, a very important metric. Digitisation refers to the conversion of content and mobility the consumer trend in digital devices.
"A lot of people were asking us: 'Is printing on a declining trend, since a lot more content is already in a digital format?' In one way it's true, the proportion of content being printed out will be less, but, on the other hand, the [amount of] content is increasing 10 times. So the printable content, we're actually projecting it to increase by three times. So the absolute number is increasing, even though the proportion is decreasing. That's what we see as the trend," says Liang.
So while the brand ostensibly believes the world of printed pages is about to swell like so many boab trees, it's hedging its bets around its golden goose by moving away from a goods focus to services. Or rather, from what I've seen, service offerings attached to premium goods.
Partnerships also appear to be a big focus – perhaps a logical step for the voracious acquirer, but, again, more on that later. One such partnership is based around a product I, as a Gen Y male, had never heard of: photo books. An evolution of the photo album, they're a phenomenon in Japan, Korea and much of Asia. A surprise to me, their popularity has increased, Ibrahim explains, from four percent of Australian households in 2009 to eight in 2010.
"According to PICA 2010, the median number of pictures taken by households with digital cameras was 345. In Australia, 55 percent of households made prints from digital camera images in 2010, and the median number of prints or copies made per household was 100. Australian households typically print 55 percent of the prints they make at home on the computer printer and the remaining 45 percent on a photo-printer designed specifically for a digital camera. Nearly 60 percent of households printing at home used photo paper for all of the prints they make. Photo cards and photo books are the most prominent and popular photo-publishing products in Australia," says Ibrahim. "The biggest inhibitors for end users are the perception it is difficult, time consuming and expensive."
This flurry of data has driven partnerships with Kmart, Ted's Cameras and Camera House, providing kiosks that move the production of these products from the black-rim framed eyes of designers to the bleary eyes of young mothers.
"One of the key limitations for these creative products is people perceive them to be really difficult to create, and actually think it's really expensive. So one of the things that we're working on with our partners locally is how can we communicate that this is actually relatively simple, and it also can be done relatively quickly. And a key differentiator for HP's retail publishing products is it only takes one hour to actually collect your book, and so we're going out and communicating that a lot. If you go into a Kmart store, you'll see a lot of messaging around one-hour service. A lot of the communications they're doing in market is around that, and also the actual software that operates on these kiosks is really easy to use, because that's another thing that's really daunting about these photo books: people think they need to be some sort of tech guru to actually work it out. So they're some of the differentiators of HP, and it is a challenge to communicate that, because you're trying to get over that hurdle. So we're doing a number of different things in communicating that through media relations activity as well as when they're in-store," explains Ibrahim.
Kmart was selected for its demographic, reach and previous experience with photo labs.
"We actually work together with them to set up the entire store, the entire in-store experience – how do we get the customers, what kinds of solution we want to show to them, who are the customers we want to talk to, and what are the products we want to sell to them, be it photo book, calendar or just a four by six photo," adds Liang.
Outside of the retail channel, HP has also allied itself with that heroic group, media owners, in its quest to drive a greater volume of printed pages through what it's calling 'web connected printing'.
"We work with the content partners… to bring the content basically directly to our customers. So without logging on to the PC or the internet, they're able to pull the content directly from those content partners and print it out directly," explains Liang.
"The strategy is driven internally and is very much based on the consumer insight that I shared with you, the four key trends that we see happening. Customers want to have the content in their hand…
"It was launched in North America one year ago, and we discovered that 70 percent of customers who bought printers with this functionality actually print out content from various partners, which is very encouraging. Because, having to be very frank, this is a very new thing; we didn't know whether people would really print it, or if they wouldn't use it… On DreamWorks they print out colouring pages and give them to their kids to colour in, and it's much faster. So we think this is the trend to go, and what will make it successful is to enable our teams in the regions to engage local content partners that have the content that is relevant to the customers locally. So those are the directions that we're working towards," she continues.
"In some countries we are working with the country coffee chains to put our printers there, enabling the people who go to the coffee chains [to use them]. That's what you're going to see in other markets, including Australia. You will see our printers appearing in places where our customers are travelling, are living, are enjoying or relaxing rather than just in one space," adds Ibrahim.

The enemy of my enemy
HP's partnership/endorsement focus is actually indicative of a wider business strategy of acquisition. The brand has been a voracious acquirer, over the years buying up over 100 companies, including big names Compaq (for US$25 billion), Palm (US$1.2 billion), 3Com (US$2.7 billion), Snapfish, Mercury Interactive (US$4.5 billion) the aforementioned Indigo and, in 1958, importantly, FL Moseley Company, which allowed HP to enter the plotter business, plotters being the predecessors to certain printers. According to Fortune magazine, the brand now holds the best profit margins in the printing industry.
Ibrahim points to research from Gartner demonstrating businesses spend as much as three percent of their revenue on printing, once hardware, software, consumables, maintenance and support costs are accounted for. She goes on to reveal the brand has a 34 percent share of the Australian market – that's a lot of three percents. At Dscoop, obviously speaking of specialist printers, it is revealed HP's Indigo outsells all of its competitors, combined.
At the professional level, this is driven by the partnership philosophy. The brand consults its customers to reduce costs and optimise its offering. In Asia Pacific, the lifeblood of these customers is marketing collateral, making up 58 percent of the business, followed by labels and packaging (19 percent), photo products (13 percent) and publishing (seven percent), with DM trailing at a surprising four percent. And the region is increasingly becoming the lifeblood of HP Indigo – Chinese sales equalled US in 2010.
Dscoop is another means of partnering through a branded, essentially gated community and encouraging users to create the value of belonging.
On a consumer level, the aforementioned web connected printing and retail channel partners are the driving focus.
"It doesn't mean that we are not focusing on our core business, which is selling the printer itself, but we want to make sure there is no longer a box that sits in the study room or in the back room. It's something that can enable the customers to connect to the content they want," says Liang.
Leaning against the wind, HP believes digitised content hasn't strangled consumer desire for printed content. Rather it's a case of removing barriers and personalising that content. A study HP commissioned across Asia Pacific found that 75 percent of customers in possession of a smartphone, or related mobile device, want to print from it. The solution? Give printers their own email address.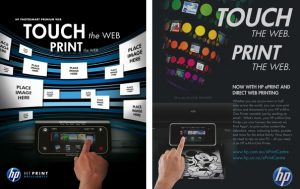 "So if I want to print something to Jacqueline from the printers that she owns, as long as I know the email address of her printers, I can print directly from my smartphone, all kinds of smartphones, to Jacqueline's ePrint enabled printers," say Liang.
"Our fundamental strategy is to convert analogue pages to digital and to enable new types of digital pages. We're especially focused on high-value pages such as colour and variable data," adds Ibrahim.
"Because of all these changes, the way we do marketing is also very different. So gone are the days that we only do product launches and that we just tell them all the product features and the benefits. We truly want to move into the customer's experience, dialogue and discussions. It's a lot more interaction with the customers that we want to generate. So you will see a lot more marketing activity, not just at the advertising level, but more… at places, physical places where our customers live their life and consume that content," proselytises Liang.The brand believes it can move the printer out of the office and into the centre of the household as a content generator of sorts.
Allies
Technology brands don't do a lot above the line in this country. When it comes to personal computers, we tend to sit in camps by operating systems divided: you either back a fruit or that rich guy. And that's really determined by personal situation, influenced a little by word of mouth and viral content.
HP's decommodification in markets the scale of which justifies it, is elegant. But the brand's pre-emptive defence of its bread and butter, printed pages, is an unexpected mirror and ally to traditional media's own challenges. Those partnerships may be an inroad to influencing consumer decisions in smaller scale markets beyond allegiances to Seven or OS X, black or aluminium, John Hodgman or Justin Long. Those partnerships will likely prove more important than the omnipresent 'four trends'. And I'm sure HP knows it.
That bearded prophet Benny Landa put it best for him pulpit in Seoul: "The best deal isn't the one that looks best at face value, but the one that makes the other person believe they got the best deal."