V Energy launches a tool for students that replaces display ads with study notes
V Energy has created a study hack in the form of an extension for Google Chrome that blocks online advertising and replaces it with custom notes.
V Energy has launched 'V AdNotes', a web browser extension that enables students to convert display ads into their own pre-set study notes – "procrastination has never been so productive!"
V Energy says it recognises the fact students will do anything to avoid studying so it developed a tool to help students in the lead up to exams by replacing display adverts with study notes. The study notes appear where display ads giving them a little hit of subliminal study before they drift down the vortex of online content and social media distraction.
The company cites a 1982 study that reportedly shows that with a hit of subliminal messaging students can achieve significantly higher results. (KA Parker's 1982 'Effects of Subliminal Symbiotic Stimulation on Academic Performance: Further Evidence on the Adaptation-Enhancing Effects of Oneness Fantasies', published in Journal of Counseling Psychology.)
This is what it looks like in action: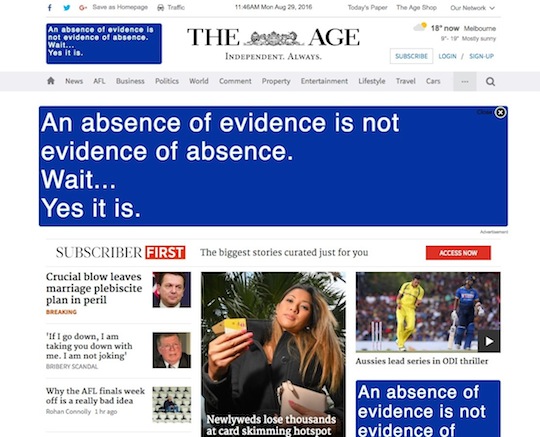 With this in mind, V Energy hopes V AdNotes can improve exam results for students using the new study tool. It doesn't mention how the advertisers being blocked will feel.
"Procrastination while studying is inevitable, so while students are being distracted by the latest celebrity gossip, cat video, or meme, by using V AdNotes they will actually be subliminally studying each time a study note pops up in the place of an display advert," says Craig Harkness, marketing manager at V Energy. "Our hope is that V Adnotes will help students improve their studies… a bit."
To support the launch of V AdNotes, the brand will be visiting six universities around Australia in August and September. The V Energy team will educate students on how to use V AdNotes and, of course, give out samples of V Energy drinks.