Annual report: the best of B2B – What went wrong and what's coming next?
Measurement, optimisation and experience are the toughest challenges for B2B marketers – is it realistic to hit all the marks? Green Hat and ADMA's comprehensive surveys asked 'best-in-class' B2B marketers about their performance in 2017 and what they plan to change this time.
This article originally appeared in The Money Issue, our April/May 2018 issue of Marketing magazine.
The 2018 version of ADMA and Green Hat's 'B2B Marketing Outlook' report offers an in-depth look into the business-to-business (B2B) marketing profession in Australia. Surveying 412 respondents, it asked them about marketing performance, strategy, planning, and attitudes to new tools and techs available to them. Measuring marketing ROI was the biggest challenge for them last year, closely followed by optimising the customer experience. As for significant marketing objectives for 2018, generating, nurturing and progressing leads topped the list, followed by optimising customer experience.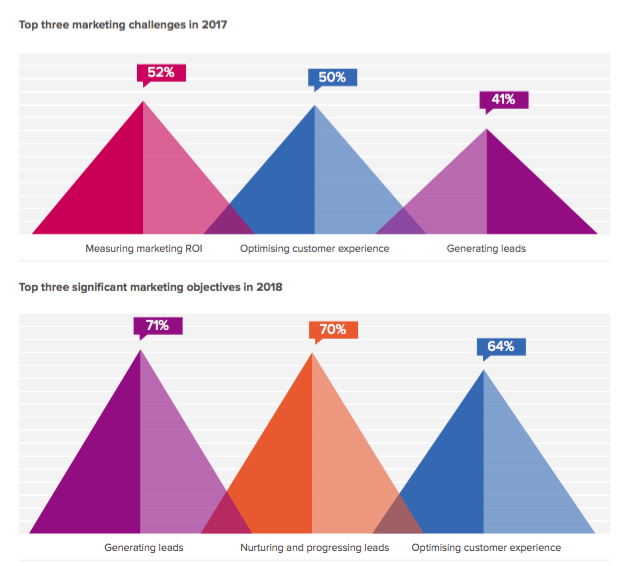 Each year, the report also looks at the behaviour and responses of 'best-in-class' marketers. These are defined as "leaders and innovators of the B2B marketing industry", and their practice can be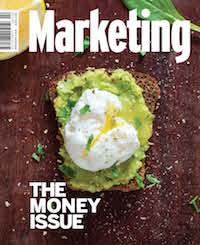 used as benchmarks for all B2B marketers looking to see the best results from their marketing. To identify them, the survey selected three key areas that have a significant impact on overall marketing effectiveness:
Understanding target audience – have they developed personas for buyers in target markets?
A focus on pipeline outcomes – do they get satisfactory (more than two-thirds) follow-up of marketing leads by sales teams?
Adopting technology – have they implemented a marketing automation platform?
Best-in-class marketers were significantly more likely than the rest of the participants to have achieved their marketing objectives in 2017, including in the areas of developing strategies and plans, aligning sales and marketing, measuring results and improving CX (customer experience).
Satisfaction
For the first time, the annual survey asked B2B marketers whether they achieved their marketing objectives in 2017. Only 24% said they did. Why? Is marketing simply not working? Where are they going wrong? Andrew Haussegger, managing director at Green Hat, links it more to not clearly defining objectives and measuring outcomes.

"There's a lack of planning in place," he says. Just over half of the participants documented content and social media plans, less than half documented lead generation and lead nurturing efforts and only a third say they've sat down with sales teams to align their efforts.
As for measurement, Haussegger says it has been a challenge for B2B marketers over the last couple of years.
"In order to know if you've achieved your objectives, you need to have the right measurement in place. If you're not measuring, then you don't know." Indeed, measuring marketing ROI topped the list as the biggest challenge for marketers last year.
"You can measure email opens and clicks 'til the cows come home, and that's interesting at a low level," says Haussegger, "but that's not what it's really about."
Measuring the effectiveness of cross channel experience with clients, or campaign attribution? "There aren't that many that can put their hand up and say they do that well."
Best-in-class marketers were far more likely to have achieved their objectives than the rest of the study. Not coincidentally, 95% performed some sort of marketing ROI measurement, 73% accurately measured lead conversion and pipeline performance, 66% measured sales lead follow-up and 55% measured campaign attribution.
They were also far more active when it came to documenting strategies in social, content, customer personas and experience, sales and marketing alignment, automation and account-based marketing.
Sales and marketing alignment
Best-in-class marketers in this space were those who align closely with sales teams, with clear definitions of marketing qualified leads (MQL). About 68% have a shared MQL definition with sales teams, whereas only 39% of the rest of the respondents achieved this. Another trait is their success rate in getting satisfactory or better lead follow-up.
Across the board, Haussegger believes there hasn't been much improvement in sales and marketing alignments for B2B businesses in the last couple of years. "We haven't seen improvement in planning, we haven't seen improvement in lead follow-up.
"The other thing we look at is follow-up by sales. That did not improve: 44% last year said they're getting satisfactory lead follow-up, this year it's 43%. About the same."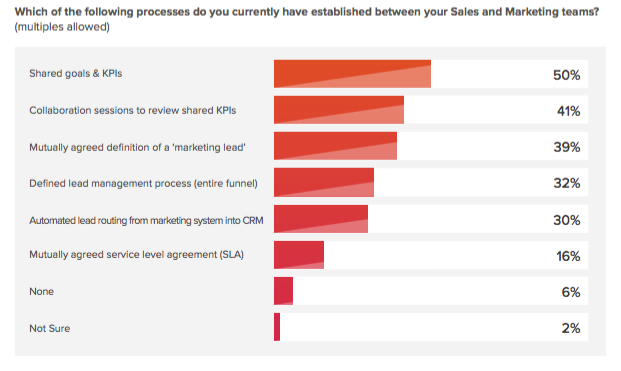 In Green Hat's survey, sales and marketing alignment was the least significant objective for 2018. The much higher overall performance of best-in-class marketers and their stronger efforts in this space – getting better lead follow-up, agreeing on a MQL definition and developing strategies together – shows an immediate and obvious opportunity for marketers to focus on developing to increase chances of reaching their goals in 2018.
Developing customer personas
This is another area that has not improved greatly in the last few years. Only half (48%) of participants said they developed customer personas to better understand their buyers. All best-in-class marketers have developed highly targeted personalisation strategies.
Haussegger believes that many marketers aren't getting the time and budget to work on strategies here. A quick fix, again, could be to work closer with sales departments. "They're not aligned enough with sales," he says. "If they were, it would be the logical thing to do – to sit down and say 'let's understand who our customer is'."
This is only going to increase in importance, and those marketers that don't start investing in it now will be left behind. Content marketing is one space where B2B marketers are investing heavily.
"How can you have a strategy around your content, your content mapping and development if you haven't really analysed your customers?" he asks.
"The increased availability of information has quickly transformed everyone into product experts," says Marco Battois, head of marketing ANZ at Henkel – Adhesive Technologies. "So, more than ever before, we will need to be closer to the decision-makers to be able to support them throughout their buying journey."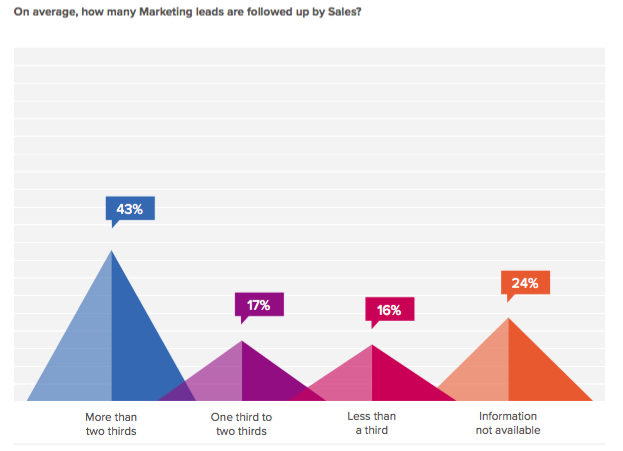 B2B marketers may be reluctant to develop customer personas for a number of reasons. Battois recommends enlisting the help of experts. "All the data we have access to means nothing if we cannot transform it into meaningful insights to support our decision-making process," he says.
"Recognising that we needed help from the experts to guide us through the changing landscape has been a mindset shift for us."
Automation
This year, 54% of all respondents reported they use a marketing automation platform. While this in fact represents a decline in the results from last year (63% adoption), Haussegger believes this actually signifies a growth in understanding of marketing automation.
"There are people who have smart email systems and they're calling that automation," he said last year, believing the numbers to be overstated.
Great potential exists with linking an automation platform to a company's CRM, which only 41% of all respondents are currently doing. Lead management is greatly optimised when leads can automatically flow from marketing to sales across this integration, and Green Hat predicts further growth in this area in future.
Haussegger says this is a one-off change that just keeps on delivering. "Once automation's connected into the CRM and data is flowing through into a sales team, it's harder to disconnect, to take that functionality away."
A/B testing and retargeting are the most common marketing technologies deployed by B2B marketers.
"[Over the next 12 months] we'll see the continued development and adoption of marketing automation," says Anne Stonier, marketing and communications manager at Greencap.
"This will enable marketers to exploit the advantages of delivering highly personalised and relevant content along the customer journey from prospect to purchaser to loyal customer. At the same time, it enables repetitive tasks to be automated with accompanying marketing cost benefits," she says.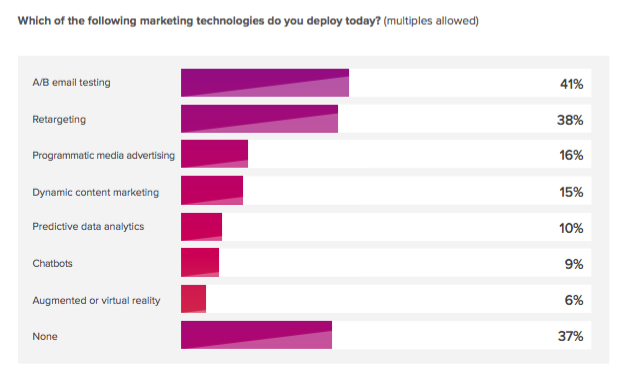 Account-based marketing
Investigated for the first time in this year's study, account-based marketing (ABM) is defined for the research as "a strategic approach to B2B marketing based on account awareness in which the seller considers and communicates with individual customer and prospect accounts as a 'market of one'."
It has been creating buzz in B2B marketing for a couple of years, and 46% of respondents reported they currently invest in it. Haussegger isn't so sure about this, thinking it may be a similar lack of understanding case to last year's inflated automation statistic.
"We've had targeted accounts selling and target account marketing for many years, but what's happening now is that technology is enabling this area of marketing, whereas it didn't in the last few years," adds Haussegger.
"I wouldn't think 46% of B2B companies are doing ABM… I won't be surprised if next year, as people understand ABM a bit more, that number drops: 'oh, you mean ABM? That's what that is? Oh, no, I'm not doing that!'"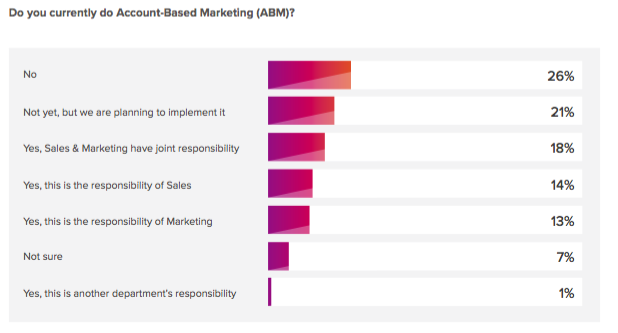 A recent study from Demand Gen of primarily US marketers found that 52% of respondents had had their ABM strategy in place for less than six months and 56% defined their ABM program to date as in its 'early stages' or 'testing phase'.
"The US is well head of us. If they're at 52% – but only in early stages – we're nowhere near 46%," says Haussegger.
Well, no matter how many are actually using it (and what they think they may be using!), it appears to be working – with 56% in Green Hat's study saying it delivers ROI, a further 35% planning to continue its use despite not being able to quantify ROI, and only two percent planning to discontinue their ABM strategy.
Social and content
Content development will be 2018's top investment area, with more than two-thirds of respondents rating it in their top three. Almost 60% of B2B marketers have a documented strategy for content and social media.
"There's a content shock out there," says Haussegger, "too much content."
Facebook, the second most popular platform, follows LinkedIn, although this may change again this year given its recent changes away from publishers and brands to once again focus on individual user connections.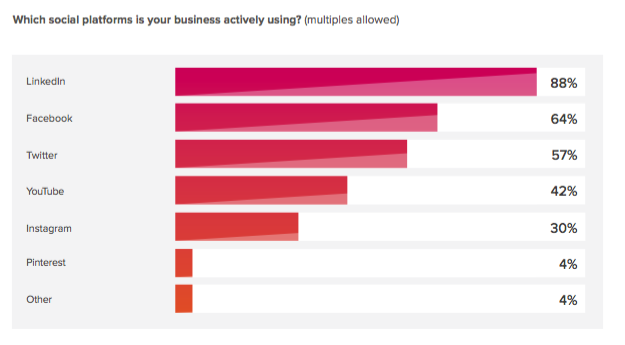 Best-in-class marketers take content one step further, with 74% personalising it by segment or even the individual to improve CX.
"Many organisations still view B2B marketing as quite product-driven and based on rational decision-making, but more marketers will continue to sharpen their pencils on communicating a compelling brand story", says David Reece, head of marketing – enterprise solutions at MYOB.
B2B marketers are perhaps getting more social media savvy, with 21% seeing good results from social marketing, an increase from 14% last year.
Customer experience
B2B marketers are following the lead of their B2C counterparts and recognising the importance of CX. It is a big challenge, with 95% saying they found optimising CX challenging. About half (48%) have undertaken customer journey mapping and are developing personas.
CX, says Haussegger, "is becoming a competitive differentiator like product, functionality and price."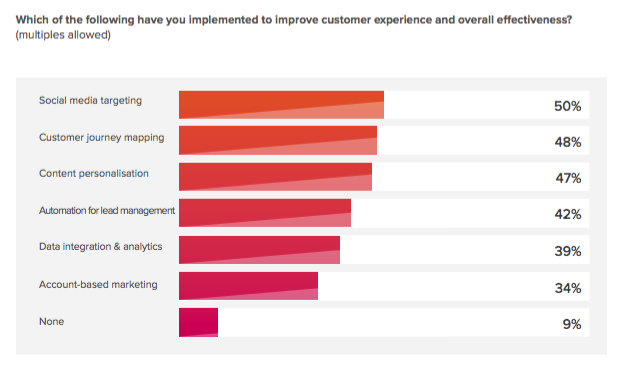 Vanessa Ng, head of beverage solutions at Nestlé Professional, says Nestlé will be starting a combined focus on content and experience to get the best results. "I'm considering thought leadership and what we can contribute to decision-makers," she says. "We're identifying what inspires them and makes them tick. We're shifting away from a sales focus towards CX."
* * * * *
To purchase a copy of the latest issue or a subscription to Marketing, visit the online shop »
* * * * *
 Image copyright: kanghj103 / 123RF Stock Photo