Highest ever unique audiences for digital news sites
Neilsen reports that seven of the top 10 news sites have recorded audiences of more than 11 million as Australians turn to digital news to stay informed. This is the highest unique audience figure since the launch of Neilsen's Digital Content Ratings.
There has been an average increase of 57 percent for top news sites audiences during March 2020. The audience has also been spending more time on these sites with a total 51 million hours in total for the same time period.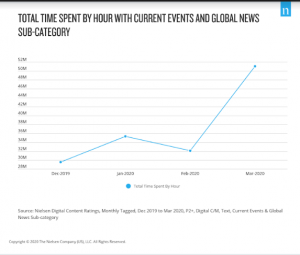 ABC News Websites have retained the top rank position for the third consecutive month, followed by News.com.au. Another news website which is gaining momentum is The Guardian, which has doubled its unique audience in March 2020 and moved its position from seventh to four place.
As recently reported, despite record audience numbers on news sites, many advertisers have inadvertently blocked advertising on news websites by preventing ads on pages which contain 'crisis,' 'COVID-19,' and 'coronavirus'. The Interactive Advertising Bureau (IAB) has issued an urgent call to stop blocking these topics as it impacts revenue for quality news sites and journalism.