'Hey Siri, what are Marketing's top four takeaways from this year's WWDC?'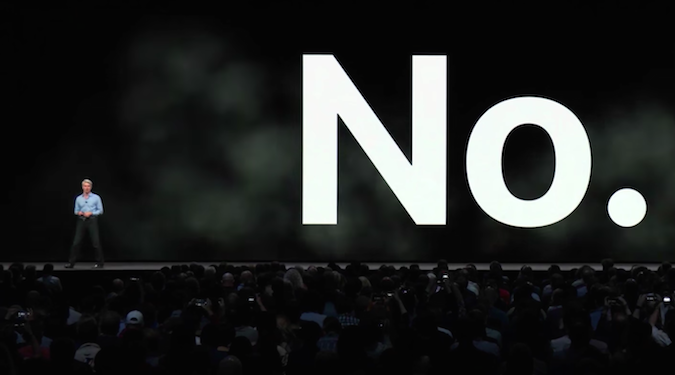 Apple's annual developers conference brought myriad updates to several of its platforms, including photos from space, embedding AR and new Siri capabilities.
To the disappointment of fans across the internet, Apple CEO Tim Cook took to the stage to dispel rumours whether or not WWDC would deliver new hardware this year, " No. Of course not!" Although a hardware announcement would not be entirely out of place at WWDC, last year we were given a glimpse of the upcoming iMac Pro and Apple's home voice assistant, HomePod.
Here is Marketing's rundown of announcements from WWDC 2018, ranked in order of coolness.
Four – Apple TV 4K
With the introduction of its 12th iteration, Apple's tvOS will now be supported by Dolby Atmos for better surround sound audio quality. According to Apple, following this update, the iTunes library will contain the largest collection of Dolby Atmos supported movies in the world. Apple TV users will also be seeing a new selection of live news and sports channels; however if that isn't of interest, they might enjoy Apple's new 4K video screensavers courtesy of the International Space Station.
Three – augmented reality (AR)
Apple has been emphasising AR as its edge in the market for a while now, particularly with its most current iPhone hosting an army of facial recognition sensors and lasers. Developers will see sizable updates to the 'AR Kit', including the introduction of a new file format made in collaboration with Pixar, 'USDZ' – facilitating the sharing and embedding of AR models and experiences into websites, apps and messages.
Two – macOS Mojave
Apple's critics should take great pleasure in the company naming its latest Mac update after North America's driest desert. The feature met with the most applause from the San Jose Convention Centre's 6000 strong crowd was 'Dark Mode'. Similar to Night Shift introduced to iOS in 2016, Dark Mode will ease background light levels and colour contrasts for users to gain more screen time and sleep better afterward. Also coming soon to macOS will be a redesign of the Mac App Store, Voice Memos, Stocks, News and the Home app – as Apple begins to blend its primary platforms.
One – iOS 12
Filled with crowd pleasers, the iPhone's latest update saw the company (in true Apple style) announce features that Android users have had for years, but presented as Apple innovation. The new features include grouped notifications, which Android has had for over a year; group Facetime calls, similar to Google Hangouts introduced in 2013; and programmable Shortcuts for Siri, which Samsung's Bixby has but nobody ever uses. Shortcuts will allow users to connect a series of commands from within apps to a single command – so when Tim Cook tells his Siri, "Hey Siri, I'm heading home," Siri can turn on his heater at home, figure the best route through traffic, text his wife his ETA and start playing the Beatles as he gets into his car.
Although impressive, Siri's upgrades came at an unfortunate time, however, as Google's Duplex demonstration at its I/O conference last month continues to dominate the voice assistant conversation.
Further Reading: