Three ways to integrate data to optimise display ads
Stuart Barker says the key to optimising display ads lies in the integration of ad and marketing technology with data.
As a marketer, you are always keenly interested in customer numbers. Of course, there is a fine balance between acquisition and retention. But one thing never changes – the desire to gain the highest net value through investment in the most receptive markets.
The possibilities afforded by more data can give digital marketing greater visibility. According to research from Econsultancy, 84% of firms see visibility as integral to increasing sales. Advertisements and marketing must be specifically tailored for the mobile platform which customers have converged upon. In ideal conditions, this formula creates conditions of retention marketing, while still acquiring new customers.
Econsultancy found that the mobile platform is the most popular with APAC search advertising spend growing by 13% year-on-year.
A successful, integrated mobile campaign relies on many factors to create the overall brand experience. However, one of the key elements is the visual impact of the advertisements – this is why the display is so important. Regardless of how quickly the costs may add up, display advertising is still generally the frontline for customer acquisition. However, in recent years banner ads have been generally shown to be ineffective, so marketers have begun to optimise their websites for mobile users to leverage emerging markets.
Note that advertisements are not merely tailored for the channel. The cookies in a customer's computer and mobile devices serve dynamic content according to individual preferences, reaching the markets most likely to respond.
With the advent of programmatic ad purchasing and real-time bidding technologies, marketers can now buy the type of advertising that suits them and that targets their particular market segment.
Factors that must be considered when purchasing the right advertisements are:
The ability to understand unidentified users across devices,

ads related to actions the user has already taken,

cost, and

Measurability of marketing impact of the ad examining user views and clicks.
–
Related: Effective attribution helps advertisers understand which ads lead to customer conversion, so make sure you're not getting 'gamed', leading to ineffective budget spending »
–
Cookies – still a sweet spot
Facebook (closely followed by Google) was one of the first to revolutionise the display industry by using cookies. This allowed marketers to search for and categorise users based on email addresses. Potential users who haven't clicked, browsed or purchased from a site, may be distinguished within email lists. These lists can be uploaded to Facebook or Google, where the users can be easily found.
Ultimately, this gives marketers the capacity to personalise on a mass scale. Older forms of technology assist in retargeting, while new platforms offer the ability to cross-sell and up-sell using email and first-party data.
Datasplay: a new term to consider
Datasplay is the combination of data-driven marketing with display, where outcomes rely on quantitative data for display advertising.
The ideal situation is where retentive and acquisitive marketing combine to generate sustainable revenue with a balance of 1:1 marketing – automated and at scale. In short, the display and marketing cloud platforms should work together.
The purpose of advertising technology is mainly about branding through copy and creative and traffic/acquisition. Marketing technology tends to be focused on understanding the consumer and creating positive communication with them through a variety of channels.
Ad technology is dependent on the data management platform (DMP) that is used to store and analyse data. The demand-side platform (DSP) purchases the desired advertising-based on that information.
To achieve 1:1 personalisation with customers, ad technology and marketing technology must be integrated to fulfil the same business goal creating net value.  In today's marketing landscape, these technologies are becoming integrated with the immediate future looking promising.
Three steps to creating an integrated data and display strategy
1. Follow the data: choose your segment
a. Find your true believers.  Those that purchase the most products and services and create the highest new value (use eRFM if available).
b. Categorise the regular buyers and those who have stopped giving you regular business. Focus on reacquiring those customers who have fallen by the wayside.
c. Use display only if they do not respond to more cost-effective channels: email, mobile push/in-app, web (i.e. they visit your website but do not buy).
2. Set up a campaign: use first- and third-party data
a. Upload this segment of your audience to Facebook using email as the identifier. Set a time limit for your campaign.
b. Do the same on Google.
c. Offer an incentive that will appeal and draw in your audience. Preferably your display (if your technology allows it) will focus on recommended products similar to the ones that have already proven to be popular.
d. Buy third-party data from your DMP, and search for users that have preferences that are in-sync with your marketing, wherever they may be found (via desktop browser or mobile).
3. Acquire: find high-valued alternatives
a. Identify any substitutes for Facebook and Google that seem likely to add high value (e.g., opportunities that contain audience segments that are already inclined to engage with your brand). This approach we have seen has achieved three-digit ROI.
b. Run an automatic program that filters out the most valuable customers in your database, which then periodically searches for lookalikes with the same profile on Facebook and Google.
The flow should be like this: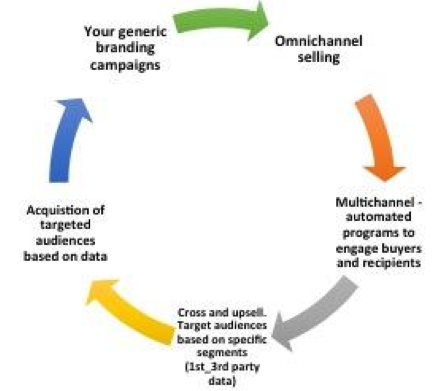 Technology continues to evolve and for innovative firms that want to execute automated, omnichannel and contextual campaigns, there are always more sophisticated programs being developed.
However, a good display is one component in creating a tailored campaign attractive to the right audience – one that will act in your favour. This is essential for the acquisition of leads with a very high likelihood to engage and purchase. It can also generate efficient and targeted cross-sell and upsell campaigns that cater to the wants of all of your desired audience segments. However, the desired end result is always the same: creating an equilibrium between acquiring and retaining customers that increases overall value.  
_
Stuart Barker is managing director, APAC, Emarsys
* * * * *
Purchase a subscription to Marketing for more expert opinion and trends on data analytics
* * * * *