Valos Advantage: Marketing's commercial credibility problem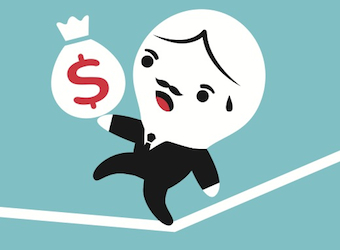 Without commercial acumen a marketer's career ladder is short. But a lack of financial savvy still plagues the discipline. Michael Valos examines the how and why of business acumen's role in building credibility and careers.
This is the sixth and final in a series of articles that look at the six key specific marketing skills required by CMOs to be successful in the contemporary environment: strategic insight, digital strategy, marketing innovation, customer insight/marketing metrics, commercial/financial acumen and brand management.
Be sure to check out the other articles in the series:
Unlike some articles on marketing skills, the focus in this series has been to link strategy with implementation. The assumption underlying this is that senior marketers need more than technical skills to be promoted to be successful leaders.
Regarding methodology, the six key CMO skills were identified in focus groups with CMOs and marketing leaders from organisations such as ANZ, AGL, Telstra, L'Oréal and Deakin University. They were validated by two highly respected industry experts: Chris Khor, managing director of Chorus Executive; and Anna Whitlam, managing director of Anna Whitlam People.
Commercial acumen: a problem for the marketing discipline
A recent study by the Economist Intelligence Unit in conjunction with consulting firm BTS revealed that "a vast majority of surveyed senior leaders believe that a lack of business acumen inhibits organisations' ability to realise strategic goals".
For many years, senior marketers have raised this issue with me – they are surprised at how many people enter marketing careers without possessing commercial acumen.
To some degree, this explains the common criticism of the marketing function regarding its lack of accountability and how marketers struggle to communicate in financial concepts
and language within the organisation. Unfortunately, this affects the credibility of the marketing function and marketing discipline.
However, in marketing's defence, it could be argued that marketing works in more intangible, ambiguous, complex and futuristic areas than other functional areas. Further, marketers have to predict the complexities of customers' minds and convert marketing initiatives into behavioural consumer responses.
Unfortunately, there is a problem showing an exact correlation between marketing initiatives and consumer response. This leads to the difficulty of being concrete and accurate in communicating to the board and being credible when interpreting marketing performance. No wonder marketers' influence is waning within organisations. Marketers must look for new solutions to address this criticism or they won't be trusted and will lose influence within organisations.
One possible solution for marketers is to use the rapidly evolving data and customer analytics tools to link financials to their actions? They can improve their credibility by being more evidence-based in their communication and interactions?
Another solution may be to emulate Fonterra, the New Zealand organisation that considers commercial acumen so important it has developed a management development program. Fonterra aims to give managers the ability to look at financial analysis and see financial opportunities, as well as the financial impact of organisational actions.
Nevertheless, it remains debatable as to the degree to which commercial acumen is an inherent skill versus a learned skill. In terms of management development, the Economist Intelligence Unit study findings show managers using business simulations and experiential approaches to obtain commercial acumen.
Defining commercial acumen
There are many definitions of commercial (financial) acumen, but I like the way consulting firm BTS conceptualises it and shows how it is integrated within other strategic perspectives:
Commercial/financial acumen – a comprehensive understanding of: the drivers of growth, profitability and cash flow; a firm's financial statements; key performance measures; and implications of decisions on value creation,
strategic perspective – an overall big picture understanding of the business; the critical interdependencies across functions and divisions; and the short- and long-term trade-offs of decisions, and
market orientation – the ability to analyse and synthesise market and competitive data; a deep understanding of the customer's business objectives and purchasing criteria; and an appreciation of the value of each customer to the company.
Part one: Skills and mindset of CMOs who have commercial acumen
A more holistic and integrated CMO
Nicki Nichol, CMO of BP, is unusual for a marketer as she has qualifications in finance. In her view, "CMOs with high commercial acumen bring a much harder edge to their marketing strategy.
"Commercial marketers tend to have stronger financial literacy, are more connected with overall business strategy and planning, and tend to drive bottom line accountability harder than more purist CMOs with deeper marketing insights and technical marketing strengths," she says.
In an ideal world, the CMO blends commercial acumen with the entrepreneurial insight required to see opportunities that others don't see and to see the future more clearly than competitors.
Quantitative mindset
Peter Zafiris, national sales and marketing manager at BlueScope Steel, provides a business-to-business insight and highlights the quantitative mindset necessary for commercial acumen, which he sees as critical to successful business cases.
"CMOs who possess financial acumen provide a strong case for their marketing programs," Zafiris says.
"They know what success looks like and have the measurement in place to understand and communicate ROI."
The successful CMO links tactical with strategic metrics in a way that provides confidence to senior leadership and organisations, and facilitates support for marketing proposals.
Integrating the short-term with the long-term
Often marketers are seen as focused on the long-term, while organisations have short-term imperatives. This can be a source of conflict and a source of misunderstanding between the need to succeed in both timeframes.
Murray Chenery, executive general manager, brand, at CPA Australia, addresses this issue: "CMOs with commercial acumen contribute more strongly to a wider business agenda discussion, focusing on strategic and financial priorities," he says.
"Improved business solutions for both the short-term and the longer-term based on timely revenue and EBIT [earnings before interest and taxes] needs are achieved with CMOs who have a strong, honed financial and ROI attitude, perspective and skill."
Aligning marketing organisationally and strategically
Anna Whitlam believes that CMOs who bring stronger commercial and financial skills gain greater respect from their colleagues around the executive table. "This in turn enables them to be more effective influencers. Understanding the financial drivers of the business enables the CMO to engage in business-specific conversation and to better align programs and report on results," she says.
The ability to match external opportunities with internal capabilities and to gain internal support for those opportunities is obviously easier with commercial acumen, as described by Whitlam.
Leveraging the differences in tensions between finance and marketing
Rather than be negative about the differences between finance and marketing, and seeing it as a battle, one interviewee positioned these tensions
as an opportunity. Why not use the differences in mindset between finance and marketing to refine and improve the marketing proposal? According to Chris Khor, "A CMO with commercial or financial acumen understands that the finance team is an ally with the same goal – to make the business money – and not the 'blocker of ideas'," she says.
"In other words, a good finance/ commercial team will question assumptions, manage cash flow, plan for the worst case scenario and is the voice of reason when passion and enthusiasm can take over."
BP's Nichol agrees with the need for marketing to collaborate with finance: "Finance should be supportive and constructive in assisting the marketing team to drive and capture value for the organisation – if marketing are not doing this, no one is!"
Part two: Making strategy happen
Applying commercial acumen to business cases and performance accountability
As mentioned earlier, this series of articles attempts to bridge the link between six key CMO skills and implementation. The remaining section of the article looks at some applications of commercial acumen.
Brad Cook, head of marketing at Novartis Consumer Health, says, "In developing a successful business case, it is critical the CMO has their executive leadership team actively involved in building and owning a robust fact-based business case.
"The CFO is a critical partner, as the most compelling business cases must ultimately demonstrate clear value creation to financial measures like NPV (net present value), IRR (internal rate of return) and payback, as well as brand equity measures," Cook says.
Without commercial acumen, how can a marketer understand the relationship between marketing metrics and non- marketing measures? BlueScope's Zafiris adds, "The challenges exist when programs are built from soft deliverables such as brand awareness, recall rates, click throughs, site visits, etc."
Zafiris believes business cases need broader measures while still integrating with these soft deliverable measures.
With the opportunity and threat of digital marketing uppermost in the minds of CMOs, it's interesting to hear one respondent highlight the way digital and social media need to be considered within business cases. I see this as an opportunity for marketing to create value to the organisation and to increase influence of the marketing function within senior levels of the organisation. This is because a marketer is most likely to see the pervasive impact digital is having on consumers in terms of information seeking, consumer insight, as well as sales service and branding.
According to Anna Whitlam, "The greatest challenge for CMOs today is to embrace the advent of digital and its dramatic effect on how consumers research and buy products.
"Rebuilding capability and understanding in this new way of working is critical to both making successful business cases and, ultimately, for marketing performance," she says.
It is only with commercial acumen that marketers can communicate the business case, commercial impact and opportunity of digital and social media.
CPA's Chenery provides a comprehensive summary of the type of relationship that a marketer with commercial acumen is more likely to be able to foster with finance. In particular he highlights the types of processes and measures that will win influence within senior levels of management, including finance.
"CMOs need to foster a transparent, engaging work model with their CFO to enhance business decision processes," Chenery says.
"Finance's input into assumptions is important in aligning metrics to corporate goals and incorporating sales, customer acquisition and retention targets. Also critical is CMO/CFO agreement on metrics. CMOs need to manage trade-offs between short- term sales and longer-term brand building."
That quote integrates a number of issues covered above, including the need for organisational alignment, balanced marketing objectives and short-term versus long-term considerations.