Why your brand needs to build disruption into innovation, insights and intelligence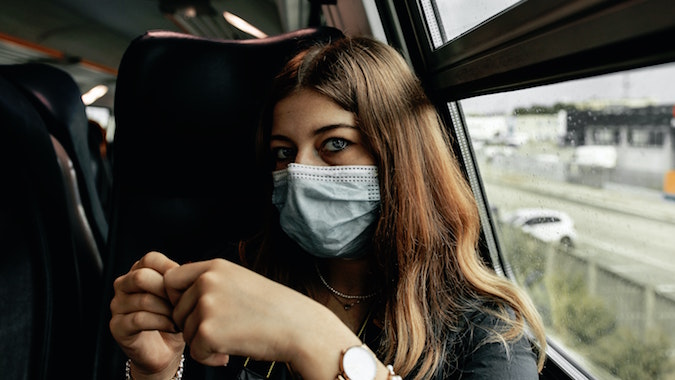 As businesses attempt to surge through one of the greatest disruptions in recent memory, it is important to stay agile and build a strong brand to recover quickly. John Cucka and Dr. Denise Hamblin from Kantar use insights to explore how brands can better understand customer needs and revamp strategy in times of disruption.
A decade ago, disruption was a buzzword, brand ambition and, in many cases, a strategic direction to get people out of their habits and generate change in a category. Becoming a disruptor was innovating with a new product or technology that was going to change the 'old normal', allowing the brand to take advantage of the chaos and come out on top.
But, as we live through the greatest disruption in a generation, it is important to remember that massive disruptions happen much more often than we think. The GFC and the dot-com boom both caused widespread business chaos, but it was those brands already prepared to take advantage and quickly respond that were ahead of the game. And with COVID-19 again changing the rules of disruption, there is a wealth of opportunity in being agile and strategically prepared. 
Being a strong brand is the foundation to resisting and rebounding from disruption
Brands that build and market a relevant, differentiated offer are more likely to be resilient during disruption. And while you can't predict disruption, having a blueprint for adapting to new conditions and being brave are key to recovering quickly. There is no one size fits all way to prepare for disruption, but history has taught us that businesses that are brave during recessionary periods rebound stronger. Global BrandZ data consistently shows that strong brands are more resistant to and recover more quickly from disruption.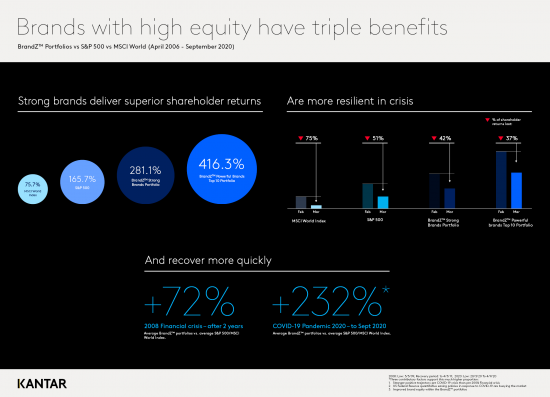 Aussies expect brands to help and bring people together – disruption provides an opportunity 
Purpose is the positive impact that your brand makes in people's lives and the world they live in. It can be a stabilising force during any uncertainty. Major disruptive events push people to seek comfort and ask how their preferred brand is supporting or helping them. Brands need people. People need people. We are driven by our emotions.
Our qualitative studies found 'mateship' and a 'fair go for everyone' headlined Aussie vernacular through 2020's bushfires and coronavirus lockdowns. These crises helped many of us to lean in as our camaraderie and banter become a more noticeable linguistic trait. However, our data revealed that Aussie brands underperform when it comes to 'purpose' (13 percent) versus a global average of 19 percent.
Staying true but thinking differently is key to planning for disruption and connecting with Australians

As purpose reigns through one of the most tumultuous times in our generation, much can be learned in preparedness for the next disruption from our changed behaviours, which in Australia are now distinctively underpinned by a safety-first focus, notably in three key purpose-driven areas.
Sociability: As we largely shake off a year of social distancing and isolation, sociability is top of minds for Australians, but in a more socially responsible way. Despite our current rate of recovery, brands will still need to think about how they can engage people with COVID-safe experiences. For example, consider the benefit of sensorial activations that were vastly removed last year. Money, time, connection, vitality and safety will motivate habit adoption. And those brands delivering innovative experiences through new touchpoints and channels will optimise disruption by making CX a transversal 'experience' and best practice across all parts of business.
Sustainability: Our studies find that almost half of Australians stopped buying certain products and services because of their impact on society (46 percent) and are now prepared to invest their time and money to support brands that try to do good (47 percent). Even at the height of the pandemic, 45 percent were paying much more attention to the origin of products with almost seven in 10 buying from local stores and one-third wanting brands to consider domestic production capabilities. The economic challenges ahead will continue to see us rally in homegrown support with a focus on safety through provenance as we further explore our own backyard and engage with local products, produce, experiences and services. 
Shopability: Total online sales in Australia averaged an annual rise of 67.1 percent from March to October 2020 and our own studies reveal that 96 percent of Australian businesses believe online spending will increase despite only half increasing their ecommerce capabilities – an area we also lag in compared to other markets. Data-driven marketing is integral to delivering the online shopper experience – especially given the blend of social, new channels and physical outlets accelerating changing behaviours. All shopping experiences are changing and command connectedness. Like digital before it, ecommerce should not be separate – brands must lead with an omnichannel focus.
So be prepared by building disruption into your insights, innovation and intelligence 
Understanding your changing customer needs, investing in gaining share of voice, adapting your strategy to leverage more digital shopping and service channels, and talking about what you are doing to help customers and staff will help your brand recover faster and stronger from disruption – and give Australians much needed confidence that you're with them for the long haul. To do this, ensure you have agile disruption well planned and integrated into your strategy and systems led by your insights, innovation and intelligence.
Insights: Our 'Covid Business Compass' found 93 percent of Australian businesses believe there will be a change in consumer behaviour, yet half plan on spending less on consumer understanding this year. For example, as needs change, taste preferences can change too _ sourdough anyone? Aligning all elements in a strong total bundle will contribute to overall brand success. This will come from understanding how to communicate with Australians and innovating to meet their new behaviours and preferences: from how they shop to the product experience and what they want out of customer service. Consumer behaviour changes so rapidly during disruption, but if you're clear on your brand purpose – and your customers are – then you can help everyone navigate turbulence.
Innovation: As markets become more dynamic, innovation is increasing in importance and traditional innovation processes are now not fit for purpose. Quite simply, brands that are recognised by the public as being innovative, are more valuable than those who aren't. Agile innovation rules such as test and learn, go to market with speed and utilising existing knowledge expertise, are all built on preparedness. And to move further faster and more efficiently for sustainable business growth in challenging times you need to be lean, pivot fast and fail fast. Your disruption strategy should plan for rapid-cycle IPD to get products and services on the shelf more quickly.
Intelligence: Prioritise building a robust business intelligence system that keeps you informed on the critical issues to be best prepared to leverage disruption. It does not need to cost a fortune to implement a system that tells you when your category is being disrupted, what that looks like, what it means for your future business health and what you need to do to understand how to survive or thrive in a new environment. Invest in and advocate for a data-first culture, including a comprehensive assessment of your marketing ROI measuring short and long-term impact of marketing on sales and brand equity. And ensure you build-in agility to all aspects of marketing. For example do your media agreements include a pivot during disruption? Accessing agile marketing information systems are helpful, but you also need to understand the data culture of your business. In a period of disruption, it can be the difference between the life and death of your company.
Australia is in a vastly stronger state of pandemic recovery than most other major markets, but we know that disruption changes lives forever. Authentically disruptive brands know to prepare now to be agile in a tactical manner for short-term market success and simultaneously focus on building brand strength for the long term. So remember, you don't need to be a disruptor to thrive during disruption.
John Cucka is the senior director of analytics at Kantar.
Dr. Denise Hamblin is the head of sensory at Kantar.
Photo by Stefano Ciociola on Unsplash.