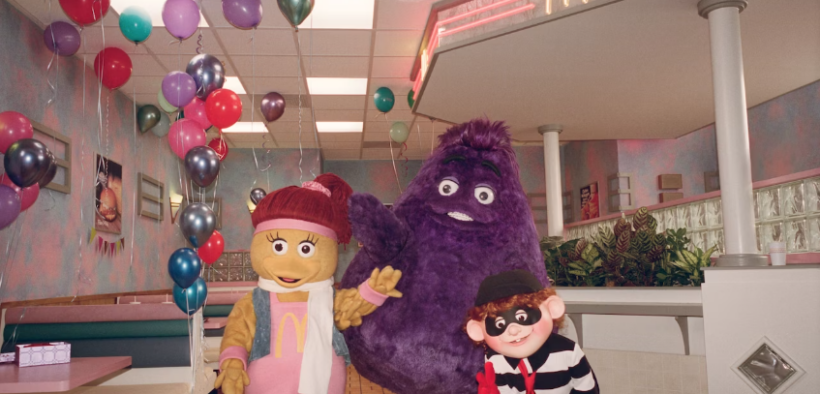 Debuting in 1971, McDonald's big purple character Grimace became a fan favourite. And now the fast food chain is bringing back childhood memories as Grimace celebrates his birthday.
Ever had your birthday in a McDonald's playroom? The popular way to celebrate is also nostalgic, as memories flood back of one too many chicken nuggets, an icecream cake, followed by climbing all over the playground. 
Playing into the core memories for so many of us, from 12 June, McDonalds is bringing out a limited release Grimace milkshake. 
"Inspired by the iconic colour and sweetness of our purple pal," the statement from McDonalds says. 
"McDonald's birthdays give major nostalgia for so many of our fans," the Chicago-started restaurant chain continues.
Chief marketing and customer experience officer for McDonald's USA Tariq Hassan says, "Our fans have amazing childhood memories of their birthdays, and Grimace's Birthday is all about paying homage to the amazing, fun moments that we've all shared at McDonalds."

The history of Grimace
The cute campaign plays directly into the mystery of Grimace. No one quite knows what the furry creature is. In 2014 a Tweet from the company stated that "Grimace lore says he is the embodiment of a milkshake or a taste bud." So, in this fashion of Grimace being shrouded by mystery, the dedicated purple drink has not been granted a specific flavour.
Available with an order that includes a Big Mac, 10-piece McNugget and a medium fries, Aussies will be disappointed to learn that the mystery beverage won't be coming over to our shores. 
But the cute campaign complete with nostalgic film photos can still be enjoyed. As well as a deeper explanation of Grimace's mysterious history. 
For those curious to learn more about where he came from, his origin story says that he hails from 'Grimace Island' and comes from a "huge family". His extensive family tree includes Grandma Winky, Aunt Millie, Aunt Tillie and Uncle O'Grimacey.
Take a trip down memory lane below: