The rise of the professional up-skiller – why the future of education is personalised courses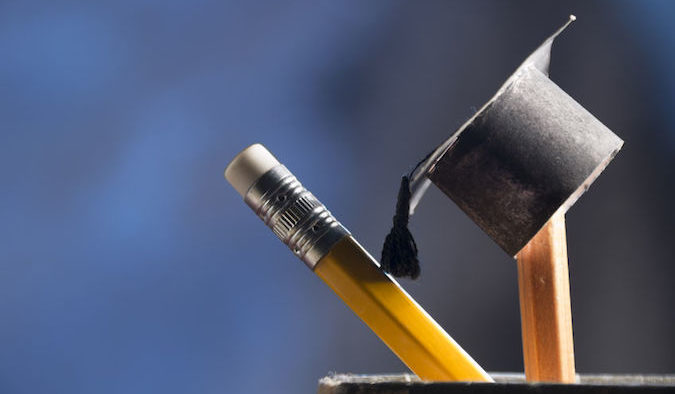 GM strategy and new product at RMIT Online Jack Hylands talks Marketing through student experience, the emergence of the professional up-skiller and the educator's approach to developing courses to meet future demands.
RMIT Online is a strategic investment, set up as a digital-first business that's wholly owned by the university. It's "trying to do things a little bit differently", says Jack Hylands, to keep its courses and students "on the forefront of where higher education needs to move".
At August's Adobe Symposium event, Hylands described the educator's approach to developing courses, the importance of meeting student expectations and shifts in tech and education trends.
What's your approach to developing courses?
We've got about 17,000 students online, with about 15,000 of those doing online accredited degrees, predominately masters programs which you can also study on campus. We're delivering them online in the short course portfolio. It's a bit of a different approach, our vision is a community of lifelong learners successfully navigating the world of work.
We're trying to work with the leaders of industry, focused on key capability gaps in line with our brand strengths of design, business and technology, enabling people to up-skill or re-skill in critical areas, in response to technological change.
We work with industry partners incredibly closely throughout the entire value chain, coming from defining capability gaps missing in the market and building courses with the partners. The partners are key contributors to the content that we create with them, or use from their content suites, building out projects that actually develop the capabilities they require.
Expert mentors drawn from our partners support and facilitate the courses, giving students feedback on their projects, guidance, and then – in the ideal scenario – they're hiring partners, as students that are looking for new roles can find those jobs within that partner ecosystem as well.
Are there any other approaches that you use to understand the necessary skills for the future of work?
Our core strength isn't the academic content or research. Our strengths are around online learning design and delivery, but also very much in strategic opportunity identification. We work closely with the industry, but also commission a lot of our own research – lot of research engaging with different data sets, with thought leaders about the Australian economy and other parts of the world that we're engaging with, finding the skills gaps and trying to align our courses and our capability development to meet those needs.
Our roadmap is that sort of nexus of business design and technology, very well in line to the future of work. We started this portfolio in November, so we've got eleven courses in market now. We'll have about 20 by the end of the year. The portfolio lines up very well with some of the things you would hope to see, I think, in terms of where we're consistently seeing people crying out about shortages and those data analytics, data science, product management, Agile, UX, a lot of key areas people are looking for new skills in.
Working internationally, do you find the skill gaps are similar in different markets? Are there patterns?
Spending a lot of time in the States, as well as RMIT's very strong footprint in south-east Asia, there's definitely some variation in terms of where the economies are at and the key skills. Fundamentally, there is a massive shortage around a number of the things we've been engaging with today (around data) and we're seeing that across all of our markets in the STEM skills in general.
That's been a well known fact for a long time and we still haven't been able to respond sufficiently to fill that gap, so we're still playing catch up.
In terms of some of the most cutting edge skills and capabilities – things like AI, machine learning, virtual reality, autonomous vehicles – we're definitely seeing those requirements emerge very healthily in Australia. But we're probably a little behind the States in terms of the number of job ads, for example, that would call out those specific skills.
It's a chicken or the egg thing in a way, if you're investing in education, you also need infrastructure and demand to warrant… 
Absolutely and I think we see the innovation happening around clusters. Those clusters involve, very often, leading universities that are delivering a pipeline of appropriate talent with the skills needed to drive innovation.
The classic, most successfully defined areas of innovation such as Silicon Valley, for example, rely very heavily on Stanford and other education institutions that have been there. In Melbourne, there's a fantastic hub of education as well and the perfect setting for this all to continue to develop really successfully.
That doesn't mean we don't need to maintain focus or make concerted effort to make that happen.
How does RMIT Online use and engage with the Adobe Suite?
In this partnership we're incredibly excited to be practicing what we preach. The university is engaging very heavily with the entire Adobe Suite to strive towards delivering an enhanced student experience which is absolutely central to everything we do.
We're getting sophisticated understanding of our entire student journey and using those insights to personalise that experience for students, and sort of really move it to where it needs to get to.
We're seeing the potential to lift that student experience to deliver a more enjoyable, a more relevant experience which ultimately gets them closer to the outcomes they're after. Being able to also take that capability and train people in it so they can take it through for their organisation and their customers is really exciting for us to see.
We're an organisation going through a digital transformation ourselves, and Adobe is a key partner for us on that and therefore seeing. Being able to service that for our students means a great relationship for us.
We partnered with them across three courses, so there's a digital strategy course, on which Isobar is also a partner, an analytics and insight course with which Tableau students are also engaging with, and getting their hands on Adobe tools as well as Tableau for analytics, insights and visualisation.
Then there's an AI and emerging technology course for marketing strategy. There is a growing number of AI courses in the market which are fantastic in key core skills and data science and machine learning  – but seeing its application through to the marketing vertical is really, really exciting.
It's a pretty cool course aimed at professional marketers that are wanting to stay engaged with some of the really cutting edge technologies.
You mentioned fine-tuning student experience as a way of delivering a better product. Is experience a big thing people are looking for when choosing online courses?
Absolutely. Education is a very significant investment of people's money and time. They've got extremely high expectations and aspirations as to what that experience will be and the outcomes they will get from it and rightly so. We're really passionate about raising those expectations even higher, because we think there's the possibility to deliver an even more wonderful learning experience.
That's an interesting challenge sometimes in education, because you want that experience to be challenging, you want people to be stretched, you want them to be taken out of their comfort zone. You want it to be fun but that doesn't necessarily mean it's going to be easy.
Differentiating from other organisations in the short course credential portfolio, we're competing against a lot of private companies as well, who very much focus on these sort of digital first methodologies around CX.
We want to make sure we're doing that as well as we can so students can have a great experience. The better their experience then the more heavily they'll engage in that learning experience, the more they'll progress, the more they'll develop, and ultimately the more likely they will be to get to the outcome that they want.
If we can use data and insights to continuously iterate and improve our courses – as well as dynamically respond and personalise those experiences for our students – then they're much more likely to get out of the course what they need.
We're moving away from a more traditional view of education as a 'one-size-fits-all' cookie cutter approach where you can either do a diploma, a bachelor degree or a masters.
There's a much higher percentage of the population going through further education now. They're bringing different experiences, different expectations and they've got different desires and different outcomes that they're after. We need to take full advantage of the data that's available to us in order to personalise their experiences and respond to it effectively.
That's the aspiration. As a university we can offer across a broad range of subjects, a broad set of products – from short credential courses all the way through to PhDs – and be that lifelong learning partner for a student. We're really thinking about them as lifelong learners rather than someone that's going to be with us for a year of a masters or three years of a bachelors.
We want them to think of us as the institution that's helped them get to where they wanted to go and so the next time they need support or learning or training they will come back to us. And the way that we can do that is by personalising their experience and meeting their needs.
The shift to these courses being used by professionals looking to up-skill as opposed to predominantly graduates is an interesting one.
This sort of comes again back to where data and knowing and understanding your customers is so important. One of the ways of phrasing it would be: in 1990 globally there were 500,000 students engaged in higher education, today there's more than 200 million.
In over 20 years there's going to be more than 400 million. Our market is no longer 18 to 21 year-olds in Melbourne. It is global. And they are 18 to any age.
For the courses that we're doing, our clientele are predominately 25 to 50, with – at the moment – a skew to 30 to 40. These are people that are often bachelor qualified, masters qualified, engaging with industries that are rapidly being impacted by new digital technologies all of the time in an exponential way.
They're either coming back from studying with us to keep up and keep ahead in their current role, or perhaps they're seeing their industry really get challenged by automation or other factors and thinking that they might have a better opportunity elsewhere.
We're seeing graduates coming through today that are expected to have 15 different jobs across their lifetime in seven or eight different industries, so they need to continuously re-skill, rather than just thinking 'I go to school, go to university until I'm in my early 20s and then I work.'
Really, it's going to be school – you'll still do that – you go to uni for a little bit, then you go to work, then you come back [to study], go to work. It'll be continuous and much more of an iterative, sort of porous process between the two. The type of education that we're delivering here will only grow in its prevalence in a complementary fashion to some of the other qualifications that we'll see.
Full disclosure: the author of this article attended Adobe Symposium as a guest of Adobe.
Further Reading:
Image credit: Oleksandr Mudretsov via 123RF