Puppies, rollercoasters, zombies and speedboats deliver Virgin Mobile's new brand platform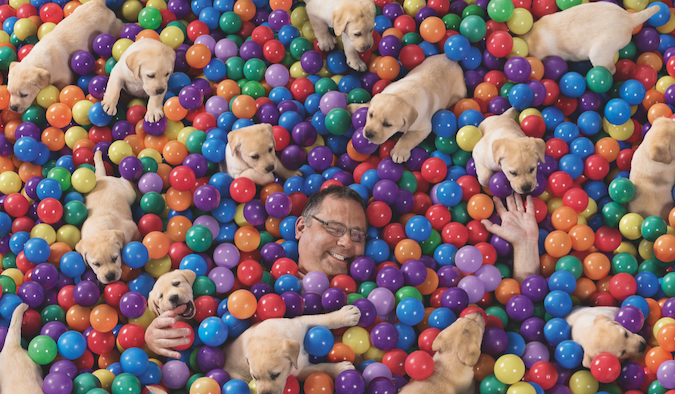 Virgin Mobile Australia has launched its new brand platform and tagline via a new video testimonial campaign.
Virgin Mobile and TBWA Sydney have combined forces to launch Virgin's new brand platform and 'Now that's Virgin Mobile' tagline.
The campaign takes the stories of five real Virgin Mobile customers, who deliver 'turned up testimonials' about why they choose Virgin Mobile.
The customers partake in experiences such as riding in a speedboat fighting off attackers, sharing a roller coaster ride with drag queens, roaming the street dressed as a zombie and playing with labrador puppies in a ball pit because – as the ads say – "it's just a bit more Virgin Mobile".
Working in partnership with creative connections agency UM, the campaign, which launched yesterday, includes social, digital outdoor and cinema, with a particular focus on UGC-style pre-roll to tap into current online watching behaviours.
Interactive billboards will allow consumers to superimpose their face directly into the content to virtually experience life as a Virgin Mobile customer.
"We're famous for doing things a little differently… and this campaign really demonstrates 'why Virgin Mobile' to consumers in a way that only we can," says Philippa Durant, director of brand and communications at Virgin Mobile Australia.
"To reposition Virgin Mobile we thought about why its customers are some of the happiest and most satisfied in Australia. The simplest answer is that everything they do is done with an unmistakable Virgin Mobile swagger their competitors can't match. We decided to replicate this through their advertising, using one of the most traditional methods in the peer-to-peer recommendation, which is still such a powerful tool, says Wesley Hawes, executive director at TBWA Sydney.
Here are the 30-second spots.
Doug
Osler
Steve
Kelsey
* * * * *
For the latest in insight and opinion on Australian brands and campaigns, purchase a subscription to Marketing magazine
* * * * *