Christmas campaigns wrap 2020 – who wins COVID Christmas?
The festive season has arrived. Marketing departments have been working overtime to create special campaigns to cap off a challenging year for consumers amidst a recession. Retailers have taken different approaches but most have stripped back the standard grandiose Christmas campaign for something more lowkey and attainable. From earnest to purpose-driven or just funny escapism, here are some of this year's Christmas marketing campaigns:
SodaStream pairs up with Snoop Dog
Sparkling water brand SodaStream has released a campaign with Snoop Dog focusing on the small but meaningful moments – very fitting for a coronavirus tainted Christmas. The lighthearted campaign is humorous but also delivers a subtle environmental message when Snoop Dog is joined in the studio by an animated sea turtle. This messaging reinforces the fact that the reusable SodaStream bottle can save-up thousands of single-use plastic bottles from ending up in the environment or landfill. The playful and purpose driven ad was directed by Jake Szymanski.
SodaStream global CMO, Karin Schifter Maor, says: "SodaStream is the ultimate small change to reduce single-use plastic waste, and Snoop Dogg is a great partner to help widely spread this message in a fun way."
ALDI goes "full-Christmas"
ALDI has released a very on-brand over-the-top and humorous campaign starring eight synchronised swimming Santas. The 'Go Full Christmas' video was created to bring some fun frivolity to Australian shoppers after a year of unprecedented challenge. Created by BMF, the campaign lives across a series of 15 second retail spots to showcase the supermarket's affordable range of Christmas products.
ALDI Australia's director of marketing, Mark Richardson, says: "We want all Australians to have something to look forward to this festive season regardless of their budget. This year, it is more important than ever that we showcase our high quality, low priced Christmas range as customers look for value after what has been a challenging year."
'A little Christmas something' from Priceline Pharmacy 
Priceline has created a campaign with creative agency Whippet starring longtime ambassador and media personality Chrissie Swan. The creative says that you don't need to spend a lot to give a gift that means a lot. Running alongside the earnest 'Little Christmas something' campaign is a fundraising drive for the Priceline Sisterhood Foundation which was founded in 2011 to provide support to women and their families.
Priceline's head of marketing, Gabrielle Tully, says: "With the country in its first recession in nearly 30 years, we anticipate Christmas won't be quite as big this year for a lot of families. But that's not to say it can't be just as special."
Australia Post celebrates Aussie Christmas
Australia Post has created a very Aussie campaign starring a cheeky cockatoo and a spirited young girl. The heartwarming 'Spread the Merry' video is designed to create some festive joy after a tough year for consumers. The Monkeys created the integrated campaign. It is being broadcast across video, radio, social, digital, press and in-store. The campaign also includes Australia Post's usual Christmas retail merchandise.
Australia Post CMO, Amber Collins, says: "This year, we are telling the story of a uniquely Australian Christmas and encouraging everyone to create some festive joy."
Santa photo tradition stays alive with AR campaign from Officeworks 
Officeworks is keeping the age-old tradition of getting a photo with Santa alive with an augmented reality (AR) campaign. The office and stationery supply franchise has teamed up with Verizon Media's branded content division RYOT Studio for a new augmented reality experience that enables families to take a photo with a virtual Santa in-store. The campaign is a solution to bring the holiday spirit to this year's socially-distanced festive season. The iniatiative is advertised on the Officeworks website, catalogues and in-store at point of sale. 
Julia Edwards, head of strategic solutions at RYOT Studio said: "The way consumers are shopping this Christmas has completely changed with COVID, so it's important for brands to be trialling different virtual techniques to stand out. Immersive formats turn passive audiences into active participants, which generates higher engagement that will really cut through the clutter during a busy online retail period."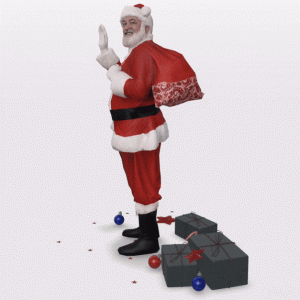 Coles makes Christmas cooking look fun and easy
This year Coles is focusing on tasty food with a campaign showcasing diverse festive food experiences across the country. The ad shows a range of families and how they come together and eat on Christmas. It does not directly allude to the circumstances of 2020 and is very in-line with other yearly seasonal campaigns but does show small moments. The multi-channel campaign includes 30-second and 15-second TVCs produced by creative agency Big Red.
Coles CMO Lisa Ronson says: "Our Christmas campaign perfectly encapsulates our new brand positioning, 'Value the Australian Way', for the holiday season showcasing what we're looking forward to most this Christmas; the small moments of connection with our loved ones."
David Jones gets nostalgic
David Jones is celebrating the almost 200 year heritage of its Christmas windows with a nostalgic campaign aimed at families. The stylised campaign was created by The Monkeys and Maud shows the windows from 1838 to the present day. Its release coincided with the unveiling of the iconic David Jones Elizabeth Street windows. This campaign is different in tone to many of the others and focuses on the magic of Christmas and the strength of tradition.
David Jones general manager of marketing communications, Georgia Hack, says: "David Jones' annual Christmas windows remain iconic to Australian families across the nation. We are incredibly proud to be one of the world's oldest department stores and to remain as the beating heart of many cities for almost 200 years."