Flip your content on its head – five tips for getting the most out of vertical video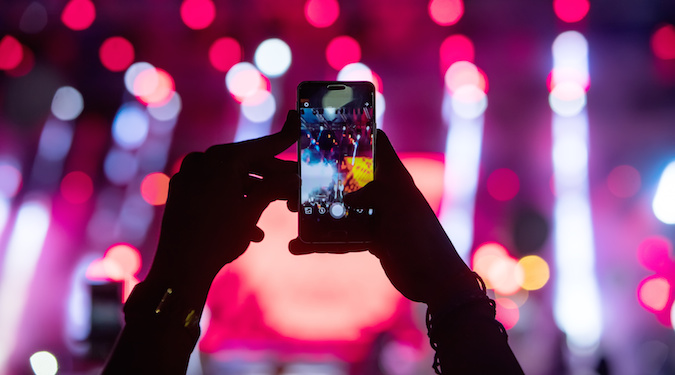 People hold their phones vertically 98% of the time, so why aren't brands making more vertical video content? Claus Stangl says the vertical video trend is showing real results and knows how brands can get the most out of vertical.
The horizontal screen has dominated the viewing sphere – from households to theatres and in the workplace, we've held a secular understanding of viewers' habits. However, the rise of mobile coupled with consumers holding their phones vertically 98% of the time (according to Mobile Marketer) has seen this form become the new way to consume video content. This shift is forcing brands to rethink how they engage consumers. 
Last year, it was estimated by Zenith Media that people spend an average of 29 minutes a day watching video on mobile, compared to just 19 minutes a day on a fixed device. With the time spent on video up more than 80% year on year, portrait mode is becoming the default orientation. This means brands need to think vertical to reflect the way that consumers are naturally consuming content. 
Brands that have experimented with the vertical video trend have seen measurable results in driving awareness and connecting with specific audiences. Case in point; Samsung Electronics used Facebook and Instagram to generate buzz around the unique art and design element of its latest product, 'The Frame', a premium TV that turns into a beautiful photo, print or work of art when not in use.
With an aim to uncover a specific audience segment interested in art, interior design, architecture and house renovation, Samsung formed an exclusive tie-up with retailer Harvey Norman. Samsung primarily used vertical video ads in Instagram Stories — a full-screen ad format that appears between Stories from followed accounts. It provided a platform to showcase the array of paintings, prints, photos and frames that can be displayed on the screen when the TV is switched off and how easy it is to switch the picture on the screen from TV to art mode.
On Facebook and Instagram, Samsung used eye-catching video ads and video carousels in feed to show off a piece of artwork and a TV at the same time. Samsung also retargeted ads to people who had previously viewed videos relating to The Frame TV. Not only was the end result visually stunning, it led to an 8.5% increase in aided brand awareness, a 10 point lift in ad awareness and a four point increase in purchase intent of The Frame.
The success of the Samsung experiment illustrates the way vertical video presents an incredible opportunity for brands to create captivating content tailored to a specific audience. This is a rapidly growing space, last year over half of advertisers purchased vertical video ads (IAB Ad Spend Report) – a figure expected to significantly rise in the next few years. Brands will need to approach creative content from new angles to compete for consumer attention.
 With this in mind, here are a few guiding principles to make the most of vertical:
Leverage multi-part storytelling – 

Formats such as Stories work particularly well in multiple scenes. As people move through these mediums quicker than ever before, and with 300 million people consuming Stories every day, now is the time for brands to be tapping into this audience. Instagram has just introduced Carousel Ads in Stories, giving advertisers the ability to have up to three pieces of media per Stories ad to create multiple scenes and richer 

storytelling. Use this time wisely by getting your brand seen in the first three seconds and reward consumers by creating a compelling, holistic story.

Take creative risks – Remember this format is relatively new and adapting according to consumer tastes. Take risks and experiment with the format to grow your brand and following. The ephemeral nature of Instagram Stories makes this much easier as content disappears after a short time. Warby Parker, an online eyewear retailer, has a consistent track record of playing around with new content formats. For example, its early adoption of curating and re-sharing user generated content allowed it to learn faster, attract plenty of airtime and has provided the brand with a consistent competitive edge.
Use native tools that already exist within vertical video formats – 

These tools offer a new level of creativity and help demonstrate that brands are tailoring content specifically to that platform. On Instagram, many brands make excellent use of GIFs as well as polls in Stories to engage consumers.  

Play with the vertical shape – 

Don't waste the space 9:16 provides. Vertical offers creative and surprising ways to make products the focus, such as split screen stacking or mirroring. 

Bottega Veneta

 consistently experiments with different framing and spacing techniques making the most of the entire screen. Instagram is currently testing a format that converts non 9:16 content to fit the screen, allowing brands to use existing creative. 

Maintain a consistent brand voice. 

Just because a brand is trying out a new format doesn't mean that it needs to stray from what it's doing on other channels. It's important to stay focused on the audience and the style of content they expect to see. For example if a brand is known for irreverence, keep the vertical video content light and humour-led.
2018 is set to be the year creativity truly flips on its head and brands unlock the value of vertical video. It may be a long shot, however with people watching an increasing number of films on mobile devices, it may give rise to the world's first vertical video cinema – watch this space.
Claus Stangl is creative strategist at Facebook and Instagram Australia.
Images copyright: ververidis / 123RF Stock Photo