IoT power solution backed by CSIRO could cut household power bills by 80%
A new electricity management platform may be able to reduce power bills by up to 80%.
Evergen's new CSIRO-backed solar and battery storage optimisation may cut the power bills of the community houses it's being tested in by up to 80%.
The platform, which was developed by the CSIRO uses a household's power consumption patterns and weather forecasts to decide when to use solar power, when to store it in the batter, and when to draw from the battery or the grid, according to what is the most cost-effective for the household at the time. Via the Evergen App, the system learns and explains to users how it's adapting to maximise savings.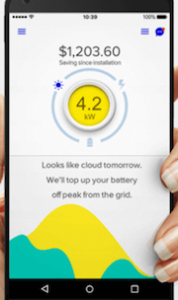 The pilot program sill see the technology tested in 10 low-income households in NSW.
"It is these people who would benefit the most form energy saving measures in their homes, but who cannot afford the large up front costs of items like solar panels," says community housing organisation SGCH's group CEO Scott Langford in a statement, One Step Off the Grid reports.
Evergen conducts research at CSIRO's Newcastle Engergy CEntre, has raised a total of $3.7 million to trial and refine its system before commercial release. The $3.7 million is made up of $2.9 million from AMP and its former CEO Stephen Dunne, as well as $800,000 from the CEO itself.
"Distributed energy technologies such as rooftop solar are the bigest growth areas in the market globally, and upcoming new technologies will completely change a market that has operated the same way for decades," says Evergen CEO Dr Glenn Platt.
Aside from storing solar power, Evergen's battery can charge itself and store power from the grid, enabling users to make the most of off-peak times charging overnight.
The technology, which has until recently been limited to a number of beta versions available to customers as part of an early release program, was installed in the houses in October will be monitored and developed by CSIRO for the duration of the program.
"We are already working on a range of product innovations, which will add new options to the Evergen smart system during the next five years," says Platt.
---
RECOMMENDED READING
The Marketer's Guide to the Internet of Things
20-page report for marketers, that includes input from IBM, McKinsey, ADMA, Philips and more. Understand how The Internet of Things is creating challenges and opportunities for marketing departments in Australia and the world.
Hear the latest thinking and examples from a diverse range of experts from around the world contextualised for marketers in Australia and New Zealand.
Foreword by Ian Wong, partner and interactive experience lead, IBM Australia and New Zealand.
Buy now for $49.95 or upgrade to Pro Membership for full access to our premium resource library.