Innovation at Samsung, Lion Nathan and Apple: Arno Lenior interview
Arno Lenior is one of Australia's leading marketers having most recently overseen unprecedented growth for Samsung as CMO until May this year. Having worked for two of the world's most innovative companies (Apple and Samsung) and leading group innovation at Lion Nathan his experience and insights into innovation are unique. Samuel Tait sat down with him after his departure at Samsung to get his viewpoints and advice on innovation.
Samuel Tait: Where in your career have you lead marketing and innovation?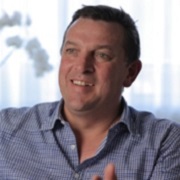 Arno Lenior: Three of the notable companies I can site having experience include:
Apple, where I was the marketing director,
Lion Nathan where I was marketing director both in New Zealand, and here in Australia. However I was also the innovation director across the whole business, and
most recently I left my CMO role at Samsung, which is a highly driven company that is built around R&D and innovation.

ST: Based on your experience across these different industries and businesses how have they defined innovation?
AL: At Apple, innovation clearly is part of the company's DNA. It approaches products and markets very differently. I was there when Steve Jobs was steering the company into a fresh new direction with the launch of the iPod. This was really interesting because their view of innovation is looking at categories or creating new categories as a source of new value. The iPod was a really good example where they saw a way to re-imagine how people would consume media, and ultimately create value.
For Apple that was the start, obviously, of very many new products and markets. They didn't necessarily invent the MP3 player, but I think they perfected it with the iPod. They simplified things for people. Innovation internally was more than a buzzword. 'Innovation' was a part of everyone's KPIs. Interestingly enough, the definition was left very open in terms of what the interpretation of innovation actually was. It was an individual thing, and also a mindset. It was therefore up to you to define what innovation actually is to you and how it applies to what you do everyday.
At Lion Nathan, a company is steeped in heritage and established brands, operating in a very traditional category, particularly beer, we took on a mindset of innovation to provide focus on what we should be doing.
ST: What do you see as the consumer's role in innovation?
AL: You have to go out and speak to them, understand them. An interesting point of view that I learned early on in my career is that consumers won't necessarily know the answer to the question you are asking. They don't know what they don't know. Our research with consumers was about mining insights and then formulating unarticulated needs. A consumer says X, but what they're really looking for is Y, and that is the marketing or the brand person's role to go and join the dots.
An example of a product which we learned much from the consumer was Steinlager. Here was a brand, which was the first premium beer brand on the market in New Zealand. It was also the first five percent alcohol beer in the market, some thirty odd years ago when the brand used to be massive. When I came into the business, it was pretty much a price lead brand. It was being drunk purely based on a price point. The brand had a very big stigma attached to it-where it gives you a hangover because it's full of chemicals.
Now, the real insight behind the brand and it's demise in brand popularity came out when we went for the deep dive with consumers and really tried to understood the real issue. Steinlager was the first 5% beer on the market, and people were drinking it like it was a 4%. People were drinking the same amount of beer at the pub but that meant a 20% increase in alcohol. They did not articulate that this was the real reason they are waking up with a headache. Consumers believed the product had chemicals in it which was the cause for the headache… So, when the chemical attribute came out in research it was a misnomer — it actually has got no chemicals in it, no more than the next beer.
We knew at this stage that this was a gem of an insight to work on, but the question was how do we overcome it? The answer came down to product and brand innovation and subsequently we created a brand extension. We created a product called Steinlager Pure. It purposely only had four all natural ingredients. We developed a purity message and we tackled the perception of the chemicals head-on, effectively saying that there is nothing else in this beer; there's only four pure ingredients, no other chemicals. And we kept the old Steinlager by the way. We kept the existing product and we revisited the brand, made it more contemporary. It was important to retain the original brand as we didn't want to lose existing drinkers because we knew that many still loved the original product — it had a particular taste, a really hoppy taste because of the particular hops that are used. We just wanted to say, "Hey, we know you used to love Steinlager. We've made it even better".
Now it's the biggest beer brand in New Zealand and their biggest premium beer brand. We grew the original brand volume but increased our share of premium significantly because of the introduction of the new brand, Steinlager Pure. Together, they proved to be a very big success story.
ST: What is your experience of the role or value of failure in innovation?
AL: Recognizing that innovation is a journey and that not everything will succeed. It's important that you recognise the failures that you're going to have along the way, and importantly how you learn from them. There were examples where we proposed to do new things and we were told to have a go. We tried different categories. We tried a few different products. We tried different products in different categories. Some of it just didn't work. And that was okay, as long as we learned along the way and knew how we could apply that to the next project.
The key questions we would repeatedly ask were: how have you put new knowledge into your process so that you'll know not do that again? Did you get the right insights? Did you ask the right questions? Did you use the right packaging? Did you use the right formula? Did you price it correctly? Whatever the case might be, all of those different things are areas where you need to be able to identify failures very, very clearly.
There needs to be an appetite for failure, just not constant failure. At Lion Nathan, the board at the time was very supportive, "Look, we get it. You're not going to get it right every single time. However the ones that you are going to get are going to be cracking." I suppose that's testament to good leadership. We looked at our overall innovation program including crossover to Australia, and we looked at all sorts of different categories. We tried a few different things and, yeah, were able to bring some new products to market that are still in place today.
ST: How was innovation different when you were at Samsung (versus Lion Nathan)?
AL: My role at Samsung as the chief marketing officer was really to externalise locally a lot of the output of innovation as opposed to coming up new innovative products. The Samsung organisation is structured in such a way that it is massively focused on R&D at a global level. They have built five R&D centers around the world. I think there is about fifty thousand people in R&D. And they spent about US$11 billion in R&D during the last calendar year (2014).
Samsung operates in the technology space where there are always two guys in a garage somewhere thinking about the next big thing. Several companies and their competitors fall by the wayside in a short amount of time. Nokia was massive and in the space of about three years that company has gone from being number one in a growing category to an also ran… that's how quickly it happens. The leadership at Samsung is very aware of the need to consistently innovate and reinvent themselves.
Samsung is the largest consumer electronics company in the world, but they are a company, which essentially is about connecting people. It's been around for a hundred-odd years selling rice and has transformed itself over time to where now it sells TVs and smart phones and electronics. This has been done through a constant focus on innovation and investing in new technologies.
ST: How important is having senior leadership and board level buy in for innovation to succeed?
AL: I think that a board and a CEO have to have a vested interest in innovation being successful. Again, I reflect back on the Steinlager case study where we had the chairman of the board and the CEO absolutely involved at the very beginning so that they knew exactly what was going on, and the innovation project team effectively reported back to them. We presented our plans to the board, keeping them abreast at all stages of the project to make sure we had their support and buy-in.
When you're presenting a big innovation plan to a senior board who understand the value of innovation — a progressive board, one that wants to better the company, the more cross-functional expertise you've got on the project team in that presentation the easier it becomes to convince the board that you have the necessary skills to tackle the issue at hand. It is critical to have a united front presented from the business to give the board the peace of mind that the best people from various disciplines are across it and the project has every chance of success.
ST: How important is talent to the future of innovation in Australia?
AL: I think that there is a big opportunity for Australia. I really believe there's a massive opportunity if we can stop exporting our talent to Silicon Valley. The amount of Australians that are running big projects and companies in Silicon Valley is phenomenal, and why not? Our young guns go over there and it's exciting. They're getting paid very well and are changing the world. Now, there's no reason why we can't have that here. The government and local businesses need to step up.
I think Australia has bred a nation of discoverers and a nation that due to distance and isolation has had to fix our own problems. We've had to make do with our own ingenuity. I think that's been passed down through generations. The thing that has changed is that the world has now opened up for us from a technology perspective. You don't need to be sitting anywhere else in the world right now because you are just as connected as the next guy.
What we haven't done is kept up in terms of the investment in R&D and innovation in that regard. We could be creating an amazing opportunity right here. That's why I think the biggest thing missing is incentive. How do you stop the brightest going offshore? It comes back to that innovation culture that we're talking about at leadership levels. We need progressive CEOs, leaders in government, company boards, and investors to start saying "Lets keep our brightest people here. We are going to give you incentive to go and have a crack because we know one out of ten might actually be an amazing business."
We need to be as serious about the knowledge economy and it's future as we are about mining and agriculture.
ST: What three companies do you most admire for the way in which they approach innovation?
AL: I have to say I very much admire Google. They are an innovative company and they started out as innovators. They let their employees come up with new initiatives all the time and they incubate ideas within their organization very well. They give their staff 20% of their time to actually go and work on pet projects. I think that is just a masterstroke in terms of keeping an innovative streak alive in the company. Google Maps was invented right here in Pyrmont.
Samsung has an amazing culture and innovation ethic. They are extremely aggressive and confident in the way that they believe in innovation and the notion that it will be their future.
Apple, of course, is the great innovator. Whilst they may not have created new categories recently, they have perfected it. The way they have cultivated their brand over time, they receive unprecedented love and admiration from consumers of their products.
The second part of Samuel Tait's interview with Arno Lenior will be up online in the next fortnight and will cover execution, the impact of successful innovation, different models he has used, the importance of external viewpoints in enabling outcomes and his advice for successful innovation programs.