Facebook enters the home with Portal – tech triumph or tone-deaf?
Facebook has launched Portal and Portal+, two new video communication devices for the home, but early social media response appears negative.
"When you can't be there, Portal and Portal+ let you feel there" says a Facebook Newsroom release. The two devices use AI technology to make video calling easier.
Many on social media are already raising privacy concerns and accusing the social network of some tone-deaf timing after its recent array of user data privacy woes.
#FacebookPortal I definitely trust Facebook to have even more cameras and microphones in my home because of their stellar record of protecting user privacy.

— Dennis Jeffris (@DennisJeffrisVO) October 8, 2018
Oh, a device to both listen and watch what's happening in my house – with the 'most trusted' digital company Facebook – yep – I'll order 10 – one for every room… #FacebookPortal

— Steve Sammartino (@sammartino) October 8, 2018
Portal's Smart Camera and Smart Sound technology offer a hands-free experience.
"Whether you're cooking in the kitchen or chasing the kids around the living room, Smart Camera stays with the action and automatically pans and zooms to keep everyone in view," says the announcement.
"Smart Sound minimises background noise and enhances the voice of whoever is talking, no matter where they move. It's like having your own cinematographer and sound crew direct your personal video calls."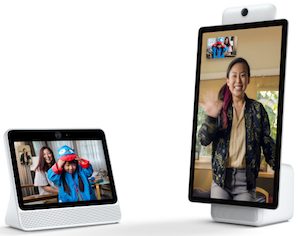 Like other popular connected home devices, Portal offers hands-free voice control. Users can start a video call by saying 'Hey Portal' and noting who they'd like to call. It has Alexa built in, leveraging the tech's robust voice tech that enables to ask for news updates, check the weather, control smart home devices, order items and more.
Perhaps in anticipation of the public's response, Facebook has promoted the products' "built in privacy and security." Users will be able to disable the camera and microphone with a single tap. A physical camera cover lets users block their cameras lens and still perform voice commands and receive incoming calls and notifications.
It remains to be seen whether Facebook's efforts in this regard will resonate with consumers.
It even comes with a little plastic cover that you can pop over your camera

So if you don't trust us not to spy on you whenever the fuck we want, that's ok!!

What the fuck has this world become #FacebookPortal

— Ed (@edvinicombe) October 8, 2018
Other privacy measures made clear in the announcement include:
Facebook doesn't listen to, view or keep the contents of Portal calls
Portal's camera does not use facial recognition and does not identify users, and
Portal voice history can be deleted at any time.
Facebook has partnered with Spotify Premium, Pandora, iHeartRadio, Food Network and Newsy to enable shared activities like listening to music or watching shows together. It is also incorporating AR effects powered by the Spark AR platform to make calls more fun and interactive.
Portal (US$199) and Portal+ (US$349) are available now for pre-order in the US and will begin shipping in November.
Further reading: voice tech done right