Diversity and inclusion is a CX opportunity but change must start at the top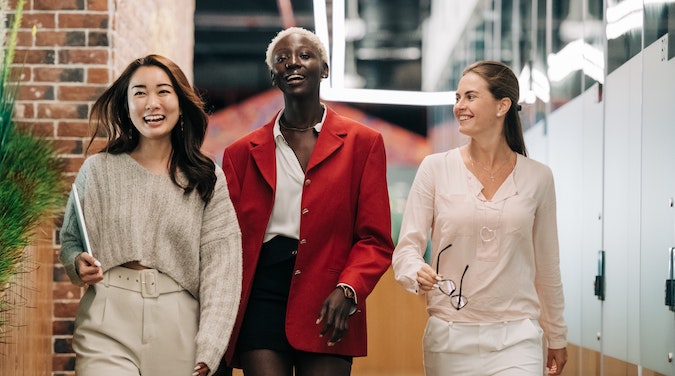 Beyond the campaigns and virtue signalling, there is an opportunity in corporate Australia to create more diverse and inclusive customer experiences, but it must start in the boardroom. Lionel Kho writes about why having diverse, inclusive and multi-disciplinary teams can be a major contributor to overcoming bias in leadership.
There has been a roaring shift by brands towards customer centricity, heralded by the beating drum of customer journeys, human-centred design, service design and optimisation. In many cases, the cumulation of these efforts has resulted in improved customer experiences, creating competitive advantages for brands that have successfully delivered these programs of work.
So, we must ask ourselves: "what's next for the customer-obsessed organisation?" What might create the next paradigm shift that delivers a step-change, taking us beyond the incremental gains of BAU experimentation?
Is it data transformation and modernisation during an era where consumers simultaneously demand accelerated digital transformation and improved privacy?
Is it hyper-personalisation, orchestrated by customer data platforms and machine learning, delivered by contemporary data pipelines and improved marketing automation?
The answer to both is undoubtedly, yes. However, I believe there is yet another potentially untapped, slightly amorphous, infinitely more complex, but equally significant opportunity. Diversity and inclusion in CX.
Often, brands may miss an opportunity to engage their audiences and customers positively because they have overlooked a certain aspect of the customer's lived experience. This goes far beyond asking your agency partner to build you a multilingual site or the prima facie virtue signalling of cultural celebrations in your annual campaign planning.
Truly customer-obsessed businesses must be representative of the consumer community at large. And so, I am challenging boards, CEOs, CMOs, CXOs, CPOs and all senior executives to answer this question. Does my boardroom look like my storefront? That is, is the senior leadership representative of my workforce and customer base?
Sadly, it appears the answer is a resounding no.
It's time to change the face of corporate Australia, beginning in the boardroom
Let us first face some difficult truths by using data to highlight the challenges.
A 2018 headline in The New York Times reads: "In a proudly diverse Australia, white people still run almost everything."
It's a commentary on a study by the Australian Human Rights Commission, which found that almost 95 percent of senior leaders at C-suite levels have an Anglo-Celtic or European background. Similarly, the 2020 Board Diversity Index Report published by the Governance Institute found that persons of non-Anglo origin held only 5.2 percent of ASX200 board positions. In contrast, nearly 30 percemt of Australia's population were born overseas.
Suppose we frame this as a problem to be fixed. In that case, we might ask, given this dichotomy, how will corporate Australia address issues of unconscious bias without first addressing this lack of representation in its own leadership?
However, I would rather frame this as an opportunity. What is the potential value to your business if your senior leadership were to be more culturally representative? And therefore, better able to understand, empathise, engage and excite your customers?
Measure this based on the strategic imperatives of your brand. Would this result in higher conversations in the path to purchase? Perhaps increased activations, post-acquisition? Maybe we might see increased engagement, a reduction in complaints and an improvement in our CSAT metrics? Might it increase brand awareness and consideration, or even help enhance customer loyalty and assist in arresting attrition? What is this worth to us to move before our competitors?
Visibility creates equity, which in turn creates opportunity
To attract the diversity of thought necessary to overcome your brand's unconscious bias and truly connect with customers, corporate Australia needs to offer talent from all societal segments increased and equitable access to career opportunities. Especially senior leadership and board appointments.
When starting my career in the 2000s, I looked up the corporate ladder and could not see anyone who looked like me. For years I subconsciously believed that (and in some cases, was explicitly told that) I would not have what it takes to be considered leadership material. This lack of representation in leadership limited my sense of what was achievable for me as an individual. I looked up into the bamboo ceiling.
In hindsight, I know now that was largely because I did not overtly project the traits valued in leaders, as defined by the Western cultural ideal. Today, I've reached a point in my career where I feel safe enough to call this out, but sadly it is also an admission that I have previously had to 'play the part' to be considered equally. I am glad to report that I now work in a truly inclusive business where I can bring my whole self to work. Where I am valued for my contributions.
In 2021, I was humbly recognised by the Institute of Analytics Professionals Australia as Australia's number one Analytics Leader. This accolade is important, not because of any vindication it provides, but because visible representation encourages the next generation of talent from underrepresented minority backgrounds to believe that they too can achieve the same. It is now my daily personal motivation to be a visible representative for the culturally diverse: If it can be seen, it can be believed. If you are early in your career, know that you can do it too.
Note that this applies in many domains of your business. Do you choose culturally inclusive talent for your brand campaigns? Do you enable a multicultural customer experience in the frontline operations of your business? Do you deliberately denounce confirmation biases in your brand's talent acquisition to attract and retain talent in today's challenging market conditions?
When solving the issue of bias, think like a data scientist
The impact of bias in machine learning (ML) and artificial intelligence (AI) systems has become increasingly topical. Greater demand for the commercial advantage gained from AI has caught the eye of business leaders, product managers and marketers alike.
In ML, training datasets will often contain inherent prejudicial biases that reflect the history of that system. However, if not consciously managed, unintentional algorithms based on data containing such biases will result in outcomes that only serve to propagate these biases, unfairly discriminating against certain groups or population segments.
The future will continue to look like the past if we do not actively and consciously attenuate against these inherent biases. Algorithmic solutions to managing bias in AI continue to be an active area of research. However, to mitigate these impacts, we must first accept they exist, actively identify them and have the courage of leadership in strategic decision-making to change future outcomes.
Google's Responsible AI Practices highlights the concept of fairness, stating that "fostering an inclusive workforce that embodies critical and diverse knowledge" is crucial to combat bias. Effectively addressing bias in your workforce will translate to more inclusive customer management strategies being developed by your leaders.
A diverse, inclusive and multi-disciplinary team will produce equally diverse, inclusive and robust outcomes and lead to spontaneous innovation.
Are you equipped to truly listen to your customers?
Through their interactions with your products and services, your customers are trying to speak with you. They are trying to tell you what they love and hate about your brand. So, ask yourself, do you have the data, technology, and most importantly, the right people, to show them that you are really listening?
Lionel Kho is the VP of data transformation at Merkle (a dentsu company).
Photo by Alexander Suhorucov from Pexels.
Found this article interesting? Read this article about how SMBs can authentically represent disability.