Inside 'CAN' – the internal aspect of the CommBank campaign
Probably like yours, my family members have no real idea of what I do (I heard my sister once telling someone that I am "like The Mentalist, but for brands"… sadly, not even close), so whenever a new TVC launches or a brand campaign goes live I become very popular.
On the morning of 20 May, my phone ran hot. People, some of whom I have been screening for years, called to get the skinny on a series of outdoor and digital executions that presented themselves either on the freeway, or on their mobile device on their way to work. The message read 'CAN'T'. At the time I hadn't seen the ads, so when asked the question, "Who is behind all the CAN'T ads?" I did the only thing anyone who works in brand would: I cracked a dad joke. "I can't be sure," I said with a smarmy chuckle and a wink. Sure no one laughed, but, to my surprise, most people stayed on the line.
The tease
Within hours I too had been exposed to CAN'T, and within days a broad debate had begun in the world of brand and marketing around the party behind this big-budget teaser. The teaser included outdoor, digital, viral and stunt executions. Trucks with four-metre CAN'T signs, a series of intriguing viral clips, 3D chalk drawings, lollipop people and an absolute pasting of CAN'T across outdoor media indicated to most that the brand behind CAN'T was one of the majors. In addition, a new twitter identity #CANT appeared and began tweeting things like, "If a tweet is sent, but there are no followers to read it, does the tweet exist?" and "Bet you plenty of people in #Sydney #CANT get out of bed tomorrow #SydneyHalfMarathon". The contenders were quickly whittled down to Westpac or CommBank, and before long Westpac went public announcing that it wasn't behind the campaign. So, at this stage, the marketing community knew CommBank was up to something. The destination website whatiscant.com.au was no longer anonymous.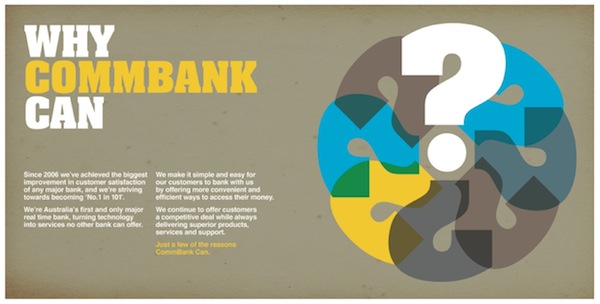 Some of the other banks (and Greenpeace) quickly became clued in, looking to take advantage of the hype. One bank in particular was reported as 'ambushing' CAN'T. Queensland based Heritage Bank moved quickly to buy Google sponsored searches with a reactive turn of phrase: 'Heritage Bank – we can do things the big banks can't.' ANZ reacted on Twitter, tweeting, "#Can't work out the best way to reach your financial goals? We may be able to help." Greenpeace took a more traditional path of brand hijack/piggyback, releasing a full-page ad in mX titled 'CAN'T', appealing to commuters around the proposed coal mining plans in the Great Barrier Reef. When interviewed after the fact, CommBank chief marketing officer Andy Lark saw the reactive effort of the other banks as serving to strengthen the level of public interest, and was quoted as saying the guerrilla activity "added fuel to the fire". Lark suggests that, unlike the single-stunt based teasers often associated with challenger brands, this teaser was thought-provoking, started conversations and "had people wondering 'what is this about?' as it built in momentum over the course of a week".
The day CAN'T became CAN
Following seven days of broad conversation and conjecture, on 27 May CommBank came clean by introducing Australians to 'second screen' technology press ads, along with a hotly debated 60-second TVC featuring a poem read by Golden Globe winner Toni Collette (activated again two months later during the Olympics). The second screen press ads created significant noise. From tech hubs appreciating and critiquing News Australia Sales' handiwork, to my local café, where I saw what looked like a group of people reading the paper through an iPad, people were talking about it. The CAN poem read by Toni Collette was polarising, with the Sydney Morning Herald suggesting that viewers "Can't stand it" and yet a positive majority was recorded from several blogger polls, and CommBank spruiked its popularity. "Hundreds of schools and hospitals have approached us for a copy of the poem, many saying that it is life changing," says Lark.
Other interesting executions in CAN'T becoming CAN included a rather fun mobile and homepage interactive experience, where users had the opportunity to shoot or 'blow up' the T in CAN'T. Blowing up the T is a strong visual representation of the campaign concept. When asked what the campaign is about, along with the motivation behind it, Lark replies, "We play a big role in people's lives and the stages within. While we may not directly drive life decisions, it's CommBank's role and responsibility to support our customers in their dreams, hopes and ambitions… not only in product and service, but also attitude, hence CAN."
Lark adds that CommBank is all about helping people move forward. "Having great creative to grab people's attention and share our position is just the start," he says. "The banking industry has been quiet for a long time and people need a positive message and a brand they can believe in. We are that brand."
Some months prior to launch, Lark and his leadership team – Monique Macleod, Jessica Myers, Andrew Campbell and Tamisine Heath – took to the streets personally to investigate consumer views about the banks and CommBank. "When M&C Saatchi introduced the 'CAN' campaign, it provided a simple and motivating solution to the challenges presented through our research. CAN is great instinct backed by data," says Lark.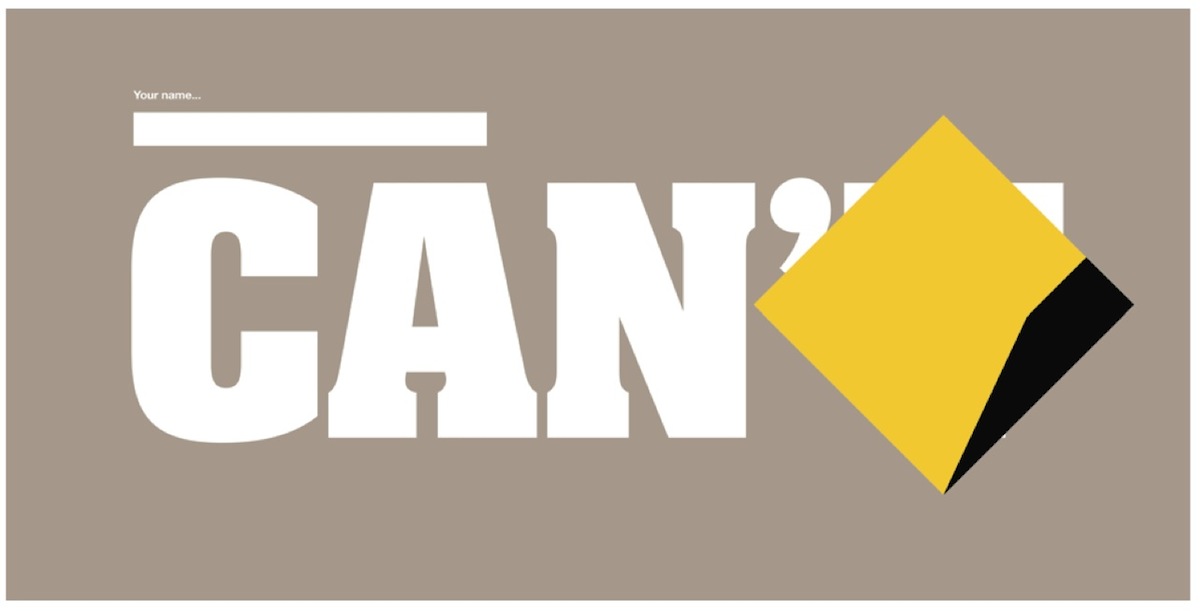 How CAN can…
So, now that I was clear on the campaign strategy, teaser and campaign executions, it was time to look into how CommBank delivered on its promise, from the inside out. According to CommBank executive general manager of sales and service, Fred Pollock, who was instrumental in driving the internalisation and internal engagement of CAN, the first and most obvious proof point is the concierge. "We worked methodically over a period of weeks to ensure our people could deliver CAN from a service perspective. Some of the more visible examples of this are our concierge service and our people's attitudinal shift," says Pollock. Pollock goes on to reference several internal, service-focused initiatives designed to demonstrate that CommBank people are ready to demonstrate they CAN. "We have transformed the way we treat our customers… to an extent that 'can't' is now a dirty word. It is important that our language, both inside and out, reflects our brand and our attitude."
Technology is one of the other key areas in which CommBank has invested to help deliver CAN. According to Lark, CommBank Kaching, CommBank Property Guide and Everyday Settlement technology solutions lead the way in helping enable CAN. "All three apps are designed to help people progress in their lives faster and with less hassle." He believes that the momentum behind CAN is sustainable and will be driving a host of new products and services all focused on bringing a positive sense of abundance and opportunity to CommBank customers.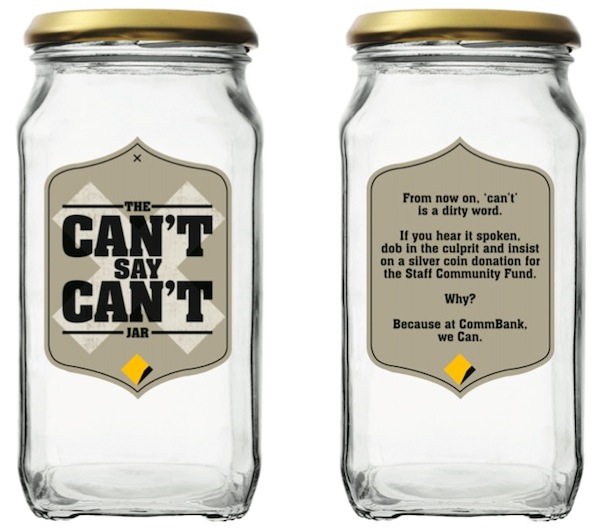 The CAN culture
As with any service-based promise, the underlying culture of an organisation is without question the determiner of effective, sustainable brand promise delivery. If CommBank doesn't have the well-developed behaviours and systems designed to support this optimistic promise and promote the desired culture, customers and employees alike could be left scratching their heads.
Pollock says, "We have spent months preparing the best part of 40,000 people for this new brand position. We monitor our customer experience weekly and have seen a significant uplift in customer satisfaction in the short time since we launched CAN."
He goes on to share many of the internal symbols and practices that he believes are pulling the CommBank internal culture in line with the brand. He refers to operation initiatives like mass employee training and leadership development along with communication initiatives like a 'can't' swear jar, that collects dollar coins every time an employee says 'can't'.
Other high impact employee communication executions referenced include an employee viral video, a CAN manifesto, Can-Plan notepads and a series of experiential initiatives that required CommBank employees to sign up and get behind the new promise and engage with the culture.
When it comes to the question of whether CAN is a campaign or a new organisational position, Lark and Pollock both agree that while CAN began as a campaign idea, it has "taken on a life of its own inside CommBank, one of positivity and opportunity". CommBank believes that CAN will go a long way in helping Australians see it as a support entrusted to manage the key things people rely on to move ahead in their lives: their money.