Team-building the CMO's imperative: SAP's Ray Kloss on the next five years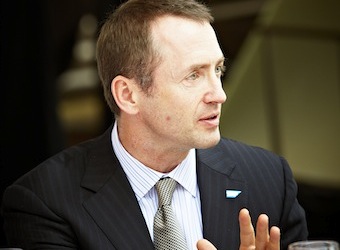 This article by Ray Kloss, head of marketing for SAP Australia and New Zealand, was first published in the June-July issue of Marketing, as part of a collection of essays from senior Australian and international marketers, titled '2018: A skills odyssey'. 
We asked each respondent to look five years into the future, at what a future CMO's core competencies, technical knowledge, and role within a business will be in the year 2018. Here's what Kloss wrote.
Gartner predicted last year that by 2017 the CMO will spend more on IT than the CIO. It is quite a claim to consider, given the size of B2B and B2C systems of records, process-based systems and the business intelligence systems deployed today, but it certainly points to where we will be going in the next five years. There are three major trend areas that will drive this investment.
The first is real-time analysis driving offerings. Organisations and CMOs that thrive in today's world of blurred work/life careers, complex communications, interlocked communities and instant personalised brand experiences will have developed a holistic customer view leveraging myriad internal and external data sources. The CMO in five years' time will have created a team that can leverage easy to use, yet powerful analytics to uncover hidden markets and customer segments. They will already today be listening and monitoring social sentiments across channels, but in 2018 their brands will be reacting quickly to dynamic market trends with new products and immediately altered go to market strategies.
The second trend will be an obsession with the customer experience combined with the dominance of the mobile application. CMOs and their brands will need to be delivering customer experiences seamlessly across multiple interaction points, and reward customers for profitable behaviour to build long-term customer loyalty. The customer experience needs to be the one the customer configures themselves, not one that is pressed on to them through heavy-handed segmentation. As customers engage, the experience needs to build on previous interactions to make the current and follow-on customer interactions more relevant and personalised. CMOs will become leaders in enabling their organisation and their ecosystem of channels and suppliers to coordinate customer interactions across interaction channels. And, by 2018, we will have new channels beyond social channels, created by the increasing machine-to-machine communication that is already emerging.
The media is covering the devaluation of loyalty programs in 2013. Consumers are wary and often exhausted by the offers that currently dominate the buying journey today. The third and final trend that CMOs will deliver is the ability to deliver in real time, the relevant offer. Today's available technology, through mobile applications, real-time analytics and multichannel processes, can already deliver this capability. CMOs in 2018 will influence customers at the point of decision with personalised offers and recommendations that are delivered at the right time, at the right place, through the right channels to the individual. There are already early-adopter brands that provide in-context offers and promotions that are based on the customer's geographic location, their offered profile and preferences and their current decisions. There are examples from traditional retail, through transport and of course into the world of online engagement. Technologies like in-memory computing have slashed response times, so it is now possible to perform realtime analysis as the buying journey is taking place.
Perhaps the CMO will be spending more than the CIO in 2017, because the profession of marketing will become deeply technologically driven. Finally, this raises the challenge of people leadership. In these short five years, the marketing department is going to radically change with the need to deliver a significant increase in skills and competencies. The brand team is going to have to work seamlessly with the mobile application developers. The portfolio managers need to tightly integrate complex analysis supplied by data junkies. The CMO needs to lead the organisation to grow in scope and complexity, in a time when top talent will become more and more mercurial in their pursuit of rewarding challenges. The late 20th century belonged to the developers. The early 21st century could easily belong to the tech-savvy marketer.
Now read what the other respondents said: 
Tara Lordsmith, Simplot: "The CMO of 2018 undoubtedly sits on the board"
Stephan Heimbach, Siemens: Courage, resilience and doing more with less