What the social enterprise groundswell means for marketers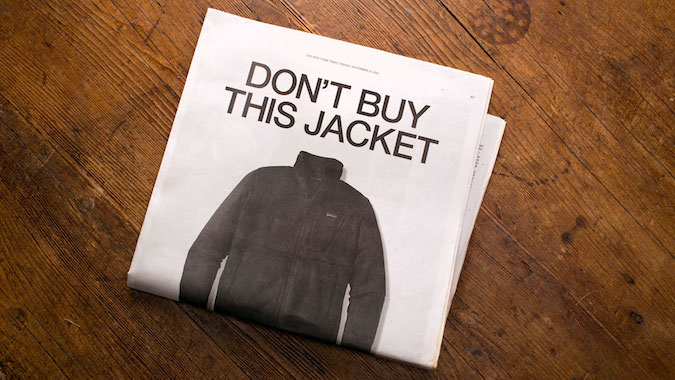 Social enterprises and B Corps are cresting the burgeoning wave of responsible consumption. But what's in it for brands? A sustainable future, as Michelle Dunner reports.
There's no greater frenzy of consumerism than Black Friday in the US. The day after Thanksgiving makes Australia's Boxing Day sales look tame. It's an event for which every consumer goods marketer in the country brings out the big guns.
Four years ago, the active wear manufacturer Patagonia used a novel approach for this orgy of acquisition, running a full-page ad in the New York Times with a picture of its best-selling jacket and urged people not to buy it.
While the campaign encouraged reduced consumption, no less than the Harvard Business Review opined at the time that it would drive sales growth for a 'maverick' company. They were right. It resonated with a more environmentally and socially conscious market and that trend shows no sign of slowing.
Social enterprise is now more mainstream than maverick, giving rise to a new business model. Companies have, at their core, the mission of 'doing good' and creating positive social and environmental outcomes – but they're still in the business of making money.
There are a slew of startups and entrepreneurs making an impact in the market, like Pollinate Energy, which looks to effect change in urban-poor communities around the world through its sales of solar lights. (See breakout for more.)
Then there's Eat Me Chutneys, which rescues produce destined for landfill because it doesn't meet required aesthetic standards. From the rescued produce it makes 'socially epic chutneys' and is currently Australia's only company that's certified as both Fairtrade and a B Corp.
Where Fairtrade-like certification schemes focus on the product, businesses can join the B Corp certification scheme by meeting standards of operations and reporting. The general aim is that businesses help solve social and environmental issues as part of their normal operations; B Corp is currently the highest standard for socially responsible businesses.
Demand for responsible consumption
Research firm Mobium Group says increased consumer interest in healthier and more sustainable product and service choices has clear portents for marketers. Nick Bez, Mobium's research director says the Australian market for such products has more than doubled since 2007, from $12 billion to $26 billion.
"Informed customers are looking to purchase a range of healthy or sustainable goods and services, which include organic food, personal care, cleaning and home maintenance, alternative healthcare, eco-tourism as well as more ethical choices within their superannuation funds and investments," he says.
"Last year in the US, the Boston Consulting Group (BCG) did a comprehensive study on the factors driving growth in consumer products and found the vast majority came out of products with socially-responsible overlays. Their message to FMCG companies was 'take note.' They need to respond or they will get repositioned out of their market."
Last October, BCG published a report on its Perspectives website looking at the European grocery market. The authors concluded that responsible consumption (RC) brands are one of the rare pockets of growth in this market because of consumer demand and, as a result, 'A' brands – those with high-volume, quality-oriented products that have long dominated most categories – are losing out.
–
Related: Learn more about responsible consumption and how social enterprises are partnering up with brands for shared value in our 'Marketer's Guide to Social Enterprise' trend report »
–
"If A brands can't maintain their leadership in product and marketing in this surging new area, they may put even their mainstay non-RC products at risk," the report said.
"There's still time for A brands to make up for their slow response to RC's popularity, but they face a challenge. Consumers are bying from speciality and private labels even when the A brands offer RC product extensions. In focus groups, consumers showed greater scepticism toward RC claims by A brands than towards those by retailers. The A brands' legacy of powerful positioning around conventional products may now be getting in the way of credible RC offerings. That's especially true when a well-established brand's attributes do not seem to support RC claims."
---
---
It's a sentiment echoed by Patagonia Australia's general manager Dane O'Shanassy. "People care about doing good for the planet and finding out about people doing the wrong thing is very prevalent and easy to do.
"But there's also a commercial reason for doing the right thing; not just because the company founder or CEO is a generous person. This is a point of difference for our brand. We became a B Corp because we wanted to send a clear message to our customers about our values.
"If your car breaks down, you don't immediately throw it on the scrapheap and go out to buy a new one. We're trying to give our customers similar cause to reflect on clothing. Something goes wrong – fix it. And we're here to help.
"Other brands, other sectors are aware of the level of consumer sentiment and the opportunity presenting itself and marketing themselves in a different way. Ultimately, for this to succeed a company needs two things – commitment to change at the very top of the organisation, and to provide a product that performs. The needs of the customer must always be met first."
O'Shanassy says, outside of Patagonia's experience, the popularity of organic produce is a great illustration of changing consumer preferences. "It's moved from being a hippie thing to a health thing – for people personally, for society and for the planet."
Bez agrees: "Nutrition has been a starting point for a lot of people. Australian Certified Organic does a snapshot of the organic food market every two years and its retail value has grown from $200 million in 2002 to be worth well over $1.4 billion today. It's a combination of customers making active choices in this category as well as greater product availability. It's also gone mainstream. Coles and Woolies in particular are putting together strong private label offerings in this space and that's led to a lower cost entry point."
Not just greenwashing
B Lab Australia and New Zealand executive director Alicia Darvall says certified B Corps need to transcend financial metrics. "The company must consider all stakeholders, not just shareholders. B Corp certification becomes the mark of a company considering all elements of its supply chain.
"B Corps have a social or environmental mission at their core and hold themselves to greater transparency. They are for-profit businesses, trying to use their business operations to save the world, but the certification process means they have to demonstrate they're walking the talk; it's not just greenwashing."
The B Corp network has been established for about nine years in the US. "It provides a set of leads in the US and increasingly Europe and the UK, which is a good tool if you're looking to export. The certification is becoming increasingly desirable at a tender level."
Darvall says the number of Australian B Corps has doubled year on year. "We had 45 at the end of 2014, 93 last year, and are hoping to have another 100 this year," she says. "I know we have two businesses with a turnover of more than $100 million coming online soon. My priority is to have manufacturers of more consumer-facing products become B Corps and help spread the word at that level.
"There are a lot of people still asleep at the wheel. It's the role of the individual consumer, investor, employee to hold business accountable for how they're going to change the world.
"For me, the risk for brands is that they don't embrace the principles of B Corps. If they're going to sign on they need to do it with a long-term view embedded in their company."
While interest from multinationals is growing, institutional barriers are imposing. To make progress in this space, B Lab established a Multinationals and Public Markets Advisory Council late last year with a two-year mission toward improving impediments.
At the launch of B Lab's UK office in September, Unilever CEO Paul Polman announced the company's participation.
A responsible consumption roadmap
Since 2007, Mobium's Living LOHAS (Lifestyles of Health and Sustainability) report, has been researching consumption decisions by Australian adults and the social trends that drive them. It segments consumers into four groups – Leaders, Leaning, Learners and Laggards.
"Over this period, Leaders have grown from about 7% to 14% of the Australian adult population," Bez says. "They have strong values about their personal health and wellbeing as well as the community and the planet. They don't make compromises. Not only are they high consumers of things like organic food and Fairtrade products, among a variety of other more sustainable options, they're interested in the bona fides of the companies behind the products. For them, having a B Corp certification adds another layer of transparency and accountability.
"The Leaning category covers around 40% of the adult population. They're actively interested and predisposed towards doing the right thing, but make trade-offs for various reasons. The perception and reality of price premiums affects this group. There is a hypothesis that people are willing to pay a premium for a 'feel good factor', but the research does not support this. The reality is the more prices move towards the mainstream, the bigger the opportunity to come.
"Another key barrier is trust. This group remembers greenwashing and, while they don't necessarily associate products or services with that term now, there are entrenched concerns and a great amount of caution, a reticence to take claims at face value."
This is also borne out by the findings from the 2016 'Edelman Trust Barometer.' The communication firm's managing director, Richard Edelman wrote on The Economist's 'The World in 2016' website that global CEOs are on notice to go beyond short-term gains and new product launches. The survey found 81% of respondents believe business can pursue self-interest while doing good work for society.
Mobium says the Learners, who are typically unsure of where to start in making more sustainable choices, provide a strong potential future market, while for the Laggards, environmental and social aspects are not a strong factor in their product or service choices.
Tom Quinn, executive director of the Future Business Council, says there are still many misconceptions about sustainable or socially aligned products and services being more costly – and not just at consumer level. "Green star buildings can be built for the same cost as traditional buildings, delivering better productivity gains for employees and reduced running costs.
"Whatever the product, at the end of the day it comes down to creating better products, better outcomes for consumers and a better model of business. Sustainability is core to the better business trend. It's no longer just a 'nice to have' element, it's increasingly the new normal.
"Business models that operate without taking account of social and environmental outcomes are dated and are vulnerable to rapidly changing consumer preferences. On the other hand, companies that are adapting to stay ahead of the sustainability and ethical business trend are well- positioned to capture significant market share in this new economy."
Mobium's Nick Bez says market cynicism still abounds. "Many consumers who are leaning towards making these sorts of purchasing decisions can feel very conflicted. The businesses themselves need to offer more of a complete marketing and brand story, not just the 'green' aspect.
"To develop and deliver a product and build a contemporary, modern brand, two things need to be explained: what's in it for the individual, the personal benefit, and what's in it for everyone, the social or community benefit. History is littered with product failures where the company's focus has been on everyone and doesn't deliver performance for the individual – when it comes to food, for example, that's essentially that the taste meets or exceeds category benchmarks and consumer expectations."