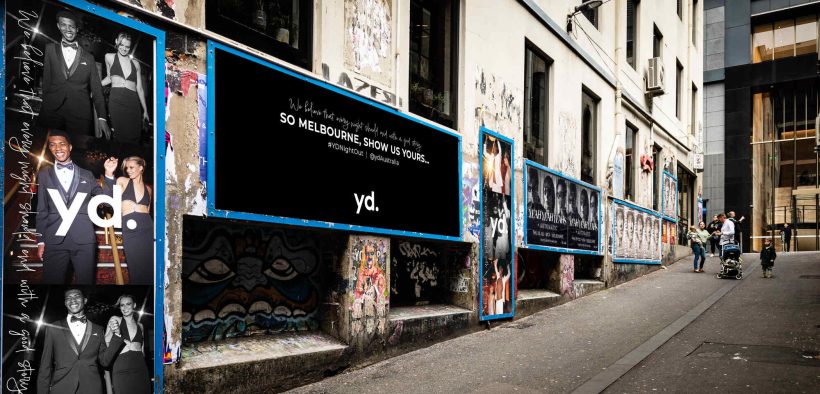 An iconic Melbourne locale is set for a fashion photographer storm, as yd. Australia looks to pin the city's social pulse to its oh-so-slick lapel. The menswear brand is creating a dynamic photography billboard to engage the nightlife scene.
On Friday 22 September yd.'s roving photographers will capture Melburnians in both Melbourne Central and AC/DC Lane throughout the evening, before the candids are to be blasted across a blank billboard in the laneway. 
AC/DC Lane is a small backstreet in Melbourne's CBD named for the storied Aussie rock band. It's an integral setting of the city's street art culture with close proximity to the bars of Flinders Lane.
Throw on your outfit that most screams Melbourne and look out for yd. photographers between 5pm and 9pm in the lane.
A nightlife campaign full of rewards
It's yd.'s ambition to create a lively visual collage reflective of the city's energy that will sit among other billboards advertising the brand's products. There are $25 yd. vouchers on offer to participants, but one lucky subject will win a $1000 voucher plus a complimentary experience at the adjacent Bambi Bar.
Jeremy Taylor, head of marketing and creative at yd. Australia, says Melbourne's nightlife is the beating heart of the city.
"Our aim is to capture that heartbeat through the eyes of the people who make it come alive," he says. 
"Our event aims to create an interactive canvas that encapsulates the spirit of Melbourne's nightlife, showcasing the people who make this city come alive after dark."
The company is also running a competition on socials, giving all Australians the chance to be present on the night. A weekend in Melbourne is on offer including both flights and accommodation, in addition to other prizes.
To see more creativity in Australian fashion, check out KFC's zinger collection for Australian Fashion Week here.
View this post on Instagram