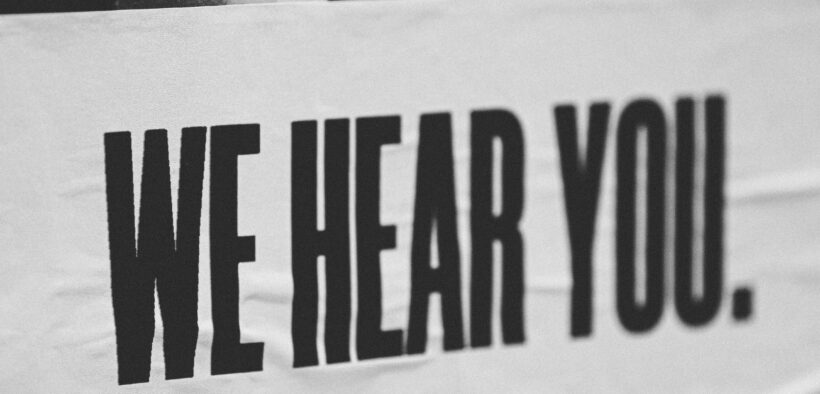 'The customer is always right', says the old adage. And while this has been refashioned as 'customer-centricity' in recent years, the sentiment still rings true: building brands around people pays. Lippincott's partner and creative director Dan Vasconcelos explores customer-centric brands.
However, while every brand claims to put the customer front and centre, consumers think differently. According to recent research, 71 percent of Aussies believe brands are too aggressive in sales tactics. Almost half (48 percent) consider brands to be dishonest in communications. 
Businesses should be laser-focused on customers. So, why is it that so many people feel dissatisfied by brand interaction?
And in a world where everyone claims to be customer-centric, how do you prove that you really understand what your customer needs?
Let's explore. 
It really does start with the customer
In today's digital-first age, reaching your target audience is not the challenge it once was. Instead, the deciding factor is standing out enough to be actively sought-out.
Here in Australia, only a few businesses are making the cut to be considered truly top-of-mind. These are the brands we search for, care about, consult with, open up to and are happy to be seen with. These are the brands on the home screen of your mobile phone. At Lippincott, this is referred to as a 'Go-to Brand'. 
And one thing all Go-to Brands have in common is that it will start with a customer view, not a product view. 
This means analysing how people are engaging with the products and services available to them today, and identifying what is working, and—more importantly—what isn't. In finding these gaps, businesses can then carve out new spaces and offer people the "hacks" to their needs that aren't currently being met. 
Macquarie Bank serves as an excellent example in this context. Our Brand Aperture study reveals that it excels in establishing strong connections with the customer base. It is evident that Macquarie Bank possesses a deep understanding of the target audience, which guided the decision to venture into retail banking. From observation, the objective was to cater to an urban, affluent and forward-thinking clientele seeking a digital-only banking experience – a customer base that can eventually feed into clients of Macquarie's wealth management business. The experience and overall expression of Macquarie Bank successfully incorporate these essential cues, making it a relevant and consumer-centric offering.
This is analogous to how Lippincott developed the Marcus by Goldman Sachs brand in the US: built on masterbrand equity, carefully calibrated to address a new audience. 
From customer-led, to customer-leading 
When the idea of being "customer-led" first came onto the scene, it was a breath of fresh air. Until then, organisations were driven by internal operations, production and distribution with customer engagement more of an afterthought. 
Today, a customer-led brand is simply a reactive one. Too many brands who consider themselves 'customer centric' are actually just responding to what is thought that the consumers need. This may provide immediate, transactional brand interactions, but does little to create the lasting relationships needed to secure brand loyalty.
By comparison, winning brands lead customers. In showing customers new ways to do things that reset expectations, these organisations are driven by a purpose and a vision of what can be. 
Another Go-to Brand, Afterpay, comes to mind. It realised that the last thing people needed was another credit card. Instead, what people wanted was to have the things they wished to buy now, without the emotional drag of a credit card's high APR rates. This is why the 'progress' score for Afterpay is so high in Brand Aperture amongst both Australian users of the brand and prospective users. With the proposition sorted, they went on to express the brand with refreshing simplicity. 
Mastering connection & progress 
In offering people solutions to problems they didn't even know they had, Go-to Brands signal just how far they understand what you need – and how they can help you get there. 
Mastering these two components – what we call connection and progress – is the recipe to becoming a Go-to Brand.
As the world becomes more algorithmic, the more people want to forge meaningful connections. Consumers are yearning for brands that champion their worldview and reflect their values. Instead of fulfilling a functional need that people use once and forget about, brands with staying power focus on building lasting relationships, giving customers a reason to return. 
And brands that secure a loyal customer base do so by giving them the tools to do something they couldn't do before. Progress means pushing customers forward, opening doors and introducing consumers to ideas and services they can't get from anywhere else. 
As a Go-to Brand, NAB is proactive and enables users to take control of finances. With digital banking, consumers can avoid those baseline transactions like having to go into a branch or call in to accomplish something. But more than this foundational interaction, is a need for people to trust the brands that are in their lives. NAB excels in Brand Aperture as a brand users are happy to let them into their lives and trust to make good decisions on their behalf. Plus, the bank shares the same values as their users – something that is key for a leading brand in Australia.
What's the reward of being customer-centric?
When connection and progress are mastered together, a brand becomes more resilient, and is able to pull  loyal customers in with adjacent offerings. 
And the prize is big—Go-to Brands are likely to see five times more revenue growth than brands that fall short in delivering connection and progress in unison.
But competition is tougher than ever before, not just from typical competitors, but from digital newcomers and other disruptors. Winning customers' appreciation has never mattered so much.
As Macquarie, Afterpay and NAB demonstrate, moving away from the buzzword and taking real action is the key to driving those meaningful connections needed today – and for the future.