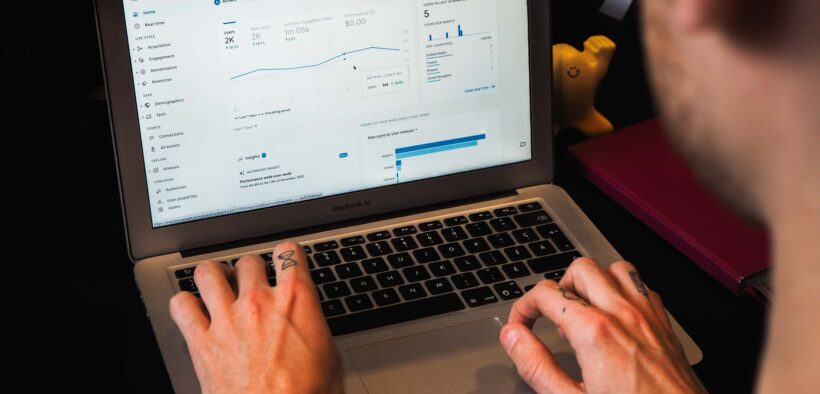 It's the changing of the guard that has the marketing industry split. Swapping out Universal Analytics (UA) for Google Analytics 4 (GA4) has raised many questions and created some disparity in reporting. Here's what you need to know as we say goodbye to UA. 
When using any new tool or platform, confidence is earned through continuous use and by understanding the purpose and metrics of the tool. Google and its ubiquitous suite of tools are so ingrained in our daily lives, it's hard to imagine managing a business or simply interacting online without the tech giant. Google Analytics is the North Star for millions of businesses, connecting the dots and instructing the direction for paid and organic activity. 
Google Analytics was first launched in 2005, after it acquired Urchin (also known as GA1), which was a program that measured web statistics. From there, Google made its own program and rebranded it as Google Analytics. Eventually there was a second iteration (Classic Google Analytics) followed by a third iteration (Universal Analytics). Fifteen years later in 2020, Google Analytics 4 (GA4) was announced, and if you followed a map to get here, then You Are Here.
GA4 has a bold aim of reporting between app and web. It also offers users access to BigQuery export, which had previously been available only to Analytics 360 users (paid account holders). Early reviews of GA4 have been a mixed bag, depending on the user and their needs. There have been some common questions that Luminary has seen in SEO and marketing communities, so here is a breakdown of what you need to know to support your GA4 adoption.
Do I have to set up GA4, or will Google just configure it for me?
There can be so many platforms, reports and content to manage… can you not just trust the data giant to do it for you? Yes, Google can and will reconfigure UA to GA4 but Google is the first to say that this isn't recommended. There are detailed instructions for migration from Google, with the process broken down for advertisers (on Google Ads) and for all other users.
For Universal Analytics customers whose websites are tagged with gtag.js or analytics.js (including through tag management systems like Google Tag Manager), Google will actually create and configure the new GA4 property based on reusing site tags (where possible). Google has created opt-out instructions for businesses who do not want it to do this on their behalf.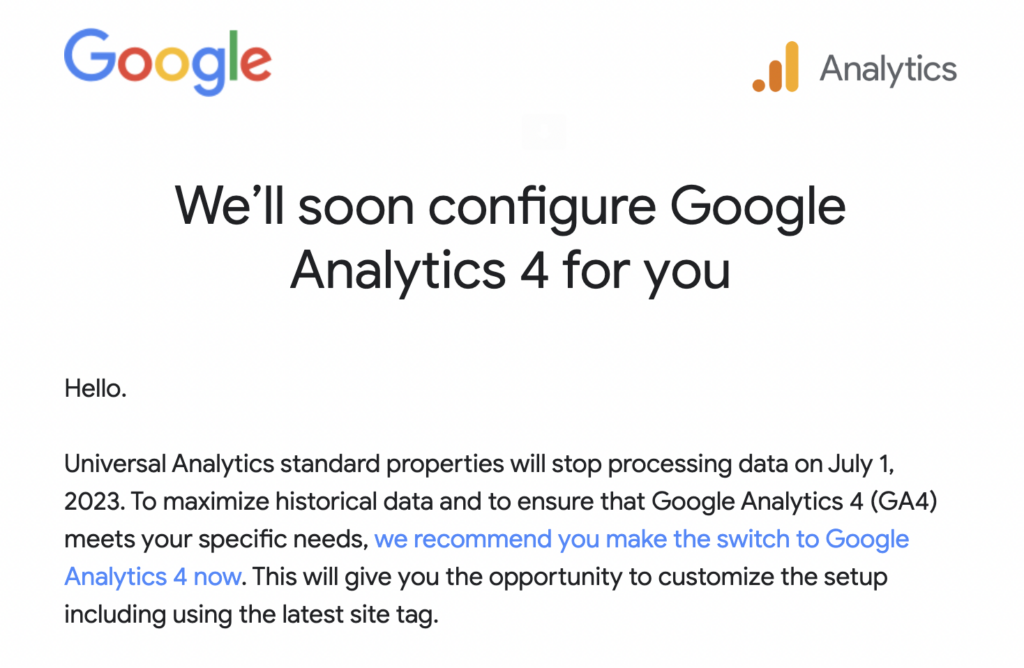 What are the dates I need to remember?
It wouldn't be unlike Google to throw an unexpected update at us, but fortunately, Google has communicated the key dates to the GA4 rollout and Universal Analytics sunsetting to avoid data loss and reporting disruption. The key dates to commit to memory and calendar are as follows:
1 July 2023: Standard Universal Analytics properties will stop processing new hits.

1 October 2023: 360 Universal Analytics (paid) properties will stop processing new hits. 

1 January 2024: Universal Analytics data will be until this date.
What are the new metrics and what have they replaced?
New systems mean new reporting requirements, which is tough for marketers who are working on existing targets and benchmarks that will not be relevant in GA4 or have changed significantly. We recommend accompanying your GA4 reports with UA snapshots also to begin educating wider teams on what the difference is, while still providing a familiar forecast for relativity. If these monthly reports are presented to teams outside of the marketing function, you may also want to educate your organisation to preempt any questions about traffic drops and changes to attribution patterns.
Here's a cheat sheet to get your head around the new metrics.
Key changes 
| | | |
| --- | --- | --- |
| UA metric | GA4 equivalent | Core change |
| Bounce rate | Engagement rate | Though there is a metric called bounce rate it is just an engagement rate. Engagement rate is engaged sessions/total sessions. |
| Av. session duration (mins) | Av. engagement time | It only counts time when the window is active. |
| Goal complete | Conversions | Goals would only count once per session whereas conversions will count each time the event happens. |
Users
Users in GA4 have been broken into three groups, as opposed to UA's two groups (Total Users and New Users). The GA4 User groups are now Total Users, Active Users and New Users.
Metric
UA
GA4

Active Users

Not applicable

This is now the primary User group in GA4, and is counted when users engage with the site in one of three ways:

Stayed on the page for 10 seconds or longer

Viewed more than 1 page, or

Triggered a conversion event.

Total Users

Total number of users

Total number of unique Users who complete an event on page.

New Users

Total number of users who visit your website for the first time

Total number of users who visit your website for the first time OR open your app for the first time (based on new unique user IDs).
Pageview
Pageviews are the benchmark for many businesses wanting to understand the success of a campaign, or even to be eligible for Ad networks and partnerships. Generally speaking, Pageviews will look very similar for both UA and GA4, however filters may also impact the total number of Pageviews.
| | | |
| --- | --- | --- |
| Metric | UA | GA4 |
| Pageview | Total number of views of a page, including repeated views of the same page. | Total number of views of a page and app screen, including repeated views of the same page and app screen. Now named 'Views'. |
| Unique Pageview | Total number of pages viewed, without counting duplicates/repeated views. | Not applicable |
Event count
How Events are measured is one of the biggest differences in UA and GA4, and that impact will depend on the business and purpose of the website. Instead of having different tracking formats for a page vs an event vs a transaction, everything is an event.
| | | |
| --- | --- | --- |
| Metric | UA | GA4 |
| Total Events | UA events consist of a Category, Action, and Label, and are considered a separate type of hit. These events can be used to track user interactions, such as clicks on a sign-up button, and are counted in the Total Events metric. | Not applicable |
| Event Count | Not applicable  | In GA4, every hit is considered an event and there is no concept of Category, Action or Label. Events are used to track user interactions, and each event can have a non-unique name with different parameter values. For example, a sign-up event may have parameters such as page location, product, and form ID and should be reused across the site for all sign-up buttons. |
Session/traffic based acquisition metrics
Make sure you know if you are using session or user based channels.
Metric
UA
GA4

Session/traffic based acquisition

In UA, the Acquisition section contains various reports such as Channels or Source/Medium, which analyse dimensions against metrics like Users and Sessions.

The Traffic Acquisition report in GA4 contains traffic acquisition metrics that measure dimensions like Channel or Source/Medium against metrics such as Users and Sessions. 

There may be differences between UA and GA4 for acquisition metrics, which are aligned with the differences in the metrics of Users or Sessions.
For further explanation of the difference in metrics, Google has outlined changes.
What is the reason for the traffic difference between Universal Analytics and GA4?
Nope, your traffic hasn't taken a dive, but the goal posts have changed, which may explain a sudden drop in your traffic. The difference is that Universal Analytics reported on total users, and GA4 reports on active users. Essentially, the traffic that you now see in GA4 is a measure of the active users who are engaging with your website and has replaced the bounce rate as a result. This may be a sobering fall in traffic, but the intention is to display more accurate traffic. An engaged user is defined as someone who has done one of the following:

Stayed on the page for 10 seconds or longer,

viewed more than 1 page, or

triggered a conversion event.
So, what does this look like in practice? An example would be looking at Universal Analytics, you see the average time on the page is six minutes and 20 seconds. When looking at GA4, the data shows 2 minutes and 40 seconds. The latter is the average page time of engaged users and will be the benchmark moving forward. Note, this time is only counted when the page is active in the foreground.
If I have a Universal Analytics property that is a few years old, how can I check old data in the new GA4 property?
Migrating historical data is one of the primary concerns for businesses. Unfortunately, there is no way to migrate old data into GA4 and so it is strongly advised that businesses export all old data before it is lost. It is also worth noting that a straightforward migration would not be possible even if there was migration capability due to the data model differences. Backing up all UA data will serve you in future when you want to compare data, understand past patterns and create more successful ads.
It's recommended that you export individual reports to keep on file. You can use the Google Analytics Reporting API to export your data, and if you are a Google Analytics 360 account holder you will be able to very easily export that data to BigQuery. There is the option to export data in a range of formats, so select the best option for your needs (CVS., XLSX, PDF, Google Sheets, etc).
What is the best way to check traffic data for a specific landing page in GA4?
Regardless of a business' niche, understanding the traffic and success of a landing page is crucial. Issues and downturns in traffic can prompt optimisation or can identify different opportunities. If you are looking to find out the traffic data for a specific landing page, here is how you can get that report. Remember, creating events through Tag Manager will result in deeper insights.
Within the GA4 dashboard, click under Engagement to select the Landing page report – which is a bit more straightforward than the UA navigation. The landing page traffic is not user-scoped but session-scoped, which means that a user who visits the website through two different landing pages will be counted twice. If you would like to know what your traffic does after they arrive on your landing page, you can set up a Path Exploration report in Explorations (more on that later).
In GA4 data, how do I find old Analytics-created Events and UTM links?
You will need to set these events up again, and the same goes for UTM links and tracking. But Google has announced it will migrate if you don't have a GA4. So that might change. The good news is that UTM links will work with no changes. Though Google has recommended UTM naming conventions it has also recently released custom channel groupings so you can set up your channels just the way you like them.
For events, though, this is a different story. Because the core event structure has changed there is no way to migrate over old events. This could also be good news. This gives you the opportunity to clean up what you are tracking, not more Button > click > really long event label. If you use Google Tag Manager this should be relatively simple; using the same triggers as before you can send the new data to GA4.
What do I need to know about the new Explorations feature?
Exploration is a new feature that allows you to explore different components of your business to better understand how users are interacting with you. There are six Exploration functions at present, including Free Form, Cohort, Segment Overlap, Funnel Exploration, Path Exploration and User Lifetime. There is also the option to choose a blank template from the gallery and choose the features required to pull the data. UA has not offered this kind of freedom to design data analysis, and the visualisations are also more user-friendly.
One of the more exciting options and an interesting feature for e-commerce businesses is Funnel Exploration. This report means you can see different steps users are taking on the way to conversion and break down the user journey and analyse what is and is not working. For example, your funnel may look like this: Step 1: Viewing a product, Step 2: Adding a product to cart, Step 3: Providing details, and Step 4: Completing purchase. Knowing when a customer is leaving allows you to optimise content and troubleshoot.
Segment Overlap Exploration is another illuminating report and can highlight patterns in audiences and overlap segments. For example, the Segment Overlap may show that males aged 25-34 on mobile overlap with males aged 35-44 on desktop. This can be invaluable data for crafting targeted ads and tailoring content to include a wider demographic net.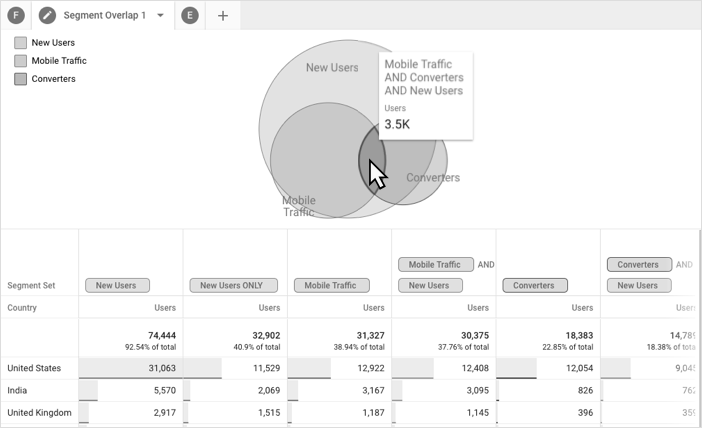 Segment Overlap Exploration report from Google Analytics Help.
GA4 is not getting me excited – what are my options?
If you are looking to take the opportunity to implement a new analytics system, there are some popular cookie-free analytics platforms and tools out there. Naturally, the nature of your business and where you operate should govern your choice. E-commerce businesses that are national may find that GA4 can be replaced, but for local businesses, this will not be a wise decision. After all, Google Ads, Google Maps, Google My Business and organic Google searches result in rich data through UA and now GA4. 
If you want to try out some new options if only to compare the data output to GA4, here are the most popular alternative platforms to get you started:
Additionally, if you would like to implement a new dashboard and customisable reports, some of the most popular options are:
Looker Studio

DashThis

DataBox
Example of Looker Studio dashboard functionality for a travel blog.
What is BigQuery?
BigQuery is another concept to wrap your head around when understanding GA4 and adopting it in your business. BigQuery is a cloud-based data warehouse and analytics platform provided by Google Cloud Platform and allows users to store, analyse, and visualise large amounts of data in a quick and cost-effective manner. BigQuery also integrates with other Google Cloud Platform services such as Cloud Storage and Cloud Dataflow. BigQuery is offered for free to users, although when data volumes exceed the BigQuery sandbox (1 million events/day) there will be fees (though once a credit card is added you do get a large amount of free storage that would suit most small to medium businesses), or users can receive a larger data volume for paid accounts (billions of events/day).
So, what is the benefit of BigQuery and how does it compare to the Google Analytics interface? BigQuery data can be exported once a day, and can also be accessed through BigQuery streaming (with different capabilities and a fee applied) for real-time data. Having access to the raw data lets you find deeper insights and merge your data with other platforms, like Google Ads, email platforms, or other marketing data. It also allows for more in-depth visualisations to be created.  If you would like to explore the difference between the Google Analytics interface and BigQuery export in greater detail, Google has outlined the core differences.
In conclusion
Any new system will have growing pains, and there is a lot to explore with GA4. When marketers have adjusted to new reporting metrics and results, businesses will be able to make informed assessments and decisions based on the engaged traffic with custom Exploration reports to support these insights.

Sarah Crooke is a digital analytics specialist at Luminary.