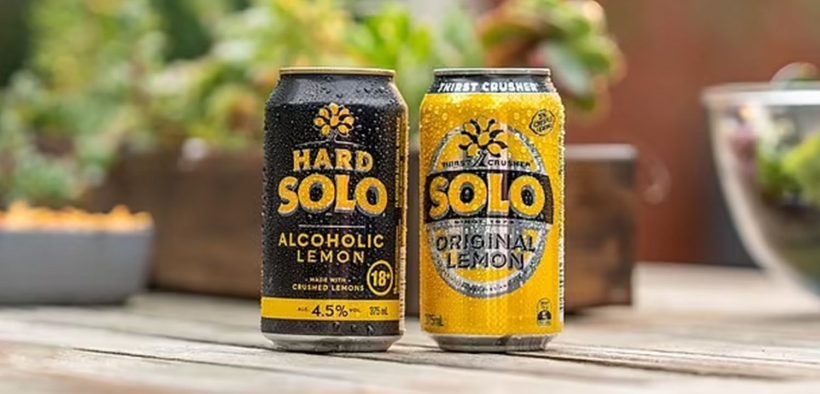 Solo has been an Australian favourite since its inception in 1968, and only recently it made an adults only variation with Hard Solo. The boozy lemon drink quickly went viral as people couldn't wait to try the classic flavour.
However, the new-to-market drink has people turning heads, and not because of its tart flavour. Rather, there has been an influx of complaints that Hard Solo is marketed towards minors. And, the debate has hit parliament.
MP for North Sydney Kylea Tink has been leading the push to limit or ban alcohol marketing from reaching minors. She spoke about Hard Solo, and referred to it as having issues "from beginning to end". 
The criticism is tied up primarily in the packaging. 
"This is a product that looks like a soft drink, tastes like a soft drink, has the same name as a soft drink, went through a self-regulatory process and seemingly was approved to be marketed," she says.
Crossbench MPs met with representatives from the alcohol industry on 10 August 2023, a pre-planned meeting that was about pushing for advertising reform on a swathe of unhealthy and harmful products including alcohol, gambling and fast food.
During this meeting, the new Solo was also brought up.
"We saw this new drink introduced to the market a little over a week ago and that has provided a really useful focal point for us to pursue these conversations," says Tink.
Hard Solo and its appeal
The complaints weren't limited to Tink and her team, with Cancer Council of WA also submitting an official complaint about the drink. Its main complaint was that the recognisable Solo packaging was too similar to the non-alcoholic version. 
"The appeal of Hard Solo to minors is evident given the established appeal of Solo to minors," the statement says.
Solo, which is owned by Asahi, says that the company and the new packaging strictly complies with the ban on marketing alcohol to minors. The company argues that 85 percent of the original Solo consumers are adults, and the new drink is scoped to be bought predominantly by 25- to 50-year olds.
"This drink looks very different to regular Solo and we strongly refute any claims they can be confused," says an Asahi spokesperson.