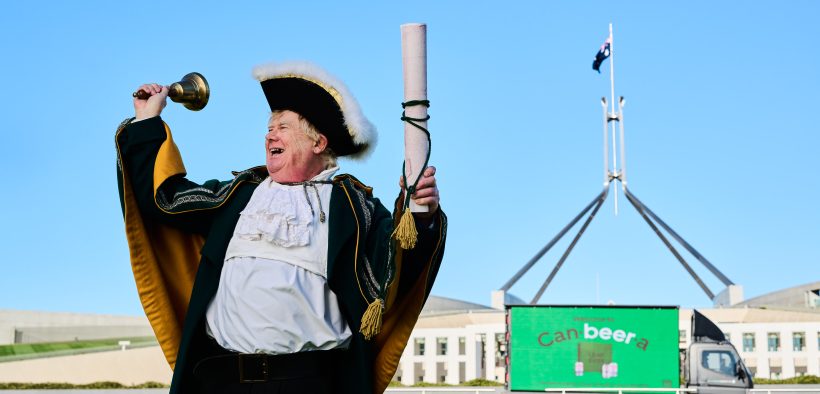 It might sound laughable, but the irreverence of Uber Eats' petition to rename Australia's capital city to CanBEERa has got people talking. And this has brought attention to Uber Eats' recent focus on championing Canberra-based beers offered through their delivery service.
The campaign, led by Special PR, generated widespread media coverage. Awareness was bolstered by a range of mixed media marketing campaigns, including roving boards and a town crier, which were used to carry the petition to Parliament ahead of International Beer Day on 4 August.
The tongue-in-cheek petition never intended to take itself seriously; it simply aimed to garner widespread attention.
"With the catchy Town Crier and the 'Welcome to CanBEERa' sign outside Parliament House – it was the perfect backdrop for our petition and to get people outside of Canberra talking about it," says Alex Bryant, managing director of Special PR in Australia.
Uber Eats' updated beer selection for Canbeera
Uber Eats is shining the spotlight on local Canberra breweries. Within weeks of the campaign, Uber Eats launched its offering in Canberra to help local bottle shops power their deliveries in the ACT. Uber Eats have also made Canberra-based beers available to order in Victoria, New South Wales and Queensland.
"The nation's capital has an outsized contribution to award winning domestic beer production and our petition to rename it CanBEERa has brought national attention to these incredible brewers that we hope will translate into national demand for their quality products," says general manager retail, Uber Eats ANZ, Lucas Groeneveld.
Uber Eats has also made some big strides in liquor delivery, commencing last mile delivery and growing its beer selection by double digits in the last 12 months.
The petition to rename Australia's capital to CanBEERa was the first campaign by Special PR, Special Australia's new offering. It continues Uber Eats' history of always light-hearted campaigns, which often feature celebrities or involve eye-catching advertising.
And as to whether or not the petition will be successful? I wouldn't hold my breath.