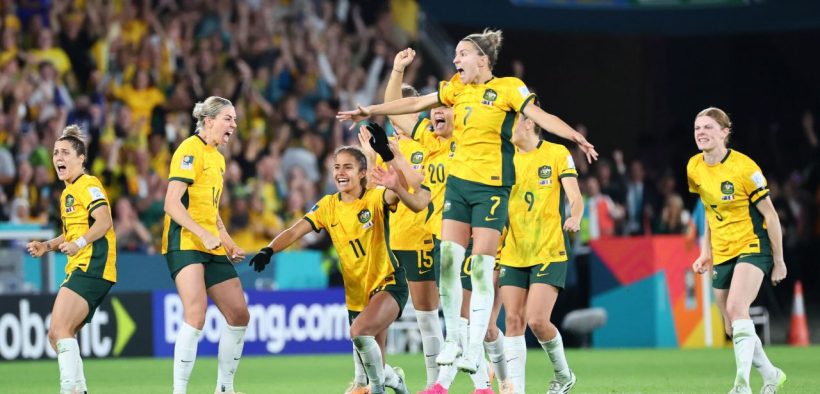 There are certain moments that happen where you'll always remember where you were when it did. Where were you when you found out David Bowie died? Where were you when Cathy Freeman crossed the finish line in Sydney? Where were you when the Matildas beat France?
And, for over four million Aussies, they can say that they tuned in live to watch the Aussie women's team knock France out of the FIFA Women's World Cup seven to six in a penalty shootout. It's become the focal point of our television stats not just this year, but for the last 20 years.
Matildas beat France to massive spectator numbers
Shown on Channel Seven, Seven West Media has since come out and reported an estimated average audience during the Saturday 12 August match was 4.17 million people. Prior to this, Denmark versus Matildas drew an audience of 3.6 million.
On Wednesday 16 August, the Matildas will face England in a tough battle to make it through to the finals, and time will tell what numbers this match will bring in.
Historical numbers in women's sport
For women's sport, it's always been a strange numbers game. With Wednesday's game getting huge media coverage, it's a sad reality for the Aussie Diamonds – the national netball team. On 7 August, the Diamonds claimed the World Cup for the 12th time by defeating England, with little to no media coverage, and not even a free-to-air slot. 
However, media coverage for Australian women's teams also holds the top gong. Eight million Australians tuned into Cathy Freeman's historical win in the Sydney Olympics, and Ash Barty pulled in four million for her Australian Open championship win in 2022. 
The Matildas are the first female sports team to bring in shattering numbers. For those who took an early investment in sponsoring FIFA, the exposure and positive association will be paying off in dividends.
And, for Wednesday, it's scoped to be another record shattering event.