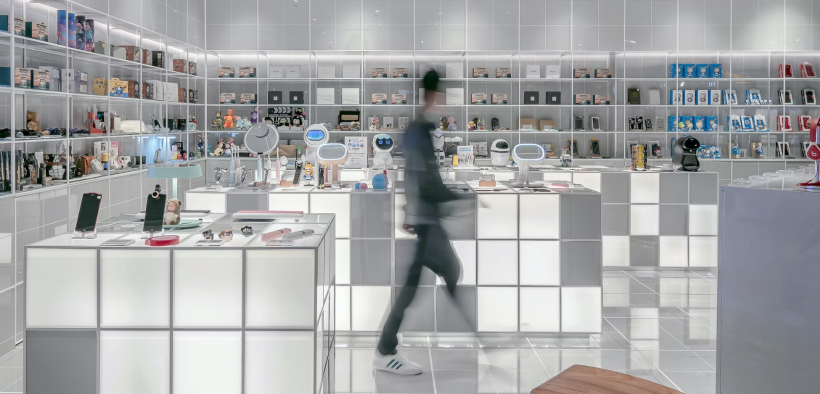 Sixty six percent of Australian consumers believe that AI is having a negative impact on their current shopping experience. The consensus is they feel it means less human interactions, according to a recent study of 2000 Australians from customer engagement platform Emarsys SAP. Marketing mag speaks to senior vice president of revenue & general manager SAP Emarsys Daniel Hagos.
More than four in five (82 percent) Australian consumers say that they are more likely to purchase from a brand with good customer service via human, with only two in five (43 percent) Australian consumers saying that they are more likely to purchase from a brand with good customer service via AI. 
Seventy six percent of Australian consumers believe customer service jobs should be kept with real people. Sixty nine percent agree that they want more 'human' with their shopping experience. The research rings loud and clear that Aussie consumers still prefer the human touch, and are not quite ready to let bots into their purchasing lives, just yet. 
Having that human touch has always played a big factor in personalising a customer's journey and increasing engagement for every marketer. It is clear that consumers want to be seen, heard and understood in their customer journey. So how can businesses show consumers that AI can, and is already helping to enhance their purchasing experience, without losing out on that human touch or being invasive?
How and why should businesses/marketers adopt AI in their customer engagement journey? 
Very thoughtfully! Understandably there's a lot of excitement around AI and in particular in 2023, Generative AI. Fundamentally though, 69 percent of Australian consumers want a more 'human' retail experience and therefore AI needs to be used carefully and in very specific situations. 
I believe businesses and marketers need to carefully review where AI can add value to their customer engagement journey without removing the human interaction from their business that their customers love. ChatBots for example, can be creative tools for FAQ and can be quicker than waiting on hold to a call centre team. 
Conversely, ChatBots are not great at solving more complex issues and this is where the conversation should be handed over to humans. In harmony, the two can work together perfectly and create a superb customer engagement journey that leverages the different strengths between AI (speed and scale) and humans (personability).
How can businesses show consumers that AI is here to enhance their shopping experience, and that it will not lessen the "human" retail experience or invade their privacy?
AI has existed for many years and has been part of the marketing ecosystem from as early as the early internet days of eBay and Amazon, providing personalised recommendations. It's not new and whilst transparency is a key value for consumers in brands, brands need to be mindful of not screaming too loudly about AI as it can terrify consumers. 
Forty seven percent of Australian consumers believe that AI is having a negative impact on their current retail experiences because it will never know them as well as a person will: consumers are reluctant to use AI.
Consumers will need to see and feel the benefits of AI in reality to truly appreciate it: if AI can help brick-and-mortar store staff to recommend products based on what someone purchased online, customers will like that. If an issue with a flight booking can be resolved faster through a ChatBot versus sitting through a call centre queue, consumers will appreciate that. 
For marketers who are on the fence, what do you think is holding them back from embracing AI tools? 
Marketers are also consumers, so it's likely they share the same concerns that our research has shown. There can be a reluctance to learn new technology or add more to their already extremely busy workload. Furthermore, trends move quickly: in 2022, marketers were being asked to focus on the Metaverse and NFTs. Before then it was Cryptocurrencies. 
I'd stress the need to focus on customer experience, ignore the noise around AI and look at the AI tools available that can actually help to make marketers more efficient in what they do or to improve customer experience.
How have you seen AI at work in increasing customer engagement and contributing to greater personalisation for the consumer? Any specific examples to share? 
It's interesting that almost a quarter of (23 percent) Australian consumers say they are weary about AI sending them personalised marketing and recommendations when Amazon has close to 50 million monthly users in Australia, Netflix has close to 10 million subscribers and Spotify has over double that in 24 million subscribers: all of these brands use personalised recommendations throughout their platforms and their marketing campaigns.
As consumers, we love when Netflix tells us that the new series of Black Mirror is available whilst forgetting that this is a really smart use of personalisation. Netflix sends timely notifications based on previously watched data and this helps to drive more engagement in Netflix content. 
We've had clients who have used address data to inform customers of a new store opening that's closer to their home than previous stores. Again, this is content that consumers are delighted to receive whilst being another form of personalisation.
What I believe consumers don't like is when it feels unnatural and robotic. Saying "we know you viewed these shoes last week so here's another pair you might like" could feel invasive if not used in the right context, so marketers must be more implicit in how they use consumers data and personalisation.
What is your take or prediction on how AI is going to shape the retail industry in the coming year? 
With 37 percent of Australian consumers believing that AI is having a positive impact on their current retail experience, there's certainly room to improve in this area. My prediction is that with the excitement around and continued investment in Generative AI (through tools like ChatGPT), retailers and marketers will be using AI more to improve customer experience and reduce their workload. 
Unlike tools like ChatBots, I believe that customers may not be aware of how Generative AI is being used as they only see the end products, for example images being created by AI image generation tools like Midjourney or ChatGPT for copywriting. 
With only 29 percent of Australian consumers agreeing that they are more loyal to retailers who give them a great shopping experience through the use of AI, I believe we may not see AI being used in such obvious formats as it previously was and in fact, customers may not even be aware that AI has been used. 
Daniel Hagos is the senior vice president of revenue and general manager at Emarsys.