Targeting, chatbots and personalisation – how the AFL broke records on Facebook
How the AFL broke its season ticket record with pinpoint targeting on Facebook, and why it may not be able to do so in the same way again.
This article originally appeared in The Simplicity Issue, our August/September 2018 issue of Marketing magazine.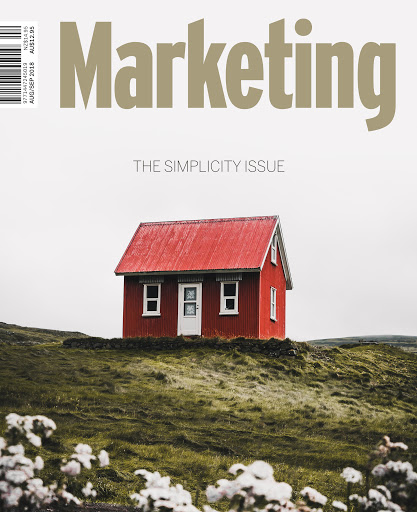 In 2017 the Australian Football League (AFL) launched a strategic campaign with one key goal in mind: sell more tickets. In a sport with so many passionate fans and such a rich history, the brand faced an issue of scale. Its saturation created an enemy in itself. It appeared as though everyone with a desire to attend the football, was already attending the football.
Blanket campaigns would no longer serve to drive awareness, because awareness was effectively at its peak. The AFL had to create a solution that would reinvigorate excitement around the sport, and remind fans how much fun a night at the footy could be.
The key, however, was reminding the right fans. The brand needed to connect with customers personally and create marketing crafted to the individual.
If only there were a platform where people openly divulge their personal interests (such as football allegiance) and spend hours a week scrolling through content?
Marketing speaks to Sydney fan and head of automotive at Facebook, Ted Bergeron, who works closely with the AFL, to learn about the campaign's two-pronged approach to targeting on Facebook. "You have those hardcore fans that are watching the games on TV and attending games: how do we get them to attend more games? And there are casual fans who know the sport and maybe watch highlights, but aren't tuned in or attending games per se. How do we tap into those individuals with a more compelling offering?"
The AFL set out to develop better cut-though, creating content and promotions specific to targeted audiences defined by commitment and club – Sydney fans would see highlights from Sydney games, Geelong fans would see discounted ticket offerings to upcoming Geelong games.
"They tapped into the individual team membership databases, partnering with the individual clubs and using those databases to target people who we knew were supporters of those clubs," says Bergeron.
Additionally, the AFL employed an AI Messenger bot to engage with fans directly – fans could ask about fixtures, ticket prices, team information and more. "They really are adopting that personalised marketing approach, and really being customer centric," continues Bergeron.
From a creative perspective, the AFL tested a range of prints, styles and creative advertising units in a "mindset of continual improvement" according to Bergeron. "This is what all of our best partners adopt," he says. It found that team imagery targeted at specific club fans elicited the best response, "video in particular is always a really strong performer – they can tap into contextual moments in that team."
When St Kilda captain Nick Riewoldt departed the league, fans were targeted with a call to action to purchase tickets to their skipper's last game – accompanying was a slow motion video of Riewoldt embracing his cousin and rival, Jack Riewoldt. "They've moved to this much more sophisticated creative output that is massively increasing relevance along their ads, based on better targeting and really taking advantage of the various ad units," says Bergeron.
Julian Dunne, head of marketing and insights at the AFL, advises sport marketers on the insights gained from the 2017 effort. "The best time to hit a sports fan is right after a win," he says. "Use players in the creative and send the fan a direct message – shorter, snappier content works best. Also, target the away team fans with their own club content as well as home teams; this had a good impact on sales."
Disarmed
Facebook went into damage control after its crisis involving Cambridge Analytica was plastered over international headlines. In March 2018, Facebook announced it would be shutting down the ability for advertisers target ads on the platform based on consumer data from third parties.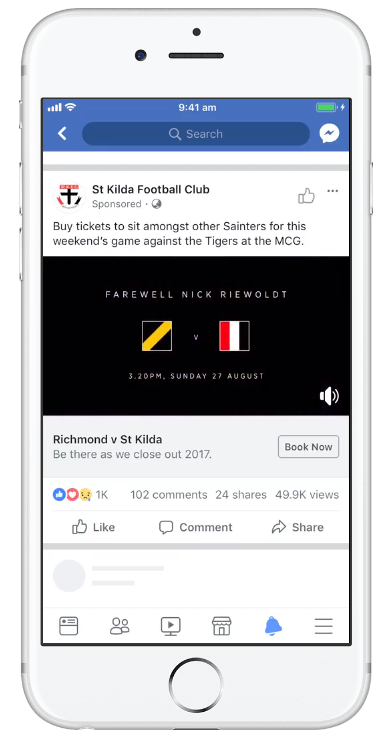 From the perspective of some advertisers, this was an unfair move. The theory goes: data wealth allows marketers to show ads to audiences that are more likely to want to see them – which is beneficial to both brand and individual.
This way, marketers don't waste time and effort showing ads to uninterested audiences, and audiences are more often shown an ad that interests them – it's a symbiosis. All it took was one bad domino to shatter a trust that many consumers enjoyed in blissful ignorance prior to the incident.
Dunne says the changes have made targeting on Facebook more difficult, and the AFL is running a "more optimised" advertising strategy with clubs on Facebook this year. "Some of the audience segmentation variables are no longer available, but it hasn't really impacted us, as most of the variables we utilise for our own segmenting and targeting strategies are still available."
According to Bergeron, Facebook is taking steps to craft a "privacy safe, consumer first" third-party data option for advertisers. "We're working really closely with the third party data providers, as well as individual clients around a revised opportunity to utilise various data sources."
In the interim, marketers are being advised to make the most out of the available targeting capabilities on Facebook. "The first party targeting opportunities that exist through the Facebook platforms are robust and extremely effective. That, for us, is core to a lot of the strategies that we utilise with a lot of our best clients," says Bergeron.
A necessary evil
As useful a tool targeting is to marketers, director of global sales strategy at Exponential Tyler Greer warns that its modern approach lacks an element of concern. "The consumer awakening around the use of their data seems to be peaking. For some, it is the apparent incursion by brands and services into what they regard as their private space, but for most it is simply about irritating ads.
"While the argument goes that consumers prefer targeted advertising because it appears curated to their lifestyle and needs, the truth is most find this to be little more than creepy harassment."
A June survey from InMoment confirms Greer's hypothesis: 75% of Australians reported they found most forms of online personalisation creepy. Only half, however, admitted they cared enough to avoid it.
Nevertheless, for many marketers there is little alternative to targeting that achieves such maximisation. Facebook reports 16 million monthly active users in Australia, which is 81.7% of the eligible social media aged population. That means, only 18.3% of the people you run into are likely not to have a Facebook account, including the elderly.
A large audience is one thing, but in a social platform nearing saturation, targeting is no longer about optimisation, it's about impact. Advertising on Facebook without targeting would be like hitchhiking at the bottom of the ocean.
Second half
So, given the changes, could the AFL's successful Facebook campaign be replicated this year? For Bergeron, little has changed. "[Facebook is] still utilising the conversion-driving tactics at bottom funnel and a lot of the cross device retargeting capabilities on the website," he says.
The focus will shift this year to more of a "brand building opportunity", and further homing in on the distinctions between 'hardcore' and 'casual' fans.
"I think where events [marketing] has an advantage is that there's a lot of opportunity to use the intelligence around actual transactional data, to inform a more effective delivery of your advertising."
Bergeron goes on to explain that product marketers face an elasticity issue unfamiliar to those in events and sports marketing. Tracing the line from the moment of engagement to the instance of purchase can be messy.
"If someone were to research a car, matching that person to someone who's actually bought a car is pretty difficult. The fact is, a lot of the event's transactions occur online and you can use that really rich data to start to identify people that could be in those types of events moving forward."
On a fast-paced social media platform, attention is a scarce and fiercely battled resource. Bergeron warns, "The name of the game is relevance. If you can get more relevance, information, content and transactional opportunities in front of more relevant audiences, your transaction rate is going to improve and as a result your ROI is going to improve."
Upon just opening the targeting floodgates, one may feel that the reservoir has run dry. Facebook's targeting options aren't as hefty as they were during the AFL's 2017 wonder season. As the saying goes, 'restriction breeds creativity' – perhaps this campaign should not serve as a story of what once was possible, but an indication that there is still room to budge.
* * * * *
To purchase a copy of the latest issue, or a subscription to Marketing magazine, visit the online shop »
* * * * *
Further Reading:
Image copyright: tktktk