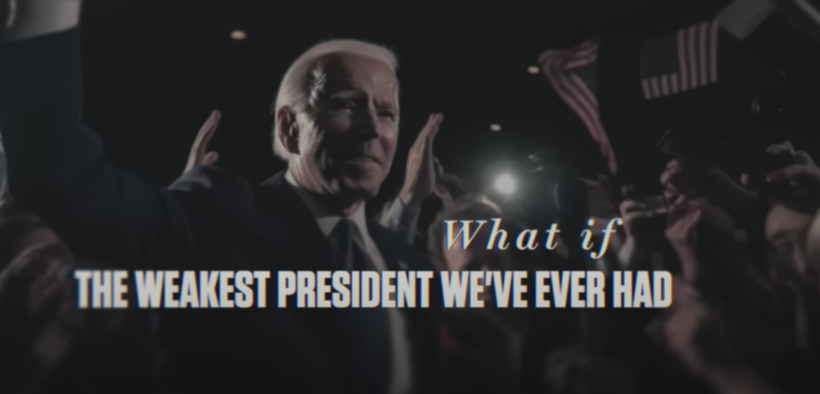 A short video released by the American Republican party could kick off a campaigning craze.
In response to this week's announcement by US President Joe Biden that he is running for re-election, rival Republicans have released a fully AI-generated attack ad showing dystopian potential events and attaching them to the scenario of a Biden election victory.
The ad, titled 'Beat Biden', marks the first major use of generative AI software in a political campaign. It's a logical next step for AI as countless industries continue to marvel at its potential, with one executive recently telling Marketing that it's a "super-power".
AI has entered the political sphere
After failing to prevent an initial Biden administration in 2020, Republicans seem eager to have another crack with this ad releasing only hours after the announcement. 
The ad features a news style voiceover, as on-screen text asks "what if the weakest president we've ever had were re-elected?" and more. A bleak situation is depicted, images of a Chinese invasion of Taiwan, the economic fallout of a collapsing financial system, failing immigration control and a frenzied crime wave all featuring.
A tiny disclaimer is included saying "built entirely with AI imagery", and there are signatures of generative AI with typically strange looking hands and an elbow leaning not quite on a desk, but much of the content passes an initial glance.
Provocative political images
It's not the first time AI images of an American politician have caused a stir online.
In March as news of a potential Donald Trump indictment dominated headlines, a series of AI-generated images hit social media showing the controversial figure being chased and arrested by police in the streets of New York. 
The sudden popularity of AI has made it relevant to any newsworthy event. Users waste little time in distributing such speculative renders.
It's unclear what software is used for this Republican campaign, but the familiar style points to it potentially being a program like Midjourney. Future AI-generated political ads may not be as easy to spot.