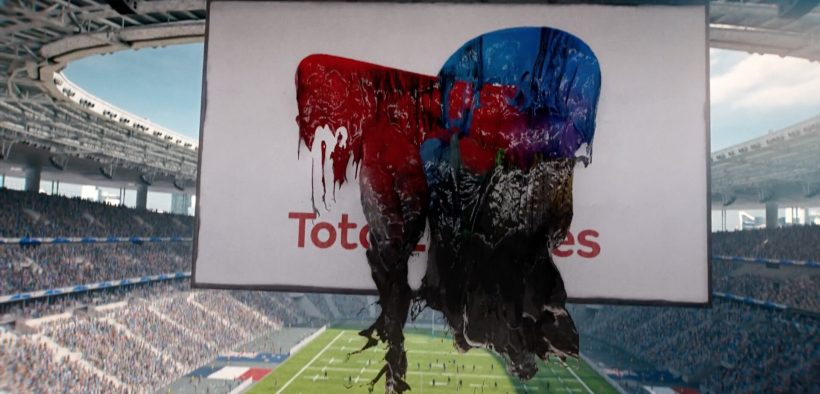 In the lead up to the 2023 Rugby World Cup, an animated ad has been released attacking a major sponsor of the tournament.
Oil and gas giant TotalEnergies is one of the biggest fossil fuel companies in the world, and the largest French energy corporation. The company is now the target of a Greenpeace France protest over its sponsorship of the Rugby World Cup, which the advocacy group labels "unacceptable and toxic".
The animation strikes not just at TotalEnergies but at the fossil fuel industry as a whole. It depicts the home stadium of the French national soccer and rugby union teams, the Stade de France, slowly filling with crude oil to visualise the industry's environmental harm.
With the first match set to take place on Saturday 9 September, it casts a major PR shadow over the tournament.
Greenpeace France speaking out
Greenpeace France claims TotalEnergies is sportswashing its business to pose as a philanthropic sports service, calling for fossil fuel companies to withdraw from sponsoring sporting events. The complementary petition has reached over 260,000 signatures at the time of writing.
In the ad, the opening contest between France and New Zealand is interrupted by a swelling of oil that takes over the venue, with a demonic replacement of TotalEnergies' logo rising out of the final flood.
"In reality, the fossil fuel industry produces a stadium full of oil every 3 hours and 37 minutes, destroying a livable future for us all," an English version of the ad says.
"Fossil fuel companies must stop their climate-wrecking crimes now."
The TotalEnergies and Rugby World Cup partnership
When the sponsorship was first announced in 2021 long-serving CEO of TotalEnergies Patrick Pouyanné said, "It is an honour and a pleasure for TotalEnergies to be an Official Sponsor of Rugby World Cup France 2023. Integrity, passion, solidarity, discipline and respect are key features of this sport, and they match our company's values."
Then-tournament boss Claude Atcher played up a shared desire to combat climate change, but one project of the partnership seems to contradict this ambition. A dedicated car-sharing platform was launched ahead of the Rugby World Cup, with the public intent to "facilitate individual travels". 
Considering the event also has a rail transport partner, encouraging train and car travels equally is a hollow environmental effort since greenhouse gas emissions per passenger kilometre have been shown to be up to five times less than that of car transport.
Read about another protest campaign with Unilever's Dove spoof here.
Images attributed to Rugby World Cup France 2023 and Greenpeace France.