It's no secret that AI technology has managed to do what was once unthinkable. As more and more AI tools seep into work cultures, it's essential to know which ones can add value to your company. 
The AI revolution is here to stay and is changing the landscape of how business can be done across nearly every sector. While AI is transforming work as we know it and is widely being seen as a threat — from rendering some job roles obsolete to replicating the 'human' touch — it's also helping people focus on what's important.
In today's workforce, particularly for marketers, the chances of not using AI in some shape or form are highly unlikely. In order to help employees get more done in less time and create room for big picture thinking, founder of Digital Marketers Australia, Stephen Esketzis shares some stellar AI tools.
The household Bot, ChatGPT
We've heard too much about ChatGPT, and most of the conversation tends to revolve around how useful it is. According to OpenAI's website, ChatGPT is an AI program that can generate detailed responses in a paragraph format due to its 'reinforcement learning' habits.
When ChatGPT was asked to describe itself to someone not familiar with AI, it responded, "Think of it like a chatbot that you can talk to, but with advanced technology that allows it to understand and respond to your questions and statements in a more human-like way."
"Its responses are generated based on its analysis of vast amounts of text data, so it has the ability to understand language and learn from its interactions with people."
So, how does it act as a support system for marketers?
From generating copy for marketing collaterals, content ideation, providing shortcuts for reporting and analytics to generating a survey based on your target audience, Chat GPT can empower marketers to workshop a range of ideas.
Drawbacks: Although ChatGPT can be a gamechanger in the SEO space, it cannot help develop an entire blog post. This is a bit of a stretch for ChatGPT. And as stated on OpenAI's website, there are limitations to ChatGPT's functionality. For instance, the AI program's answers don't always make sense.
No code chatbot builder – LandBot 
People say: 'Accept no one's definition of your life, define yourself', and LandBot lives by this philosophy. Here's a snippet of how a conversation transpired with the code chatbot builder, LandBot.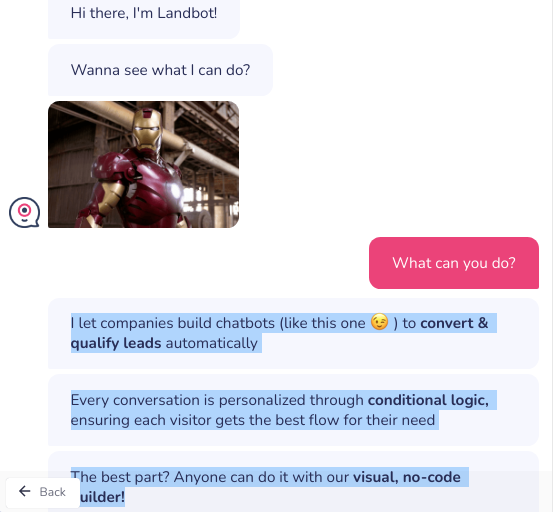 LandBot can serve as the right hand to help businesses manage both communication and process automation operations. 
So far, it's earned a reputation as a user-friendly, no-code solution for creating conversational chatbot applications, which basically allows you to set up your welcome chatbot option or an exit chatbot for your website. This way, your website can establish a connection with your website visitors from the get-go.
Another massive advantage of conversational AI apps is that they combine the benefits of an interactive conversational interface with rich UI materials while tracking advanced data workflows that keep your business running.
Landbot is a key interactive bot player that is helping organisations optimise every stage of the customer journey. From lead generation to customer support on the website, WhatsApp or Messenger, without the stress of coding. 
Drawbacks: Its keyword jump feature requires significant modifications. For big businesses like Amazon that advertise a range of products, there can be overlap in terminologies. For example, Amazon sells multiple product types that have a similar name structure like 'Beats Studio3′, 'Beats Wireless' or 'Beats Solo3'. In such a scenario, the bot may struggle to find the exact keyword, which meddles with the user experience and doesn't necessarily direct customers to the right product.
ElevenLabs, the speech AI tool
According to ElevenLabs' official website, the AI speech tool is regarded as 'the most realistic and versatile AI speech software, ever'.
At the heart of every marketing strategy or idea, there is an overarching theme that needs to be conveyed. Simply put, there's always a narrative that needs to be communicated to the widest possible audience. And Eleven provides some of the most intriguing, rich and lifelike voices to influencers and creators who are looking for the right speech toolkit that can boost their storytelling abilities. 
The British AI firm's studio tool is the most advanced and multipurpose AI speech tool currently available to marketers. It generates top-quality spoken audio content in any voice and style, but it was recently coined as the most 'controversial' AI tool to exist.
And this brings us to its setbacks.
Despite having the capacity to render human intonation and inflections with unmatched fidelity and adaptability to deliver any type of context-based blurb, it was abused to recreate deep fake celebrity voices that were filled with racist and discriminatory slurs. 
The company came clean on its Twitter platform, saying that it's seeing an "increasing number of voice cloning misuse cases" and that it's workshopping a way to address the problem by "implementing additional safeguards".
Crazy weekend – thank you to everyone for trying out our Beta platform. While we see our tech being overwhelmingly applied to positive use, we also see an increasing number of voice cloning misuse cases. We want to reach out to Twitter community for thoughts and feedback!

— ElevenLabs (@elevenlabsio) January 30, 2023
ElevenLabs is currently working on a course of action to prevent further misuse of this technology. The company is also thinking of dropping its Voice Lab tool feature to instead have users submit voice cloning requests that will be manually screened.
Kartiv, an AI that inspires your visuals
Kartiv is an AI tool for designers, and the visuals are a literal depiction of what you describe in layman's terms. Kartiv sells itself as an easy-to-use tool and appeals to the wider audience of marketers who prefer getting things done on the go. 
This AI visual tool sets a new bar for creatives. Set to release this year, the AI creative tool almost has a similar user interface to Canva. 
On the website, on huge block letters, we see Kartiv assures its users that one 'doesn't require any design knowledge or experience' to use the tool, which is quite identical to how Canva as a platform gained popularity in the first place.
Kartiv also has an in-built AI assistant, provision to collaborate with fellow peers, an auto-resize function and has a range of creative tools that makes the designing process quite plain sailing.
Drawback (or more like how it sets itself apart): Only time can tell if Kartiv can overtake Canva as the sole design renaissance for creatives in the long run. 
PromptBase
PromptBase offers a marketplace for users to find and sell prompts that can be used across a range of artificial intelligence language models, including DALL·E, GPT-3, Midjourney, and Stable Diffusion.
The platform is a one-stop source that enables visitors to browse across an array of prompts that are structured to generate specific types of content. From psychedelic or abstract illustrations, potential names for businesses to fantasy gem game assets, the AI tool proves itself to be quite effective. In fact, it also offers an option to hire creators to produce customised prompts for your individual needs.
Colorful Expressionist Graphic Posters by glorydays using #midjourney 🎨🌈 pic.twitter.com/PgpWECq6kj

— PromptBase | Prompt Marketplace (@promptbase) April 3, 2023
This AI programming tool is trying to fill a gap in the industry related to the difficulty of finding good quality prompts, and presents itself as a marketplace that facilitates the neat transaction of buying and selling prompts.
Drawback: One of its major drawbacks is that its ability to sell prompts may seem ground-breaking, but in reality, this human-to-machine translation service has existed in the form of SEO jobs for more than a decade now. 
So, the AI tool is not bridging a gap or simplifying the AI programming process.
Alana Smith, a principal product manager, content and platform experience at LinkedIn puts forth her expectations from the AI tool in her article.
"I really wish that Promptbase would have some automated scoring to offer some pre-review details," she says.
"Given that you can't see many stats on the prompt itself except a few images and a word count – user reviews are your only indication of quality."
Want to stay up-to-date on what's happening in the creative industry space? Here's an interesting read on the ongoing tikTok bans.