2020 changed the way Australians shop. Can your store keep them in 2021 and beyond?
Notable ecommerce acceleration and evolving consumer behaviours have changed how retailers conduct business. Ralph Kooi shares the key areas that merchants should focus on for the best ROI when it comes to digital shopping.
Australian ecommerce has had unprecedented growth since April 2020. By year's end, the market came close to hitting growth forecasts that were originally set for five years from now, as more people shop online, more often, for more types of products.
Ecommerce is now a bright spot in the Australian economy and a lifeline for consumers who are working and sheltering at home. Many merchants who've rushed to adapt to these new conditions with quick fixes are wondering how long this change will last and how much they should be investing for long-term ecommerce growth.
All the signs point to a long-term change in consumer behaviour and the need to step up ecommerce functionality.
An abrupt ecommerce acceleration
The initial pandemic shutdown derailed Australia's nearly three-decade recession-free streak, with the economy shrinking by 7 percent in Q2 2020. Retail was hit hard as nonessential stores closed and shoppers stayed home. Then, consumers adjusted and resumed retail spending in April and May, but with a new and different routine.
More than 200,000 Australians shopped online for the first time in April according to reports, including many older consumers who'd never felt the need to try ecommerce before. Now, 46 percent of Australian consumers are shopping online more often. The shift is most pronounced among younger people, with 62 percent of 18- to 25-year-olds and 57 percent of 26- to 35-year-olds buying online more frequently.
While overall retail spending declined by 2.5 percent in April 2020, online goods spending came back, and faster than overall retail. Q2 2020 ecommerce traffic, orders, sales, average order value, and average spend per visit were all higher than Q1 2020 or Q2 2019.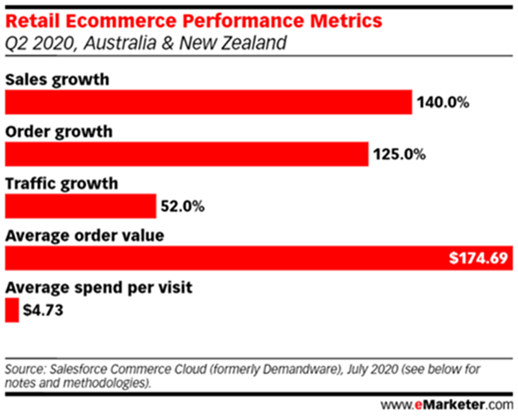 By July 2020, ecommerce had grown to comprise 14 percent of the Australian market's total retail sales (excluding cafes and restaurants). Australia Post projects that ecommerce's total share of retail will reach 15 percent by year-end, close to the 16 percent total the market was previously expected to reach by 2025.
Australian consumers have been at the forefront of cross-border shopping as well. One study reported that cross-border shopping accounts for 36 percent of Australians' online retail purchases, largely from stores in the US and UK. Australia is ranked the third country for international deliveries from both of those markets, according to Loqate GBG.
Now, shoppers who are comfortable with cross-border shopping and savvy about finding good deals are making the most of other countries' sales events. For example, Inside Retail reported that the number of Australian orders with US merchants on US Labor Day 2020 rose 140 percentnt year-over-year.
Will these new online shopping habits stick? PWC thinks they will. In its report on how Australian retail can reboot post-COVID, the firm notes that "channel choices are oftentimes habitual". PWC forecasts a continued spike in online demand over the next two years, followed by "sustained changes in shopping behaviour".
That means that retailers will need to double down on digital service offerings to stay competitive over the long term – perhaps by building strategic partnerships.
Rising customer expectations
Which elements of the digital shopping experience should merchants focus on for the best ROI? Here are several that can win customer loyalty, increase revenue, and reduce costs related to fraud and returns.
Faster page loads
More than half of Australian beauty, fashion, home, health and electronics shoppers will switch online stores for fast page loading. That's much more than the percentage who'd switch for live chat or AI-driven query responses.
Fast load times are critical for luxury ecommerce because patience for slow-loading sites decreases with income. While just 48 percent of people with a household income of less than $50,000 would switch for a faster experience, 63 percent of those with incomes over $150,000 would change.
Clarity on shipping, taxes and import duties
Australia Post reports that 66 percent of international shoppers "want clear information on delivery charges", yet many shoppers are surprised by shipping fees at checkout, which can lead them to abandon their carts. And cross-border shoppers often face extra charges like import taxes and customs duties, as well as higher shipping fees, which can also cause them to bolt.
Ideally, your store will offer at least one free shipping option, perhaps for ground delivery. At a minimum, your domestic and international delivery information should be easy to find in your store, well before the customer reaches checkout.
Simple (and free) returns
An easy return process can differentiate an online store from its competitors, especially when selling across borders. Australia Post reported that 86 percent of cross-border shoppers rate easy returns as important to their purchasing decisions. And BigCommerce found that 62 percent of ANZ shoppers have switched online stores for free returns.
Partnering with a return logistics firm can reduce the hassle and cost of managing customer returns. Working with a secondary marketplace that sells returns and open-box items can help mitigate some of the cost when returned items can't go back into stock.
Protection from fraud
ClearSale surveyed 1,000 Australian ecommerce shoppers in early March 2020, before pandemic restrictions took full effect. We found that fraud is a concern, as 38 percent of respondents said they'd already experienced online fraud and 45 percent said the possibility of fraud kept them from shopping online.
Merchants who let customers know that they have fraud protection in place, such as order screening that looks for card theft and account takeovers, can earn more customer trust and loyalty.
Easy, accurate checkout and order review
Security can't come with inconvenience, however. Our survey found that 44 percent of Australian shoppers have abandoned purchases because checkout took too long or was too complex. 40 percent said they'd left before making a purchase because the store wanted them to create an account first.
The responsibility is on merchants to authenticate customers without making them do more work, and it's important to get this right. While Australians are concerned about online fraud, they're much more forgiving of fraud than of being turned away. If a merchant mistakes their order for a fraud attempt and rejects it, 38 percent say they'll never go back to that store. But just 8 percent said they'd stay away from a store because of a fraud experience there.
Lots of payment options
BigCommerce's 2020 State of Ecommerce report for ANZ asserts that merchants should give customers at least half a dozen payment options now, as a 'competitive necessity'. They recommend PayPal and, particularly for merchants targeting younger consumers and impulse shoppers, a buy now pay later (BNPL) option.
However, the report also advises merchants to monitor BNPL's appeal in the years ahead, because while some shoppers prefer it to using credit cards.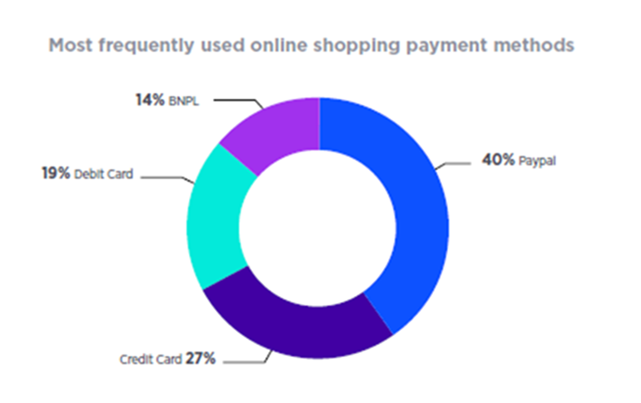 Plan now for long-term ecommerce success
Last year forced some major changes in the retail industry very quickly and accelerated the adoption of online shopping in Australia. Because these changes are likely to persist long after the pandemic, retailers need to strategise and invest in customer experience improvements now to stay competitive in the years ahead.
Ralph Kooi, Australia Country Manager, ClearSale.
Photo by Mark König on Unsplash.