74% of people with broadband surf internet while watching TV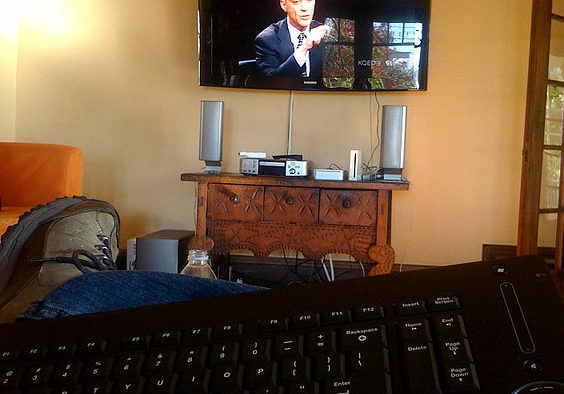 Watching TV is no longer a dedicated activity where families sit around the living room and focus all their attention on flickering screens. Today, around the world, TV viewers are dividing their attention between the big screen and the internet.
A recent study by Ovum, a telecoms analyst, surveyed 8000 people in eight countries and found that 74% of consumers with a broadband connection regularly surf the internet while watching TV.
With 37% of all consumers admitting to this being a regular habit, Ovum has concluded that the trend of the 'second screen' is now widespread. The study also found that the trend is prevalent in both emerging markets like India, as well as mature countries such as Japan, where 76% of consumers are users of the 'second screen'.
Across the eight surveyed countries, the study found that 51% of consumers use the internet to access further news or information related to the content they view on TV, and 38% log on to discuss the TV programme on social media. Dubbed the 'social TV' phenomenon, younger audiences are more likely to partake in this, with 53% of respondents aged 16-to-23 sharing comments online while watching TV.
However, its not only programme content that is researched. 35% of respondents use the internet to access further information related to TV ads viewed.
Ovum's principal analyst Michael Philpott believes the emergence of the 'second screen' and 'social TV trends' have both positive and negative connotations for the TV industry.
"On the negative side, increased adoption of more personal internet connected devices, and our growing reliance on and interest in internet applications have reached such a level that they are diverting our attention away from the TV. It is therefore feared that it might only be a matter of time before more valuable advertising revenues also move away from the TV and onto the second screen," says Philpott.
"However, on a more optimistic note, there are a number of applications currently being developed that help the TV industry take advantage of these trends. The applications directly tie the TV and social networking sessions together, creating a new, fuller, and more interactive TV experience."
According to Philpott, in the not-too-distant future, social networking will play a big role in how consumers access TV and video content, with a number of devices working together to provide the multi-screen experience.
"Traditional TV players must understand and innovate around this area if they are to survive in the long-term. To simply watch from the sidelines will be to hand the advantage to more innovative direct competitors, or online operators, which are becoming increasingly powerful in the media space."