An accidental marketer: reflections with John Moore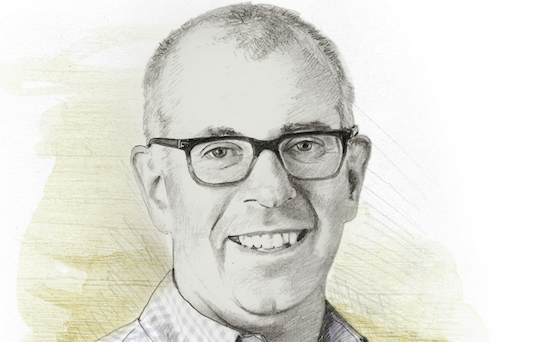 John Moore, marketing director for the Australia and New Zealand operations of health services provider Bupa, sits down with Marketing editor Peter Roper to reflect on a career that has spanned continents and sectors.
Five years after graduating with a commerce degree from the University of Tasmania, Moore was working on CRM at one of Australia's largest banks. It was the nineties, a revolutionary decade for data-driven marketing.
Four years in and he'd reached the top of the bank's CRM function – a global position, since at the time it owned Michigan National in the US.
That North American experience, as well as his thirst for challenge and change, saw Moore relocate to Canada to head up CRM at Scotiabank. His next move was, unusually for him, just across Toronto at Canadian Imperial Bank of Commerce (CIBC), where he became senior vice president of marketing.
After six years in Canada and a decade in banking, the change bug bit again, and Moore relocated to Vodafone's global operations in the UK where his responsibilities expanded again to include relationship marketing and customer experience.
His path back to Australia, and finally to Bupa in 2013, wound its way via general manager roles in Suncorp Group's personal insurance business and then Australia Post.
Moore now heads marketing for Bupa in Australia and New Zealand, covering the broad spectrum of businesses that sit under the Bupa brand: health services, dental, medical visa services, telehealth practices and rehab aged care, as well as insurance for health, life, cars, homes, pets and travel.
The organisation currently claims five million customers and more than 18,000 staff in Australia and New Zealand.
Moore leads the marketing teams for each of the businesses Bupa operates, as well as having responsibility for the customer and the digital and data functions across the organisation in Australia and New Zealand.
Moreover, he sits on a global brand and marketing team that connects the 70-year-old international health services group together across the 190-odd markets in which it operates.
It's a broad and varied role, and Moore struggles to remember whether he's ever had a 'typical' day. "That would be really cool if we did," he laughs.
"It varies. You're looking at the overarching piece. That means that you end up being involved in a lot of conversations because you are quite openly the voice of the customer."
"Probably where I spend the least of my time, frankly, is on what would be traditionally known as 'marketing'.
"Digital is not only where we are today, but where we're going. My role sits on the overall executive team, so I find that a lot of my time is really spent on where we're going strategically, more so than on just the day-to-day execution."
Marketing: What does that digital future look like?
John Moore: I don't think any of us know. It may not even be digital. I think what we do know is that if we put the focus on understanding the customer problem we are trying to solve for then that becomes what we're delivering today digitally.
We know it's mobile for now. The reality is that's just where people are doing their interactions and their behaviours. People are becoming less episodic in how they're thinking. They just want to know the answer to what they want to know now.
Even though people put lots of planning into things, it's at that moment that they want it that they literally just want an outcome straightaway.
M: Not even for things that may be classed as 'high consideration'?
JM: We know, for example, for 31-year-olds, 30 June is a big time for them to discuss health insurance. We also know they probably spend about 12 months researching it and talking mainly to their family and other friends about what to do, but it all happens on pretty much the last day. It's very instantaneous, even for stuff that they've planned for.
M: Let's wind the clock back. You studied economics – was that because you hadn't decided to go into marketing or was that because you wanted that skill set?
JM: Oh, it's not even that. I started out as a trainee chartered accountant, doing commerce, and I absolutely hated accountancy. For the year I worked at an accounting firm for two days a week and did my degree for the rest, I really pity the clients that got stuff from me, because I really sucked at it.
I literally failed all my accountancy subjects in the first year – I like to think, in post-rationalisation, deliberately.
I loved the maths on the economics side, so I just stayed and did an economics degree. If you had asked me post-graduation if I'd work in marketing, I don't think I would have even known really what it was, let alone whether I would consider it.
I did a fair bit of law, as well; I never finished the law part of the degree. It was something to do until I worked out what to do next. I could tell you a really fancy story but, realistically, it was a way to fill in four years.
M: So when did that introduction to marketing come?
JM: Market research is where I started. I did a graduate program at a bank and on my fourth rotation I was forced – I really was forced – to do something that didn't involve forex or derivatives or so forth, so I did a marketing rotation. I worked in a market analyst role and absolutely loved it and never left. I'm definitely what you call an accidental marketer.
I spent time in research and worked on a few change programs at NAB and then I went to my boss at the time and just said, "I'm bored. What's something interesting I can do?"
He said, "Well, this project might be a good challenge for you", so that's how I got into CRM.
M: What was CRM like in Australia at that time?
JM: It was very new. We were just working out how to use propensity models and common databases. We weren't even using email marketing at that stage. This was still about getting leads to the bankers and getting them to collect information.
Interestingly, it was a great learning, because we did both NAB in Australia and in the US. What was really good learning was that it wasn't about how good the data was or what you could do with it. It was about how you get people who fundamentally are not used to doing this to see value in collecting the data and then value in using the leads that are being sent to them.
The hardest bit is the change program with your people, not the technology or the capability or the knowledge. It's actually getting people to do something differently.
M: Is it very different now, 20 years on?
JM: Strangely enough, the differences are not that great in terms of what you try to do underneath. How you can deliver the experience and make it happen, particularly in a digital world, is dramatically changing, but you have to really find that line because you can actually be a bit creepy. So you don't want to do that, but you do want to show that you know them.
It's easier than it was in the 90s because you're not doing mainframes and you're not doing big clunky systems, but fundamentally, the data is still the data and you've still got to be able to bring it together.
M: As the marketer in charge of a brand with many different facets, does it feel less or more competitive?
JM: Oh, look, it's definitely an asset. When you combine our breadth and our purpose and who we are structurally as a company that exists for its purpose – not one that exists for its shareholders – it's definitely an asset in terms of being able to tell that story.  When we do tell the breadth of service story, it has a massive impact in terms of how customers see us and view us.
That still doesn't take away from the need to be really, really good in each of those businesses where we do compete. We're not the only optical business in Australia. We're not the only health insurer. We're not the only aged care provider. We're not the only dentist. So you've still got to be really focused on what you do, how you deliver it and how you get that message out.
For us, there's no doubt we have an advantage when you put the whole health and care story together because it comes to life and presents a unique proposition.
M: You've worked across a fair breadth of industries – has that been deliberate on your part in terms of your career?
JM: Oh, totally, yes. I'm naturally curious. I've only ever worked in services, because I love actually knowing who my customers are and actually having data to do something with, whereas I think FMCG type things would drive me insane.
I've always found working in different sectors really exciting and mentally challenging.
You bring the knowledge you have but, more importantly, you learn something different. I think too often people make the mistake of thinking, 'It worked there, so it will work here', and it just doesn't.
I have to admit, out of all the sectors I've worked in, this is probably the most personally connected to who I am and so it's rewarding in that sense.
M: Regarding your international experience, what has that done for you? Was that another deliberate move in order to get that experience?
JM: It was a deliberate move to live internationally, frankly, to start off with. I don't think you can underestimate the importance of working in different sectors and in different countries.
It opens your eyes to some of the goofiness that you do in your own country. You look at it and question it.
M: Any examples of that?
JM: It's probably just how insular you can become. In each market I've worked in, you often pick a market and you go, 'Oh, that's the best one', so you only look at that. Whereas, if I look today, I have no desire to be the best health insurer in Australia – I want to be the best of any company in the world that's doing this.
It really opens your mind to different cultures, which teaches you that there isn't a better or worse, there are just differences. If you appreciate the differences, then you can actually really do some cool stuff.
American leaders are very, very good people managers. If you ask an American leader about what they're most proud of, almost every time they'll talk about people that they've grown. You ask an Australian, and you won't hear that as the first thing often. The English have a different style, again.
With international experience you get to pick and learn through the best. Quite rightly, we all have different skills and different capabilities.
Coca-Cola has a design lab called Red Garage, and they talk about falling in love with the problem, not the solution. I think as humans, we naturally want a solution. We go, 'Oh, that's a cool bit of kit, what do I do with it?' rather than, 'What is the problem that actually matters?' Fall in love with that.
Whichever solution you come up with is probably going to be out of date by the time you come up with it and get it out there. I think that's probably been what I've learned over the last 20 plus years: it's actually the problem you're solving for that matters.
M: What are the moments in your career that stand out as those you're most proud of?
JM: I've had a number of different highlights, but the things I really remember are about the impact I've had on my people. I can think of moments where I've actually seen a whole shift in a big group of people. Even if I look at the stuff that we're doing here at Bupa, the impact we've had in moving from a series of businesses to a real story around health and care, that's something I'm really proud about. It's getting a whole organisation behind a way of thinking and strategy.
Another thing I'm proud of is having the confidence to say, 'Screw it. I'm going to move to another country and try a different sector.' It's a double whammy. It's fun. I thrive on change.
M: And have there been challenging moments that stand out that have been educational?
JM: My favourite interview question for anyone who comes for a job is, 'Tell me a time when you screwed up and what you learned from it.' I have this rule of thumb, which is, if you haven't screwed up, you haven't pushed the envelope far enough.
There are multiple times [I've screwed up], and there probably will be more, but the one that always stands out to me is the first time I went with NAB to the US. I can remember I turned up there and I thought I knew everything.
I'll never forget. It was week two and the CEO of the Michigan National business called me aside and just said, "You may think you know stuff, but if you don't take the time to actually listen to people and understand what they're saying, they're just going to think you're a bit of a wanker." Actually, he used the American term for that.
It's been one of those lessons I've always taken: people do not turn up to work to be an idiot or to do things that don't have value. Take the time to actually sit down and understand why they are doing what they're doing.
Another example would be that there's only one campaign I've ever done that I'd say I personally really loved. And it failed – because I did it for what I loved, not for those I was marketing to. Everything I've done I'm really proud of, but I made the mistake of thinking I was a representative of my target market, and I'm not. I care too much and know too much.
M: Have you had any mentors, whether through formal mentor programs or informal?
JM: Do any stand out? I've had two bosses that really stand out quite dramatically. One was Stephen Graham, my boss in Canada. He was ex P&G and Coca-Cola. I still reach out to him quite frequently. He's someone who can look at a message and just know if it's right or wrong. He's got this innate ability to communicate in a way that draws you in.
The other guy is David Wheldon, who was my boss at Vodafone in the UK. Now, I think he's working for Barclays, but he was globally in charge of advertising for Coke. (Another Coke guy.) He was the master at the internal side. Even though he built these beautiful pieces of film, he realised that the importance was how it landed internally and how you sold the story internally.
I've never had a formal mentor program, but I don't think there's a single boss I've had – and my current boss is probably the best storyteller I've ever met – who I haven't learned something from. If you treat them as a coach, you can get some pretty amazing insights.
M: What's next? Are there more goals to tick off in your career, whether near or far future?
JM: I think the great thing about the last 10 years of marketing is it's totally flipped on its head. It's no longer just about the creative. It's now about the data. It's now about the technology. I spend more time talking about human-centred design and agile than I probably do briefs. With digital marketing and customer, I'm just excited by where my world's going.
It's evolving rather rapidly. I think my nervousness is whether I can stay young enough in mind and curious enough to keep up with where it's going.
I don't know what it will look like, but I think if I can stay curious and young enough at heart and keep focused on the breadth and the experience, then I think whatever marketing will be will be a very interesting challenge.
I can honestly say that this is a company that I want to stay with and actually see where we go. The opportunity as we go broader into health and care is both intriguing and exciting.