Apple and Hermes collaborate on exclusive smartwatches
A partnership with exclusive fashion goods designer Hermes is among Apple's string of new product announcements from its press event in San Francisco overnight.
The new Apple Watch Hermes Collection is available with three options for bands and a customisable watch face with three exclusive dial designs that feature the Hermes brand.
Starting at $1700, the new watches cost more than double the price of the standard Apple Watch, which is $799; while Apple Watch Sport starts at $499.
Some of the materials used in these watches include fauve Barenia leather, noir box leather and capucine Swift leather, while each stainless steel case features an etching of the Hermès signature.
Apple chief design officer Jonathan Ive explained the two brands were suited to the partnership due to their "deep appreciation of quality design", despite making "very different products".
"Both companies are motivated by a sincere pursuit of excellence and the desire to create something that is not compromised. Apple Watch Hermès is a true testament to that belief."
Pierre-Alexis Dumas, Hermès' executive vice president in charge of artistic direction, said the partnership with Apple fitted with Hermes' aim to create "elegant, creative and functional objects" for customers' everyday lives.
"What more contemporary and relevant expression of this principle could there be than this collaboration with Apple. We are strongly united by the same deeply held ideas and principles. I see it as the establishment of an alliance in excellence; like horse and carriage, a perfect team."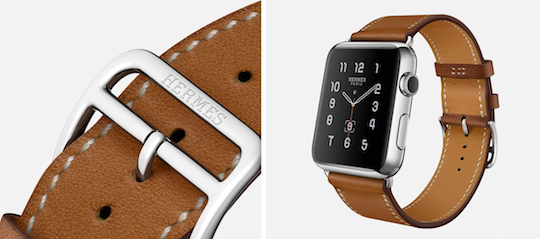 Other highlights from Apple's latest product announcements: 
Apple Watch 
The ordinary Apple Watch has a new series of cases and bands, including gold and rose gold aluminium Apple Watch Sport models.
WatchOS 2, the new operating system will arrive as a free update on 16 September, including:
New watch faces,
the ability for third-party apps to display information on the watch face,
Time Travel, which shows information such as future events and past headlines, and
dictation to respond to mail.
Apple TV
The all-new Apple TV will bring "a revolutionary experience to the lounge room", including TV-specific apps, touch screen and a voice-controlled Siri Remote.
Apple senior vice president of internet software and services Eddy Cue said the company believes apps represent the future of TV.
"There has been so much innovation in entertainment and programming through iOS apps, we want to bring that same excitement to the television."
iPad Pro
New smart pencil: an optional addition, designed for fine art illustration and detailed 3D design,
smart keyboard: a thin and durable full-size keyboard, also available separately,
improved display, chip performance and battery life, and
capacity to enable "a new generation of advanced apps" for use in areas including productivity, design, illustration, engineering and medical, to education, gaming and entertainment.
The iPad Pro's new features show Apple has "got serious about making its mainstream products powerful enough for professionals", from businesspeople to photographers to gamers, Josh Constine summed up on TechCrunch.
iPhone 6s and iPhone 6s Plus
New features in the latest iPhones include:
Live Photos: "beautiful 12-megapixel photos that, with just a press, reveal the moments immediately before and after the shot was taken, so you can enjoy a living memory rather than an instant frozen in time",
3D Touch, which senses pressure to enable 'peek and pop' gestures; "Press lightly to peek at a photo, email, web page or other content, and press a little deeper to pop into the content itself",
"the strongest glass on any smartphone",
7000 series aluminium, "the same alloy used in the aerospace industry",
metallic finishes including rose gold, and
powered by the Apple-designed A9 chip, "the most advanced chip ever in a smartphone", set to improve battery life and performance speed.
Philip Schiller, Apple's senior vice president of worldwide marketing said: "The only thing that has changed with iPhone 6s and iPhone 6s Plus is everything — 3D Touch lets users interact with iPhone in entirely new and fun ways, and the innovative Live Photos brings your pictures to life."