Aussie sporting icons play tennis in the middle of the Great Barrier Reef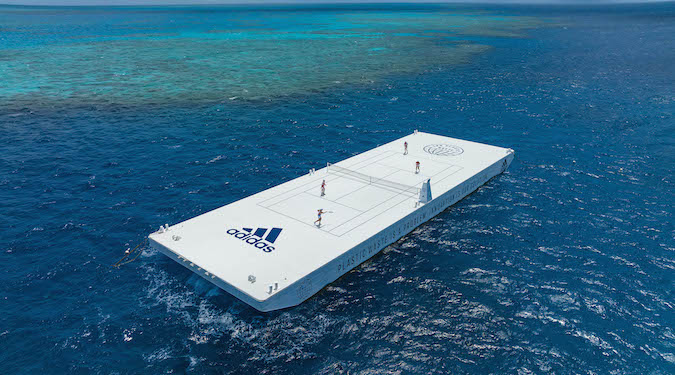 In a bid to draw attention to a more sustainable future, adidas has debuted a tennis court in the middle of the ocean. Featuring a range of sports stars, the campaign is promoting an apparel range collaborating with Parley, a sustainable brand.
adidas continues to build a more sustainable future with the recently launched campaign. Using Australian sporting greats Ian Thorpe, Jess Fox, Nathan Cleary and Steph Claire Smith, the players stepped onto a floating tennis court. The court was made atop the surface of a barge. This particular barge regularly travels through the Great Barrier Reef for important environmental marine construction projects. The court was then constructed from recycled plastic materials and then donated to a local Townsville school.
Officially launching on 17 January at the Australian Open, the apparel range is high performance made from recycled materials. Swimming star Ian Thorpe is adidas' ambassador, and has said he's proud of the partnership and the initiative. 
"The design of the new adidas tennis range is inspired by the Great Barrier Reef. It was appropriately launched in the stunning heritage protected Queensland marine park to raise awareness and positive discussion around how we can end plastic waste." says Thorpe. 
"Plastic is a problem that has reached unfathomable proportions. Unless we change course, there will be more plastic waste in the sea than fish by 2050," Thorpe continues. 
In talking about the new range, adidas pacific senior director of brand, Shannon Morgan, said, "at adidas we believe through sport we have the power to change lives. We live this purpose everyday by looking at all possibilities to include and unite people in sport to help create a more sustainable world. We need to continue to implement sustainable solutions now, so that we can help create a new era of sport for future generations.
"We're committed to help end plastic waste and, by 2024, we'll eliminate virgin polyester in our products," Morgan continues. 
The range is available online and in-store.