UPDATED: Can the popularity of YouTube ads predict Cannes winners? VERDICT: Yes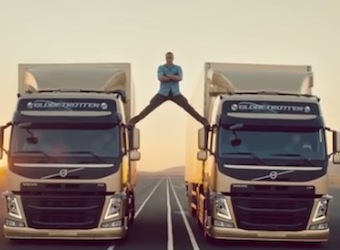 POST-CANNES UPDATE: Six of the 10 most popular YouTube advertisements since Cannes 2013 picked up awards at the 2014 Cannes Lions. The stand-out performer was Volvo's 'Epic Split', which scored a truckload of trophies.
YouTube's 10 most popular ads since the 2013 Cannes Lions challenge the traditional conventions of television advertising, with each being at least one minute long.
Google has released the 'Cannes to Cannes' YouTube Ads Leaderboard in time to rival the upcoming shortlist at the festival. It remains to be seen how many of these viral videos will actually make the shortlist.
Truly captivating creative is the recurring theme in each of the ads, which cover a diverse range of topics from sport to love to more serious social issues.
Turkish Airlines' 'Kobe vs. Messi: The Selfie Shootout' comes out on top of the 2014 charts after finishing second in 2013.
YouTube's own 'Rewind' rates a high mention in second place, while Wren's cringe-inducing 'First Kiss' video of strangers partnering up comes in at third.
Each of the ads' average view duration was 1:29, with a total of 924 million minutes watched and a total of 620 million views.
Olly Grundy, Australian head of YouTube solutions said the list showed the power of great creative: "Nowhere are great stories rewarded more than on the internet."
Take a look at the list. Which of these popular ads do you think deserve to win at Cannes Lions?
1. Turkish Airlines – 'Kobe vs Messi: The Selfie Shootout'
Creative agency: Crispin Porter + Bogusky
Basketball star Kobe Bryant and football icon Lionel Messi star in this fast-paced competition for selfie supremacy.
Post-Cannes update: Nil


2. YouTube – 'YouTube Rewind: What does 2013 say?'
Creative agency: Portal-A
YouTube celebrates its highest-ranking videos from 2013 with this mash-up of shareable references.
Post-Cannes update: Nil


3. Wren – 'First Kiss' 
Los Angeles-based fashion company Wren produces this series of awkward situations by pairing strangers up to kiss for the first time – on camera.
Post-Cannes update: Won Film Grand Prix and Film Craft Bronze Lion
4. Volvo Trucks – 'The Epic Split featuring Van Damme'
Creative agency: Forsman & Bodenfors
Media agency: Vizeum
Volvo Trucks redefines the laws of physics with this epic footage of Jean-Claude Van Damme performing his famous split between two moving trucks.
Post-Cannes update: Won three Grand Prix, in Cyber, Film and Direct Lions categories. Also won four Gold, seven Silver and one Bronze Lion. 
5. Budweiser Superbowl XLVIII commercial – 'Puppy Love' 
Creative agency: Anomaly
Media agency: Busch Media Group
Budweiser pulls the emotional heartstrings with this adorable love story between a puppy and its unconventional best bud on the farm.
Post-Cannes update: Nil
6. Nike Football – Winner Stays 
Creative agency: Wieden + Kennedy
Media agency: Mindshare Portland
A string of football stars face off in this #RiskEverything game of winner stays, with appearances from Cristiano Ronaldo, Neymar Jr and Wayne Rooney, among others.
Post-Cannes update: Nil
7. Pantene – 'Labels Against Women / #ShineStrong'
Creative agency: BBDO Guerrero Ortega
Media agency: Mediacom Philippines
Pantene challenges women to stand up to unequal stereotypes by highlighting a string of messages placed in daily life.
Post-Cannes update: Won Bronze Cyber Lion
8. Google – 'Google Zeitgeist / Here's to 2013'
Creative agency: Adam & Eve DDB
Media agency: PHD & Essence
Google revisits the year that was 2013 with a showreel of major events discovered through the search engine.
Post-Cannes update: Nil
9. Save the Children – 'Most Shocking Second a Day Video'
Creative agency: Don't Panic
Save the Children helps the Syria crisis hit home for potential donors through this dramatic portrayal of following the life of a young western girl suffering through a war.
Post-Cannes update: Won Gold Cyber Lion
10. Cornetto – 'Keyfi Yolunda, Aski Sonunda'
Creative agency: Mofilm
Media agency: Mindshare
This captivating tale of two young lovers embodies the spirited innocence of the Cornetto brand.
Post-Cannes update: Won Silver Branded Content and Entertainment Lion