Diversity is the magic sauce says innovation pathfinder Annalie Killian
Director of human networks at New York innovation agency Sparks and Honey Annalie Killian has a legacy of pushing the boundaries in business. She shares some of her career highlights and discusses what's next for the innovation revolution with Amanda Taylor.
_
This article originally appeared The Identity Issue, our October/November issue of Marketing mag.
_

It is hard to read a business title or attend a conference these days without hearing the word 'disruption'. Yet while the term itself may have become hackneyed, the concept behind it has not. Disruptors, innovators, rule-breakers, strategic thinkers – call them what you will – have forced large businesses to think more like start-ups, becoming more agile, innovative and in tune with their customers.
Self-confessed 'maker and tinkerer' Annalie Killian was disrupting industries long before there was even a word for it and has not been afraid to ru e a few feathers for causes she believes in. Yet she prefers being called a pathfinder to a rule-breaker as "it is less threatening and achieves the same outcome".
Dodging bullets
Killian's first brush with innovation and marketing came when she took over the leadership of a social enterprise, the Zululand Chamber of Business Foundation in 1995. As CEO on loan from Billiton, she established the first Community Foundation and Community College in post-apartheid South Africa. The vision for these projects evolved out of opportunities she spotted while helping to coordinate South Africa's first democratic elections in 1994. "I was five months pregnant with my first child and literally dodging bombs and bullets, but the stakes were so high to help build a better future for everyone, I couldn't refuse," she says.
"I didn't have experience with elections or high-stakes conflict resolution, but seeing that project through to a globally-recognised miracle shaped how I was to think about leadership, possibility, opportunity and creativity forever."
Killian's vision for the Foundation was to improve education and economic empowerment in a very deprived region affected by political violence, poverty, and HIV and AIDS. She achieved this by forging a unique partnership between business, government and local community leaders.
"It was very complex, against the backdrop of South African politics – most of the ideas and projects we created were unprecedented and unproven, and trust among stakeholders was low," she says.
"I had to sell that vision to raise public and private funding and carefully build and manage the right stakeholder governance model. But we succeeded and we succeeded very big. Dare I say we put a ding in the universe? It created jobs, opportunities and hope for thousands of people."
Intrapreneurial spirit
It may seem incongruous, then, that Killian's next move was to join financial services behemoth AMP in 2000. At the time the business was very siloed and conservative and many compared it to working for the government. Yet AMP's new CIO (chief information officer) at the time, Lee Barnett, saw Killian's potential to inspire change and help champion the digital revolution to modernise the company.
In 2002, Barnett asked Killian to focus on building an innovation culture. In challenging times for the company and with very little available budget, Killian decided to concentrate on creating a scalable learning model: creating TED-like learning events within the company and democratising a learning opportunity for all employees, not just the cherry-picked high potentials on the corporate ladder. This strategy would later become a larger ecosystem and the intrapreneurial platform, the Amplify Festival.
To achieve economic sustainability and scale quickly and cheaply, Killian and her small team embraced the power of digital and freemium business models, as well as partnering with suppliers and other teams around AMP.
Killian's ideas were not always  warmly embraced by "the command and control school of leadership", but she is grateful for the support of Barnett. She made a significant investment in Killian's learning and development and was the initial backer of the Amplify Festival, which became a powerful catalyst for transformational change.
"Such is the path of innovators; to be a successful innovator you have to be resilient and able to withstand the abrasion that your actions and leadership will evoke. If there's no abrasion, you're probably not innovating," she says.
Over 10 years, Killian grew Amplify into one of the largest business learning and innovation platforms in Australia and New Zealand, and it has been widely emulated by others seeking to grow their innovation cultures, including Commonwealth Bank and National Australia Bank.
New York bound
Earlier this year, Killian made a bold move to reinvent herself and her career by transplanting herself to New York (her third international stint) to become director of Human Networks at Sparks and Honey – a start-up company in the Omnicom Group.
Sparks and Honey is at the cutting edge of marketing and innovation. Its Open Research methodology is grounded in the observation of human behaviour and real culture, analysed by highly trained and creative cultural anthropologists, data scientists and business strategists, who interpret live data streams, primary and secondary research reports 24/7 to codify new bursting behavioural signals and synthesise macro trends to consider the cultural context shaping what consumers think, feel and do. "So, if you like, it's the best of man and machine," Killian says.
Insights are translated into strategy and early-mover advantage for Fortune 500 clients, Ivy League universities, government, policy-makers, think tanks and Silicon Valley's 'unicorn' companies.
Client services range from ongoing cultural intelligence reporting to social content based on micro-signals, the creation of new products and services as macro trends emerge and the development of new business models for persistent mega trends.
Killian has been charged with building a 'human cloud' of creative intelligent agents globally, to crowdsource widely and wisely to avoid unconscious biases and complement the core team's work in cultural relevance.
"I am pretty stoked about the opportunity," she says. "Tapping into global networks to build an exponential capability around the core team in New York and LA is demanding my intuition and creative resourcefulness in the best kind of way – I love it."
Mood marketing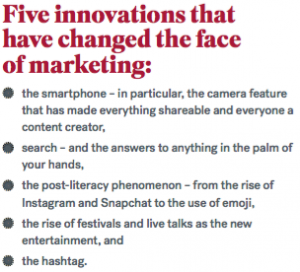 Given her impressive history in corporate innovation, what advice would Killian give to those just starting out in the field?
"Really, everything starts with understanding how to be relevant to a customer – and today's most innovative marketers understand that customer needs include moods.
"As people need or want less 'stuff', whether that be through saturation, the sharing economy or a shift in values, there is an opportunity to create a mood state – inspiration, happiness, calm, euphoria – or address or influence a mood state, and in that there is an opportunity to apply your talent as a marketer to make the world a better place.
"Two of my favourite recent Sparks and Honey research reports feature our work on 'Playsuasion' and 'Horror Comedy' – both fantastic examples of the cultural context around consumer behaviour."
Which brands are hitting the mark?
After working so closely with some of the world's most inno- vative thinkers in her role running the Amplify Festival, it may come as a surprise that Killian cites Qantas as her "favourite brand ever".
"They successfully blend the mood of safe and secure, which you want from your airline, with affordable luxury – especially through the Qantas Club offer," she says.
"Their staff never let my experience of the airline down, even in its darkest days, and I kept supporting them because of their sta . If I could fly Qantas everywhere, I would."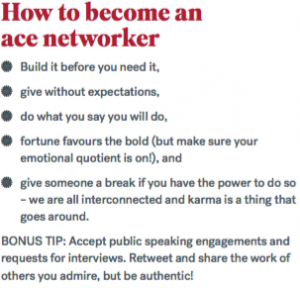 Other elements Killian loves about Qantas are its constant experimentation and innovation, as well as airline lounges that are the envy of the industry. However, she would like to see the brand introduce the pooling of points across members' friends and families.
"It would give wings to people's dreams and would be a win-win for the airline and for customers," she says.
Another company that makes her list of favourite brands is New York ride-sharing service VIA. The company, which operates in Manhattan between the Financial District and 125th Street, has been in business for four years. It offers ride-sharing using only luxury black cars with the best drivers – and at a flat fee of US$5 (or US$8 for two) is at a price-point similar to a bus and metro ticket.
"I haven't caught an Uber in six months. I love VIA's convenience and a little affordable luxury in my day so much that I decided I cannot rent an apartment outside of VIA's territory – especially when you're working late and don't want to wrestle with train service interruptions.
"If you're visiting New York, save yourself hundreds of dollars while being chauffeured like an A-list celebrity in quiet, air-conditioned comfort!" she says.
Innovation insights
So with technological changes and disruption accelerating at a rate of knots, what does Killian see as the biggest challenges and opportunities for today's society?
Ever-diminishing job prospects for humans who currently do repetitive tasks that can be automated by algorithms capable of pattern-recognition and high- level precision will, she says, further drive the need for entrepreneurship – an issue she describes on her blog, Catalysing Magic, as "a rollercoaster ride of always staying one step ahead of the robots". As such, she would love to see creativity and entrepreneurship taught in schools along with other core subjects.
"Large corporations are actually the destroyers of jobs in their pursuit of scalable efficiencies and shareholder returns. Yes, I worked in two of these in different industries for 25 years and in both cases the number of people employed declined dramatically over time.
"Small entrepreneurs contribute most to job creation, but in our culture and education system the training of a growth mindset and entrepreneurial culture starts too late.
"So I think, of all the institutions that need an innovation culture transformation the most urgently, it is the public education system – at every level, not just an elective subject or two at university. The future of humanity depends on people being able to make a living, and thinking entrepreneurially and creatively should start in kindy."
She also predicts an increasing role for people trained in the liberal arts such as cultural anthropologists, creative thinkers and philosophers in businesses, to counteract entrenched organisational bias or HIPPO (an acronym for the Highest Paid Person's Opinion) syndrome.
"If your organisation is still not employing such people as part of your customer insights, design and strategy teams, then you need to actively seek help from organisations like Sparks and Honey to close this gap," she says.
Finally, she would like to see true diversity within businesses, including opportunities for the new breed of older person, who thrives on work and has no desire to quietly retire to the country.
"At Sparks and Honey, the team's diversity is seen as a particular strategic strength and pride point and I totally agree with that. Our oldest advisory board member is 92 and the youngest is 15, and in-betweeners are a rainbow of awesome skills, ages, genders and cultures, drawing on all walks of life.
"The magic sauce is in the diversity and the combination of experiences, ages, genders, disciplines and cultures – not in individual heroes."
* * * * *
* * * * *