Dream jobs: the leap from CMO to CEO
Leading marketers share many of the traits demanded of the CEO, so what's stopping more CMOs from occupying the corner office? Tracey Porter investigates.
This article originally appeared in The Dream Issue, our October/November 2018 print edition of Marketing magazine.
Top tier marketers have always had a lot to offer when it comes to driving growth and implementing change. But as consumers' media habits continue to morph alongside their burgeoning digital footprints and explosion of data capture, companies are demanding the adoption of more customer-centric strategies.
They are looking for the types that require marketers' innate abstract reasoning, critical thinking and leadership skills as much as their ability to pull together strategy and commercial, economic, market and competitor data to develop product offering and pricing.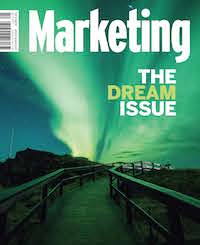 Recruitment firm Heidrick and Struggles' 2017 study 'Route to the Top' found almost one-in-five (18%) FTSE 100 CEOs are former marketers, with Tesco CEO Dave Lewis, KFC US president Kevin Hochman and EasyJet CEO Carolyn McCall among them.
The study, which explores the backgrounds of CEOs at the top 100 companies from the FTSE 100 in the UK, the Fortune 500 companies in the US, the DAX 30 and MDAX 50 in Germany, the SBF 120 in France and the 50 largest companies represented in the SMI Expanded in Switzerland, found marketing was the second most common route to the CEO position, behind only those with a background in finance (36%).
But it appears this isn't just an international phenomenon.
Locally, there is also a growing list of marketing leaders who have successfully made it to the top job, with former ANZ Bank and McDonald's CMO Mark Lollback now the CEO of GroupM Australasia and ex-Westpac CEO Gail Kelly, whose career (prior to her 2015 retirement) spanned marketing, strategy and HR before being named the first female CEO of a 'big four' bank, among the most high-profile.
Another more recent appointment is Nick Baker, the marketing director of Tourism Australia, who left to lead online experience retailer RedBalloon, before accepting a position as boss of Australian outdoor equipment and travelling marketplaces Outdoria and Go See Australia. After 20 years in the game, former Google exec and current KPMG customer, brand and marketing advisory partner Lisa Bora knows what good marketers can bring to the table.
Bora, whose experience encompasses leading marketing for organisations including News Corp, Voyages Hotels and Resorts, and Village Roadshow, argues marketers should be viewed as "the centre of customer insights, growth and profitability" for a business.
"I also feel [marketing] is a discipline that is often misunderstood at the C-suite and board level. It is often a role that has been narrowed into marcomms, when in fact sophisticated marketers have an influence on the entirety of a brand go-to-market plan across product development, pricing and customer experience."
Bora says marketing leaders are well-positioned to navigate companies through what she terms "the staggering amount of digital disruption" occurring, and to make the links between what customer data tells them, and where they should steer the business.
To reinforce this point, last year Bora co-authored a report titled 'CMOs in CEO roles: the case for a new perspective'. The report argued that CMOs are well-placed to understand the changes occurring in the digital economy and therefore boards looking at their company talent pool for CEO successors need to be more open to appointing lead marketers into these roles. Bora says that while CMOs have not traditionally been 'first in line' for a CEO position, the new demands placed on businesses by customers deem their insights immensely valuable for a major strategic role. She concedes, however, that there are some roadblocks, with marketers often viewed as "less relevant" for a CEO role than members from other leadership groups.
Bora cites a Harvard Business Review article: 'The trouble with CMOs', by Professor Kimberly A Whitler from the University of Virginia Darden School of Business and Neil Morgan from Indiana University, as a key example.
She says Whitler asserts there is often a mismatch between the expectations of a CEO, and the authority granted to the CMO. The CMO is an important role leading the company efforts to grow revenue and profit; however the traditional CMO scope is limited to, or perceived as, 'marketing communications' – events, communications, and advertising.
When the CMO is not in control or influencing product development and launches, pricing, channel strategy and ecommerce capability, they can be disempowered, and are also viewed as less relevant for a CEO role than some of their counterparts, she says.
"There is often an over-indexed focus on advertising in the marketer dialogue, when in fact one could argue the most powerful focus area for a marketer should be on CX (customer experience) and UX (user experience) – that is, marrying up the brand delivery to the brand promise."
This view is supported by former Stamford Hotels and Resorts corporate marketing manager Serena Varendorff, who currently balances roles as a lecturer in marketing, social entrepreneurship and strategy at Griffith University and Australian Catholic University with her position as practice lead for project management firm Molto Bene.
Varendorff, who in addition to holding an MBA in marketing services also holds a raft of other academic marketing qualifications, says in the past there has been a reluctance by organisations to put CMOs forward for CEO positions thanks to a lingering view that marketers are "champagne-swilling, double cheek-kissing fluff balls".
"Although this is no longer the case given the high competitiveness that exists in a truly global marketplace and the speed in which markets move these days, the image still remains and, as the wife of a Varendorff (chief financial officer), I have to say that those sneaky accountants don't mind perpetuating that myth when it suits them."
Bora says the fact that the CMO role is one of the shortest held in the C-suite has also contributed to what some boards believe is a CMO's inability to lead an organisation. "The process to appoint a CEO does include a focus on evidence of tenure, which can indirectly reflect the ability to manage a business and its people through change. With the average tenure of CMOs in their roles reported as 4.1 years (based on a 2017 Korn Ferry report) compared to CEOs at eight years, CFOs at 5.1 years and CROs (chief risk officers) at five years, this often makes the case for appointing a CMO to the top role more challenging."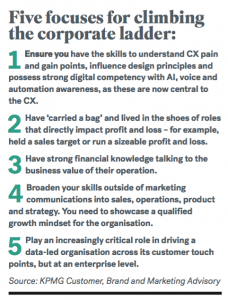 Your CEO Mentor founder Martin Moore agrees. Moore says he demonstrated career agility "well before it was trendy" with an assortment of finance and marketing roles leading to an appointment as marketing senior vice president at Queensland-based rail-based freight operator Aurizon.
He believes certain disciplines see themselves as "more likely to be CEO succession candidates" than others, with HR directors, CHROs (chief human resources officers), CMOs, CIOs (chief information officers) and other 'corporate' style functions less likely to be on the succession plan. The exception to this, he says, is CFOs. "CFOs generally know what drives value in their business and have a very broad view of all the parts that make up a business.
"Otherwise, it's generally heads of business units (operations) and revenue generation functions that are preferred candidates for the CEO office."
While KPMG's Bora believes gender has not played a part in why more CMOs are not making the move into leadership positions, Moore sees it somewhat differently. He says that, as a rash generalisation, finding senior female candidates for many executive roles can be difficult, as they sometimes face the discrimination earlier in their careers that flattens their career trajectory.
"By the time you get to C-level, it's hard to fabricate candidates for roles who lack comparable experience and track record, as those who have not faced discrimination, which is why search firms generally present lists that are male-dominated. The most obvious discrimination factor is gender, but it is more wide-ranging than this. As CEO of a major energy business, I realised that gender equality had to start at the lower levels of the organisation, so that we could grow our high-potential females through the business to prepare them for C-level roles and, hopefully, one day CEO."
Bora says irrespective of their reasoning, any boards holding the shortsighted view that marketers should not be taken seriously when it comes to filling CEO vacancies, are doing themselves a disservice. Good boards, she argues, recognise that marketing leaders are able to bring a host of unique qualities to the table that others may not, including both hard and soft skills.
Molto Bene's Varendorff says successful marketers have to be deeply connected with the political, financial and geo-demographic landscape more now than ever, so they are perfectly positioned to add value to, or drive wider, organisational strategy. Marketers are the central nervous system because they know their customer segments, what drives their brand preference, their loyalty, and their current and future needs to drive product development, she says.
For Bora, aside from helping to drive new partnerships and distribution models based on market trends and changing consumer behaviour, experienced marketers can also ensure a clarity across the business of the role of each channel that touches a customer, its profitability in driving customer acquisition but also a focus on its cost to serve, she says. "Marketers are critical to bringing insight into aligning the front, middle and back of house operations into a business. Ensuring an organisation's brand promise is delivered across all customer touch points consistently and with differentiation requires enterprise-level investments in technology, business process, a culture committed to customer service excellence and aligned KPIs."
Research from Stockholm's School of Economics has shown that high brand value companies derive more than 12.7% higher annual shareholder return than mid to low brand value companies, she says.
"Arming an organisation with data points for change is critical. The more a marketer can drive a north star for the organisation and communicate the best in class examples of business value, the more they can bring to the C-suite," Bora says.
Emma Green, who works alongside her father in leadership management as CEO of Your CEO Mentor – but was previously a client director at experiential marketing agency Banter – believes her background in lower level marketing positions has afforded her a unique insight as she has made her way from senior marketing roles into leadership positions.
This has allowed her to see all projects from the top down and, in turn, deliver results for the client.
"This perspective has helped me so much as CEO of my own business – it taught me to be able to look at every element objectively and see pretty quickly how everything is working (or not working) together, relative to the other pieces of the puzzle.
"Working agency side helped me learn some serious multitasking and stress management. Marketing agencies deal with some of the tightest (and sometimes unrealistic) timelines. You need to know how to prioritise and how to communicate with your team, the client and any external suppliers to make sure you deliver successfully without over-servicing the account. It's a constant juggling act, but it taught me invaluable communication skills, empathy, flexibility and the ability to keep my cool in a crisis," she says.
Her advice to any marketers wanting to be considered for leadership positions is to first ensure you are able to demonstrate that you can actively translate your marketing skills to growth and are willing to take charge of the change agenda.
"You need to understand all aspects of the business, even if they're not part of your remit. Don't just stay in your marketing silo. One of the greatest career killers is when leaders can't work at the right level – they get stuck in the 'doing' rather than influencing others to produce the required results (think micromanaging or 'dipping down' by doing work below their pay grade) and can't let go of their identity as a 'marketer' or an 'engineer' or a 'strategist'.
"To be a successful CEO or business leader, you need to be a professional leader, who understands finance, strategy, marketing, sales, IT, operations, HR etc. Expose yourself to as many different parts of the business as possible."
* * * * *
To purchase a copy of The Dream Issue or a subscription to Marketing, visit the online store »
* * * * *