Filling the Ecart
Online retail is the new social media of marketing conversations. Everyone wants in, many are, but how do you get the most from this channel? Matt Granfield reports.
"Online people do not make any money. The whole world was conned with online retailing… it's a con, a complete con. Sure, it has a future, but the problem is it costs a lot of money to do it properly. There's an awful lot trying, though. If you said to me in 50 years will people be successful, then yeah, but mostly not now." That was Gerry Harvey talking. Not in 1998, but in 2008; three short years ago, almost to the day. A lot has changed in that time. In fact, 2011 will be remembered as the year Gerry Harvey ate his words and ecommerce went mainstream in Australia. Myer, David Jones and Harvey Norman all went online in the last 12 months and research from Swinburne University released in September has found that Australians are the world's most frequent online shoppers, with 78 percent of Australians regularly shopping online.
In fact, a quarter of our population buys something online at least once a week and more than half buy something once a month. Facebook isn't the biggest thing on the internet in this country – shopping is.
"This doesn't mean that Australians are necessarily spending more money online than in retail shops, or that it is the main cause of the present retail downturn as some have suggested," said Scott Ewing, senior research fellow with the ARC Centre of Excellence for Creative Industries and Innovation. "But it does indicate more people are going online to buy things, more often.
"It's clearly an important trend in consumer behaviour, which we have seen growing over several years – and anyone in the retail business needs to bear it in mind."
Welcome then, to the ecommerce revolution. If you've only recently joined, have no fear. You're not far behind and there's plenty of time to catch up. After all, the biggest names in Australian retail have only jumped on board in the last 12 months. With the average value of internet purchases by Australians growing from $179 a month in 2007 to $206 in 2011, there's never been a better time than now to go online. Better still, people have been making mistakes with their shopping carts for well over a decade now and the hard learning has already been done for you (it's worth noting that the world's biggest online retailer, Amazon.com didn't even post its first profit until 2003, eight years after going into business).
So how do you avoid the pitfalls of online selling and get the best head start possible? Paul Downs, co-founder and director of ecommerce consultancy Hitworks said it's all down to the three most basic Ps in the marketing mix: product, price and promotion, and that the biggest mistake people could make is expecting to plug in an off-the-shelf shopping cart and turning over a million dollars in their first month.
"The biggest mistake people can make is to just buy a content management system and a shopping cart which doesn't have any in-built promotion engine which allows them to control things like free shipping, two for the price of one, buy two and get 20 percent off – that sort of thing," he said. "These sorts of promotions don't necessarily come out of the box with a content management system. People get setup with their out-of- the-box solution, realise they need all these things to be able to compete, and then can't do it so they end up having to go back to a web developer to get that built. That can cost $5000 or $10,000 and that's really hard to justify from a return on investment perspective because you don't know how successful your campaign is going to be. A lot of smaller retailers get stuck at that point and they don't move forward so they get stuck in a rut and can't compete."
It's the same rut Gerry Harvey so famously alluded to three years ago. Yes, getting online is easy to begin with, but doing it well is a whole different ball game.
Eddie Machaalani and Mitch Harper know the rut well. As founders of one of Australia's most successful shopping cart platforms, BigCommerce, they power almost 20,000 online stores. That's a lot of case studies. They attribute their success to how easy they've made it for people to sell online and integrate their store with the most popular marketing channels.
"We're growing so quickly because we've made it really easy to sell online with BigCommerce. You can setup your own online store in a few clicks but you can also setup shop on Facebook and mobile devices like iPhones and iPads. You can also push your products out for listing on eBay and shopping comparison sites, and rank in search engines like Google without being a 'techy'. We've built all the marketing tools in so all you have to do is point-and-click and you're 90 percent of the way there," Harper said. "And using analytics tools built into BigCommerce, marketers can see exactly where traffic is coming from. They can track, explore and analyse the effectiveness of Google AdWords, SEO, and digital advertisements in driving potential customers to a store."
Ask them what the most successful stores have in common though, other than smart use of online marketing channels, and Harper will tell you they all know exactly what their customers want and they all do the best job of providing it for them.
"There's no point trying to be all things to all people. The most successful online stores have a clear competitive advantage, and they don't waste time with fiddly backend systems," Harper said.
So how do you measure success then? Sales and profit are a good start, but Machaalani said there were other important factors to consider and learn from.
"Beyond the obvious metrics such as number of orders, revenue and profit, online retailers should break their metrics down into customer acquisition, retention and size of order. These are the three main areas online retailers should focus on and continue to improve on to grow their business and each requires a different skill set and process," he said. "For customer acquisition, the focus should be on number of visits per channel – that is, the number of people visiting the website from different marketing channels such as direct, search, PPC and email – and the bounce rate and conversion rate for each of your marketing channels.
"For retention, retailers should be looking at repeat orders, average revenue per customer and most profitable customers. Finally for average order value our focus here is to continually increase the average size of the order using up-selling and cross-selling techniques, so this is a valuable metric to measure and improve on over time." Machaalani also said establishing trust was a hugely important factor in making a sale. "Online stores need to use safe payment methods to instil customers with trust. Shoppers feel safe when they have a variety of options, and can see testimonials and feedback from previous customers," he said.
"Including 'trust elements' such as a valid and highly visible phone number, online chat and using an SSL certificate also help increase trust and credibility. A well written and constantly updated blog or news section on your website also shows that there are real people running the business and adds a lot to credibility."
Merchants who want to sell more would also do well to heed recent research from the UK's Royal Mail service which found that more than 50 percent of ecommerce shoppers cited shipping as a reason for abandoning their shopping carts online. As long as traditional bricks and mortar retailers have a monopoly on instant gratification, their online counterparts will struggle to compete. It's a problem Fiona Pearse encountered a year ago when she wanted to buy a last minute wedding gift and the only place which stocked what she wanted was online.
"We were going to a wedding and left everything to the last minute. We hadn't bought the wedding gift and had left it to the last minute so we went online and found the item we wanted with a fairly well known retailer and they didn't do a same day delivery, which I was gobsmacked by," Pearse said.
Unlike your average consumer though, Pearse happened to own a courier company and decided to do something about it.
"I rang them and tried to get them to allow me to send one of our couriers to get it, but they couldn't understand why I wanted it straight away," she said. "And that's when I had an idea."
The result was 'Want It Now' – the only courier service in the world, Pearse claims, that offers a same-day delivery option that online retailers can offer customers across Sydney and Melbourne. The service is unique in that buyers can track their purchases by countdown online, from dispatch, and know exactly, to the minute, when their package will arrive on their doorstep, the same day they ordered it.
"If people know they can make a purchase online and have it in their hands that day, they're much more likely to buy," she said.
The Want It Now service costs around $25 from participating merchants for same-day delivery in Melbourne and Sydney and Pearse said they would be branching out into Brisbane in the first six months of 2012.
All that aside, while getting basics like payment methods and shipping options right might be an important factor in the selling process, Online Retail Industry Awards, judging panel chair, Steven Noble of Forrester Research, said retailers who wanted to lead the pack really needed to push the envelope of usability if they wanted to stand out.
"We're entering an era in which it's not enough for a website to be simply usable. It's not enough to just get the job done. The new benchmark is absolute customer delight — websites that are a complete pleasure to use," Noble said.
Which is all well and good, but what if you don't have the budget of Gerry Harvey or Coles Myer with which to create a mind blowing ecommerce experience? Is it possible to build a brilliant online store on a budget?
Actually, yes, said Downs. In fact, the biggest and best online stores in the country probably cost an awful lot less than you might think and some of the best shopping cart solutions are actually the cheapest. BigCommerce, for example, starts at only $24.95 a month and there are dozens, if not hundreds of free solutions like osCommerce and Magento, which leave much more expensive systems for dead.
And then, of course, there's Facebook. Not content to remain merely a place for friends, the world's biggest social network has started giving its 750 million users the opportunity to use a virtual currency called Facebook Credits to pay for virtual goods on the Facebook platform. It also allows those who set up pages on Facebook to direct users to a website where they can make purchases. Users can purchase Facebook Credits using their credit card, PayPal, a mobile phone and a number of other alternative payment methods. The jury is still out on whether or not Facebook will become the place to do business in future, but regardless of whether Facebook credits start becoming the new world currency or not, BigCommerce founder Mitch Harper said the sheer number of users on Facebook meant it was a very serious place to do business.
"Facebook is going to become an increasingly significant avenue for online retail transactions. An online retailer can no longer build a website and hope customers will find it. They need to be everywhere," he said.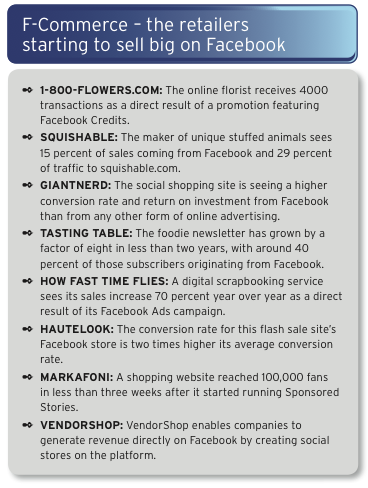 "Your products need to be everywhere – not just at a traditional website. Of the complementary sales avenues, nothing comes close to Facebook in significance. With over 750 million potential customers, there is no better marketing tool in 2011. Early adopters of our SocialShop 2 app are finding their customers very willing and excited about being able to make purchases within Facebook."
What does the future hold then, for online shopping in Australia? One might do well to ask Assistant Treasurer and Minister for financial services and superannuation, Bill Shorten. "Some retailers have not gone online because they do not understand the benefits and are concerned about the cost of set up and maintenance of an online sales presence," he said in a recent press conference about the Federal Government's Productivity Commission draft report into the future of the retail industry.
"But the retail sector itself needs to adapt and change. It is no longer good enough for bricks and mortar department stores to say 'here we are – you the customer come to us' … Online retailing is here to stay. It is something every Australian consumer and every retailer is going to have to come to grips with, and sooner rather than later."