Online advertising up 20%, hits new record
In its quarterly report released today, the Interactive Advertising Bureau (IAB) has announced an increase of 20% in Australian online advertising spend year-on-year to reach $688 million for the third quarter 2011.
The 'Online Advertising Expenditure Report' released by the trade body with data compiled by PricewaterhouseCoopers puts roughly half of online spend in search and directory advertising (52.7%) and a quarter in classified advertising (23.4%).
The remaining quarter (23.9%) was accounted for by general display advertising, including email and video advertising which both recorded significant growth year-on-year (38% and 43% respectively).
2011 is the ninth consecutive year to record third quarter growth since the IAB began measurements in 2002, with the $668 million posted last quarter therefore setting a new record.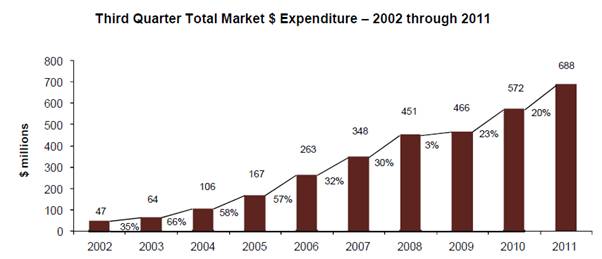 The graph below shows a category breakdown of the just-completed quarter compared to the previous quarter and the comparable one last year. Most notable is the leadership of the automotive industry after the finance industry's fall from its dominant position a year ago.