P&O Cruises welcomes aboard Great Barrier Beer for reef conservation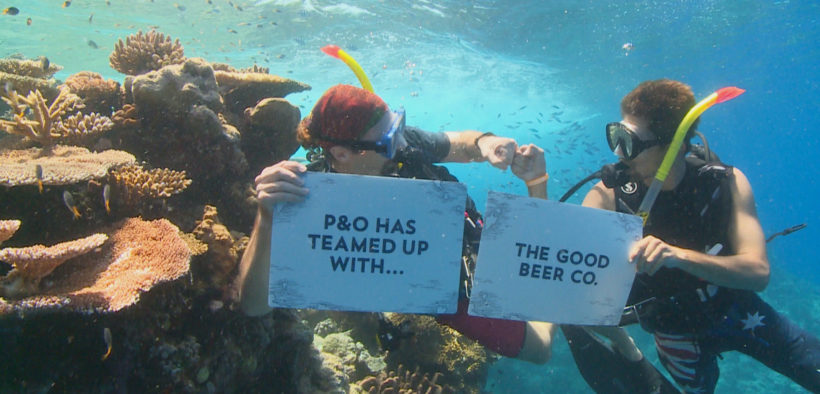 P&O is welcoming aboard a new beer with a conservationist purpose so cruise guests can 'have one for the Reef'.
Australian cruise line P&O has become the first national partner for The Good Beer Co Great Barrier Beer, a beer which supports the conservation of the Great Barrier Reef by donating half its profits to the Australian Marine and Conservation society.
The mid-strength pale ale is now on sale across P&O's five ships, which will invite guests to 'have one for the Reef' during their cruise. 
"P&O Cruises hasn't just ordered beer from us, it's got behind the concept of Great Barrier Beer and a good beer that gives back wholeheartedly," says James Grugeon, Good Beer Co.
"That's been transformative for us as a start-up and Australia's first social enterprise beer company," he says.
Australian Marine Conservation Society director Darren Kindleysides says, "The Great Barrier Reef needs our help now more than ever. We hope that everyone who likes a beer will help protect the Reef by supporting Great Barrier Beer. It is great to see P&O Cruises getting on board by stocking this good beer that does good."
Great Barrier Beer is the first of five planned cause-related beers by Great Barrier Beer and partners including the Bargara Brewing Company.
This program comes shortly after the launch of a new beer range by the all-female Sparkke Change Beverage Company, featuring packaging with thought-provoking messages on consent, gender equality, asylum seeker issues and indigenous affairs.
---
RECOMMENDED READING
The Marketer's Guide to Social Enterprise
Learn about the growing social trend of responsible consumption, how social enterprises and established brands are partnering for shared value amid and why many businesses are choosing to pursue the B Corp certification.
Hear the latest thinking and examples from a diverse range of experts from around the world, including ING Direct, B Lab Australia, Social Traders, Pollinate Energy, Patagonia and Pamela Hartigan of the Skoll Centre at the University of Oxford.
Foreword by Tom Quinn, executive director, Future Business Council.
Buy now for $49.95 or upgrade to Pro Membership for full access to our premium resource library.