Iconic Australian brands: Taking something disposable and making it collectable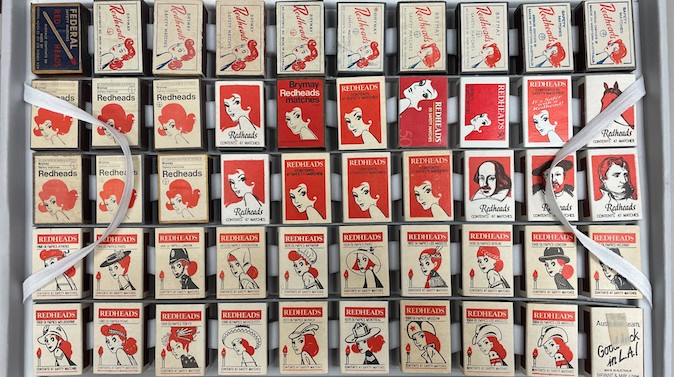 The State Library Victoria recently released a video unveiling its collection of Redheads matchboxes dating back to 1940. While designs and hairstyles evolved over the years, a well-crafted brand managed to stay true. So what can marketers take from this historical lesson in branding?
The collection – which includes hundreds of objects including the matchboxes – shows that the product has undergone plenty of redesigns and that the titular character 'Miss Redhead' has enjoyed many new hairstyles to match. 
Many collectable and highly marketable sets have been created and continue to be created, including boxes featuring country flags, native flowers, Olympic sports, metric measurements and even Australian road trips and tourism ideas. A cursory search online shows that State Library Victoria is not the only collector of these iconic matchboxes.  In fact, it can be argued that strong branding cleverly transformed a disposable household item into a highly collectable one, with some boasting collections of more than 1 million items.
A bit of history
Bryant and May is the company behind Redheads. It was considered Australia's first match factory operating in Richmond, Victoria, since 1909. The infamous logo was first introduced in 1946 and first used on matchbox packaging in 1947.
Redheads have a rich manufacturing history beyond being an iconic and instantly recognisable brand. State Library Victoria senior librarian Bridie Flynn says this simple but effective product has a strong connection to people's history and livelihoods, with Bryant and May employing generations of Victorians.
"The objects tell the story of manufacturing, design and domestic life in Australia, and the photographs and manuscripts bring to life the fascinating operations and people of the factory," says Flynn.
With many iconic styles throughout the decades, Flynn kindly outlined the journey the famous insignia has taken, from popular trends to a more classic approach:
1947 design, the arrival of Miss Redhead number one. She appears with the quintessential 1940s rolls, a hairstyle popularised by the film stars of the day.

1958 design, Miss Redhead number two. Updated to a flipped bob hairstyle. This was the signature hairstyle of Jackie Kennedy and copied around the world. It  continued to be popular throughout the 1960s, so it stuck around. Not a great deviation from the previous box, just a new hairdo.

1971 design, Miss Redhead number three. An updated version of the previous hairstyle. But the box now oriented from landscape to portrait, so she takes up more room on the box, and the branding text has receded. The redhead hairstyle is exaggerated, more stylised, perhaps to imitate the flickering of flames. 

1975 design, Miss Redhead remains but the connection to hairstyle trends is removed, with the flooding of the red background for a timeless design that has continued since. The red colour becomes the most prominent part of the design, instantly recognisable on shelves.
You can read Redheads history and milestones here. 
Lessons in creative design and storytelling
Marketers can certainly learn lessons from iconic Australian brands of the past. A great brand should be iconic beyond the logo. It should use storytelling and creative design to truly engage with consumers.
Harry Reed, a senior designer at creative branding agency Hunter says that when creative design and storytelling are combined in an effective way, a brand can truly elevate its presence. The Redheads collection is a good example of transforming how a customer perceives a product with branding.
"Instead of being perceived as a domestic product, they become something that people really want, and want to collect. This shift or transformation can be attributed to how a brand both engages with their audience and connect with them on a deeper, human level," says Reed.
"When each and every moment of brand interaction is considered and crafted – no matter how small – the brands' ability to surprise, delight and reward their audience inevitably drives loyalty and long-term recognition. In the case of Redheads, they've remained interesting and engaging to their audience for more than 70 years. They've literally (and figuratively) been lighting their customers' fire for nearly a century."
Changing with the times
Being able to remain relevant is a challenge for most brands at some point. When viewing the collection, Reed says that Redheads was willing to adapt with the times and within popular culture, while still firmly understanding the world its product lives in.
"It is this relevance that has meant the brand could transform from a relatively mundane and uninteresting product into an experience and something that would make people smile," he adds. 
"Redheads as a brand have made themselves agents of change – constantly innovating and creating iterations of their own image in the world in order to connect to their customers wants, needs and desires."