Why Kellogg's is opening a cereal cafe in Sydney this week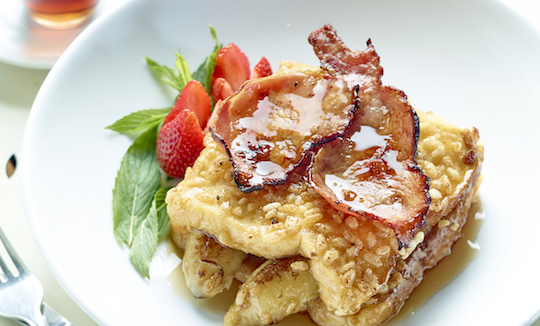 A Kellogg's pop-up cafe opens today in Sydney as part of the brand's new 'Open for Breakfast' transparency campaign.
A new website, OpenForBreakfast.com.au, invites customers to ask any question they may have about Kellogg's cereals. Questions so far most commonly relate to nutrition, source origins of cereal ingredients, sugar content and special dietary requirements.
The questions – and answers provided by production, innovation sustainability and nutrition experts in the Kellogg's team – form the content of the website.
According to Kellogg's communications director Rebecca Boustead, the decision to launch the site was made in response to the growing trend of consumers wanting to know the information about what goes into their food, where it comes from and the people behind it. "We get around 20,000 calls per year," she tells Marketing.
Tying the campaign into the recently launched Kellogg's 'Amazing Creations' masterbrand campaign, the 'Open for Breakfast' website, "is all the Kellogg's brand, who we are, and the foods that are underneath that," she says.
The platform aims to provide transparency in regards to some of Kellogg's less healthy products, in order to open up conversation and build trust with consumers.
"The main purpose of this platform is to continue to build trust in our master brand and continue to build brand equity. We haven't shied away from questions with regards to sugar content in our food," says Boustead. "This platform is very transparent and we will answer the hard questions."
Adding questions to the conversation as a guest on the campaign is TV chef Justine Schofield, who will answer some of her own biggest questions in videos about Kellogg's products, the first of which is 'What makes a balanced breakfast?'
RELATED: Kellogg's launches 'Amazing Creations' masterbrand campaign »
The pop-up cafe in Sydney, Boustead tells us, ties in with the recently-launched 'Amazing Creations' campaign. The masterbrand campaign is about getting interest back into cereals by, "Letting people know they can be a standalone food but can also be an ingredient to make amazing creations. It's helping to bring attention to this. People have traditionally thought, 'I put it in a bowl and have it with milk."
The campaign will introduce the use of breakfast cereals for ingredients in breakfast, lunch and dinner, as opposed to a stand-alone breakfast dish, in order to increase the potential usage occasions for Kellogg's products. For example, the Rice Bubble-crusted French Toast picture above.
Other menu items include Crunchy Nut and Nutri-Grain cereal milk thickshakes, gluten-free breakfast salad with fresh kale, spinach, crispy green apple, Gluten Free Special K and poached eggs and Corn Flakes-crumbed chicken burger with homemade chilli mayo, ripe tomato and lettuce on a brioche bun.