Luxurious, but functional – Longines brand profile
This feature first appeared in the September 2011 issue of Marketing magazine.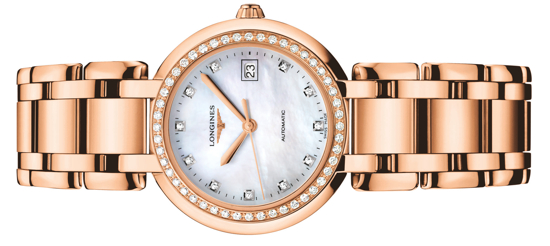 'Outside of a dog, a watch is man's best friend' – so the beginning of comedian Groucho Marx's famous line goes. Belle Charlene Kwan looks into how Longines markets itself as every sportsman and Hollywood starlet's best friend, and how the brand is tackling the modest Aussie consumer.
Ask a stranger for the time these days and he's more likely to whip out a mobile phone than pull up his shirtsleeves. In an age of swank smartphones where we're all so glued to our mobiles that they've become dictionary, map, rolodex, camera, mirror, diary, computer, flashlight and… bedside companion, the function of the traditional timepiece would appear, logically, to be becoming obsolete. Where'd all the romance go?
There is evidence to the contrary; hope. With a new starlet on board, and a new store  on Sydney's Pitt Street, Longines appears to be thriving, and the novelty of a wrist watch still prevails..
The luxury Swiss watch label, while not quite a household name in Australia, commands immense respect as a prestige brand in China and Europe. With a rich history in partnering with sporting events, it seems only fitting that the brand looks to build a stronger presence in Australia, where sport  is often alluded to as national religion – and once bridged them.
I cannot boast of being much of a watch aficionado. My exposure to luxury timepieces is limited to staring wide-eyed at my mother's jewellery chest, where magnificent diamonds sparkle alongside dainty clock hands that tick silently. They were intricate pieces, like jewelled bracelets, only functional – at least that was the reason my mother gave each time she eyed a new design. And coincidentally,, her Longines pieces took centre place in her collection.
Of course things are different in Asia; designer watches hold a status as high as a Tiffany's bracelet.  Amelia Michael, general manager of Longines Australia, believes Australian consumers tastes are maturing similarly, acquiring a finer taste for foods and fashion, and becoming admirers of luxury timepieces.
"Australian consumers are evolving, and becoming incredibly sophisticated. They are becoming more educated about Swiss watches as well, and I believe this is happening across a number of categories countrywide, from fine wines and cheeses through to watches, jewellery and even spectacles."
In recognising this trend Longines has demonstrated its commitment to the growing market, becaming a sponsor of the Melbourne Cup, following a nine-year partnership. The partnership aligns well with the brand's positioning:  'Elegance is an attitude'.
Given this positioning, it's celebrity endorsements are carefully and internationally vetted, and have been for the last century. The most current face is leading lady Kate Winslet,  joining the current cast of stars including Bollywood actress and former Miss World Aishwarya Rai Bachchan and Taiwanese model and actress Chi Ling Lin.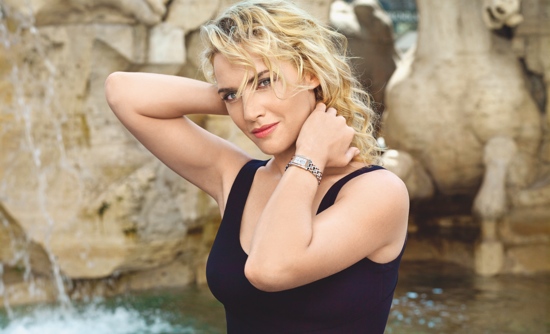 Winding back the clock
Longines may not draw the giddy gasps of adoration of Rolex or Cartier. It's a crowded market, it's own parent company – Swatch – owns 19 brands, 10 distributed to Australia,  Swatch brands like Tissot, Omega and Tiffany & Co. might sound more familiar. Despite this, Longines is advantaged through one of its strongest brand assets: it's logo. The winged hourglass is widely recognised, and while not all might know its name, most of us have certainly seen this emblem . In fact, Longines claims its name and emblem to be the oldest watch trademark in the world.
Sold in over 130 countries, Longines has come a long way from its traditional factory in St Imier, Switzerland. According to Juan Carlos Capelli, global head of marketing, the brand has gained a priceless reputation of delivering precision and elegance since 1832. History isn't the only story the brand tells however. It has also contributed much to development in the sporting world. "Over the years, Longines has timed the performance of many of the greatest exploits of generations of champions, underlining its legitimacy in sports timekeeping," says Capelli. Longines' involvement with sport dates back to events like the Swiss Federal Gymnastics meeting in 1912 to the modern day Prix de Diane Longines in France.
Longines takes credit for removing human error from the sport's time-keeping by introducing the first timing mechanism to automatically trigger by an electric wire. The brand was also responsible for creating the first mechanism to link timing with a photo finish in 1952 and the first system to combine timing with a moving image nine years later. Closer to home, records dug up by Longines' headquarters in Switzerland found the first shipment to Australia to be dated 19 September 1891, to Vincent Nesbit of Perth. The Swiss Corporation for Microelectronics and Watchmaking Industries Ltd. (SMH Australia) was created in 1991 and officially brought Longines to our market. SMH has since been renamed to the name we all associate with timepieces – Swatch. Today, Longines is the official time keeper that has announced some of our nation's racing legends like Makybe Diva and last year's Americain at the Melbourne Cup.
Keeping up with the times
A new Australian milestone was set once again this year, as Sydney became home to the first Longines boutique in this country. Sitting amid the posh shops of Pitt Street, the Longines flagship store is the brand's first venture into moving beyond its wholesale distribution network.
"We felt that there was an opportunity gap within the Sydney market lace at this point in time," says Michael. "We also believed that a store will help set the benchmark for how we see the brand as it should and can be merchandised, and how it is being displayed in other markets around the world."
Instead of establishing a chain of stores, Michael insists that Sydney will be the only shopfront while the label continues to maintain a tight relationship with its retailers.
"There is no major change in our distribution strategy," says Michael, "the brand is using the flagship boutique as branding asset, to ensure that we have a global standard of presence."
One would question then, with the bulk of its business depending on watch retailers that house a wide collection of competing brands, how does Longines ensure it gets a fair share of voice?
"We certainly aren't alone in the high-range watch segment, but we strive to give our products a peculiar character, the aesthetic refinement we all know as 'elegance'. Be it glamourous ladies' watches, traditional designs or sports-spirited models, there's always something about a Longines that embodies timeless elegance," says Capelli.
But don't all luxury watch brands try to sell this same ideal of elegance? How does a retail assistant know whether to recommend a Jaeger over a Rolex, or a Longines over a Bulgari?
"This is one of the most challenge aspects of any brand," confesses Michael. "It boils down to maintaining a consistent communication message across all consumer touch points, from catalogues to display materials to set product ranges. This helps ensure that all the elements that retail staff are exposed to are consistent.
"We provide all the display materials for stores, and a new display is rolled out every two-to-three years. This is tied in with our visuals appearing in advertising across all media, from magazines to outdoor. We currently have Kate Winslet as our focus, and this is uniform throughout our whole marketing platform."
Michael also prides the Longines team on being some of the best product trainers in the industry. "Our account managers work really closely with all of the stores. They are in the shops all the time, but we also do regular trainings, both one-on-one and group sessions."
"With over 400 models sold in Australia, it takes time and intensive training from our team to ensure the people our customers interact with are able to give out information accurately, and passionately."
Michael reveals that for a business that relies heavily on third-party selling, retail staff change is a constant challenge. "Some stores have a greater turnover than others, so it is a constant battle to keep the staff engaged, educated and motivated to sell Longines, particularly because we have such a wide range. There are a lot of products to know about.
"Its out of control who our retail partners hire or let go, but each time there is a change, we're in there making sure everyone on the floor is kept up to date with what they are selling."
It would undoubtedly be much more cost-effective, and plain easier, to pass out a brand manual to the newbies?
"Its not enough to only know the different functions or features of a particular model, but more importantly, the retail staff need to be able to identify the right pieces for the right customers, matching lifestyle, personality or occasion. We have a different watch for different occasion, and its important to point out to customers why one is more suitable compared to another.
"For example, we have classic pieces and rich heritage pieces that are made based on our archive designs. And then we have the sports collection, which many of our male customers prefer because its one of the thinnest dress watches in the market and sits under a business shirt nicely.
"So from a sports design to a traditional one to an exquisite, more dressed-up model, its essential that our customers feel they are talking to staff who not only educate them on the differences, but also recommend the right one. Purchasing a Longines can be a big purchase, you definitely want to get it right."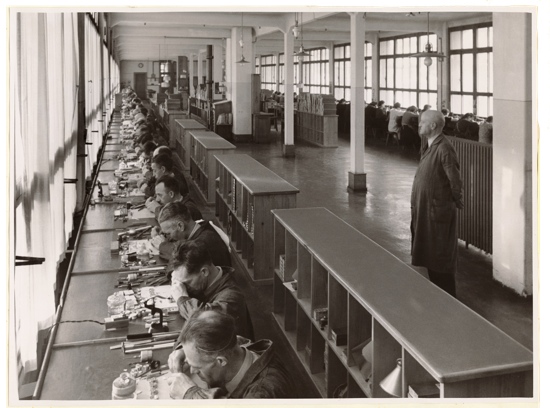 Presenting luxury
As you, the learned marketer are probably thinking, before customers can even come in contact with retail staff, how does the brand drive them to the stores? Splurging several months' salary simply to tell the time can't possibly be a daily, habitual thought, no matter how much of a shopaholic one might be. Here, Longines has enlisted the help of famous faces to create intrigue, to grab attention, and to showcase their finely crafted pieces.
Rather than simply following in the footsteps of other luxury watch brands, Capelli says that endorsement has been deeply entrenched in the company's history, dating back to the earlier part of the twentieth century. "We recently came across some of our old Chinese advertising spreads from the 1920s featuring local personalities," muses Capelli.
What about the process of choosing the faces of Longines?  Is it just a matter of selecting the most popular, or most loved? "It's about matching the ambassador's values with the ones that define our brand. Ambassadors embody our identity and image, so they have to live up to our now-established tagline and branding of elegance being an attitude.
"When we went looking for a male ambassador to promote our sports-oriented timepieces, we naturally scanned the sports we are active in for someone with a positive attitude and a definite character. Andre Agassi became an obvious choice because of his commitment to underprivileged children and the accomplishments that his foundation has made, including giving thousands of them an education and a chance for success in life. We felt that his personal attitude showed true elegance, and that the help he was offering to other was genuine, effective and does take up a large proportion of his time."
Recruiting a host of different personalities, Longines has kept a focus on sportsmen for their men's range, while their ladies' collections are led by famous faces from across the globe. Their latest spokesperson, Winslet, hails from London while Bachchan and Lin are two of the most recognised faces in India and Taiwan respectively.
"Our female ambassadors go beyond just being beautiful or famous. We look for ladies who are down to earth and timeless, and elegant in nature. Elegance, in our minds, isn't just being dressed in designer clothes. It's about the way they hold themselves, and with celebrities, a genuinely elegant personality can be hard to come by," says Michael.
Perhaps this explains why Bachchan has been the face of Longines for over a decade.
"It was a conscious decision to choose someone who isn't from Hollywood and who commands attention from a different market, and this goes for Chi Ling as well. With them, its not just about a sponsorship or an endorsement deal; they personally like the brand and are actively engaged with it."
While head office in Switzerland decides the selection of ambassadors, Michael hopes to see an Australian among the party one day. "It's hard to find an Australian that has a strong global presence, so certainly, if we can find someone we'd love to have him or her on. We have considered this before, and are still waiting for the right name to come up."
Why doesn't Longines attempt to break the tradition of watch brands using ambassadors? Michael argues that this has been a strategy that has worked well for the brand. "Ambassadors are a useful tool, particularly for Australian consumers who have limited knowledge of the category or the segment. The ambassadors become navigational tools and help the consumer say, even if just from a celebrity endorsement point of view that 'I wear this watch so this is how I want to be personified'. It helps the consumer decipher through the category and decide which brand and what pieces match the individual.
"But I also think that it's about maintaining a luxury image as well, ensuring that the brand is seen as premium and as prestigious. Using celebrity endorsers help maintain an aspirational element to the brand."
Seen at all the right places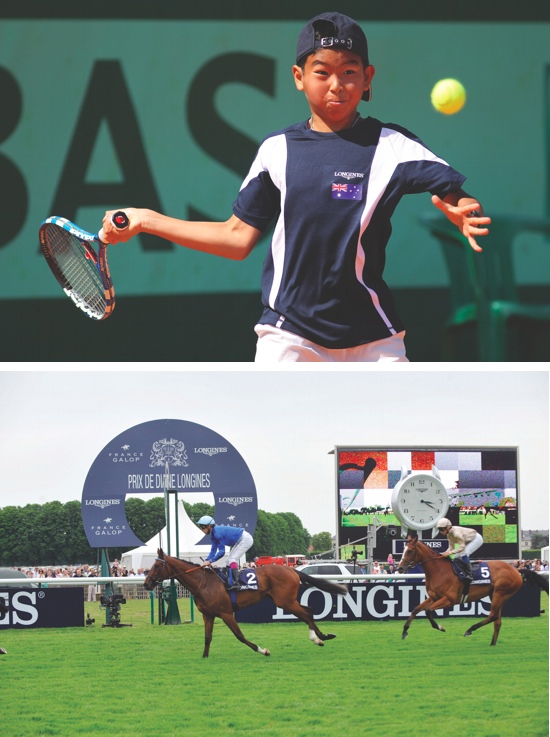 Sporting events are another area of marketing that Longines is deeply involved in. According to Capelli, Longines' involvement in event sponsorship began as early as 1912, with a strong interest in gymnastics and equestrian
"Longines first timed a gymnastics meet in 1912, marking this as an entire century that our brand has been an active partner in a sport that is so focused on elegance.
"In the sport of equestrian, we had related products from back in 1878, like a chronograph that featured a jockey and his horse, and this has developed to our current involvement in this area, from the Melbourne Cup Carnival and the Royal Ascot to the Kentucky Derby and the Prix de Diane Longines at Chantilly in France."
In tennis, Longines holds the prestigious title of Official Timekeeper of the Roland Garros Grand Slam tournament, and just this year, also fulfilled the dream of a young Australian, Chase Ferguson, who was sponsored by the brand to play in the Future Tennis Aces Tournament at Roland Garos This is a competition started by Longines and linked with the Andre Agassi Foundation for Education for some of the top young tennis players in the world. The finalists had the chance to play an exhibition game with some of their sporting idols.
Other community efforts by the brand include the Longines Prize for Elegance award, given to sporting personalities who are involved in aiding children.
Locally, aside from being the official timekeeper at the Melbourne Cup, Longines also plays in the local space by sponsoring the Women of Style Awards with InStyle magazine. "It's a great event that has allowed us to reach out to 300 of [our] key demographic in that female segment," said Michael.
"We make it a point to be actively involved in events on all three levels – local, regional and international so that we speak to consumers from across the board and maintain a strong presence with our community."
Selling luxury to the rugged
In a country where sport is heartily celebrated, Longines is certainly headed in the right direction in winning over the heart of Australians. "Aside from our involvement with sponsorship, we are doing significantly more in above the line marketing each year to increase our presence. Whether we are seen with an advertisement placed around the weekly Sydney markets, or in a media campaign executed on a national scale, there will definitely be more of Longines around our key events. Globally, the brand is growing significantly and Australia is definitely a contributor to this."
She points, however, to the importance of marketing in Australia for Australians, but also for a global audience. "Consumers are travelling a lot more these days, the world is getting smaller, everyone is online and on their smartphones and information no longer has boundaries. Our local consumers can jump online and see what campaigns are running in the US, Europe or China, so it's important to keep our global marketing messages consistent."
Michael gives us a little insight into how Longines has segmented the Australian market.
"It is absolutely not as simple as dividing Australians up demographically into A or B and earning X amount monthly. We take a more psychographic stand. With watches that range from $2000 to $10,000, it's a matter of looking at the life stage or occasions that might call for this purchase. Is it a consumer's first Swiss watch, or perhaps the most expensive Swiss watch he ever buys? With a watch for every occasion, we absolutely cannot pinpoint the Longines Australian target market into one definite group."
In an economy where frugality and saving seem to be the new chic and where consumer confidence, according to Roy Morgan, has fallen by over 10 percent since March this year, how willing are Australians to part such large amounts of money for a device that simply tells time?
Michael is confident about the brand's market position. "Locally, Longines is quite strong and we have a high level of brand awareness compared to other Swiss watch brands. Admittedly, I wouldn't say that Australia is the most sophisticated watch-buying market in the world but we are getting there."
Kirsty Muddle, head of strategy at CumminsRoss, is responsible for the branding strategy of Australian jewellery label Kailis who launched their new campaign in August and understands the difficulty in marketing luxury goods in the Australian market.
"Take a minute and think about a luxurious Australian brand… can you?"  Muddle asked me. "I cannot answer why there hasn't been any successful luxury brand from Australia, but I believe this has something to do with the Australian nature of being highly unpretentious. Don't get me wrong, Australians do own luxurious products, and being one of the most cash-rich countries in the world, we definitely have the ability to. If you look at all the economic data, Australians are the ones with money and we will purchase high-priced items. The only difference between us and consumers from other countries is that we will not be the first to acknowledge or flaunt it. While it is very much about being seen in the latest designer toys in other countries, it is simply not part of the Australian identity construction."
So why spend the money then?
"In Asia and in Europe, having a brand and standing for something is part of the cultural identity construct, whereas in Australia, it's about personal meritocracy," says Muddle. "For Australians, it is a badge of honour and a reward for earning and deserving something. It has nothing to do with being rich, but more about working hard and treating ourselves from it. Therefore, when you're marketing something expensive, Australians will buy it because they have earned it, not because they want to show that they are part of a higher society."
Michael explains that Longines' choice of ambassadors works well with the Australian mentality. " Kate has battled bad marriages and is still a brilliant mother. Ash is an incredibly successful actress even outside of her own home country and Chi Ling is very involved with charities in Taiwan. They all share a common fighting spirit and I believe that Australians really appreciate that."
Muddle, however, felt that Longines should reconsider media selection if the brand expects to create louder cut-through in the local market.
"Appearing in posh magazines isn't enough. The Australian audience knows no class, so therefore someone who reads Vogue or Harper's Bazaar also reads TV Week. Limiting your media presence to upmarket titles may work in other countries, but in Australia, it's about going where the eyeballs are."
Times a-changing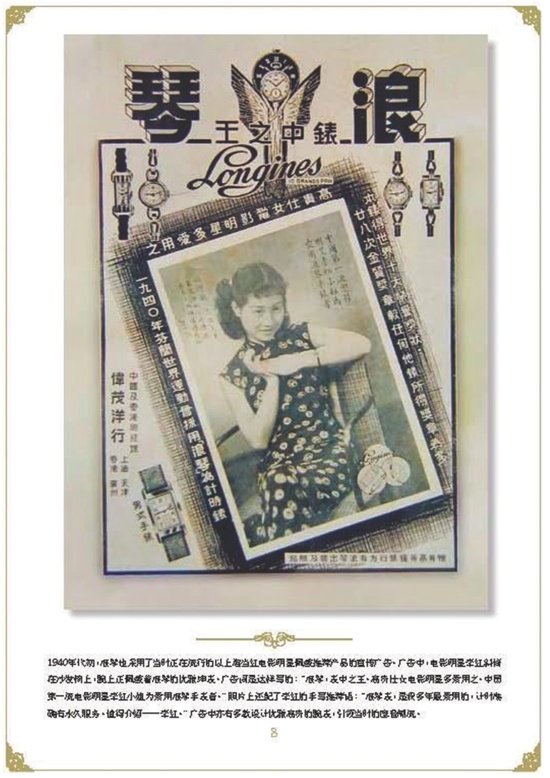 The Chinese and the European have long been collectors and admirers of luxurious time pieces, and while most Australians may still think twice before signing on the dotted line for a 18 carat gold Master Collection Retrograde that costs as much as a small Japanese car, Michaels is confident that it won't be long before we become a country of watch connoisseurs as well.
"Australia will never be the number one country for luxury timepieces – we are a small market and a fairly new market. However, I think that as Australians' tastes continue to evolve, along with a healthy amount of disposable income, I believe that the category of luxury watches will grow," she says.
With Omega being synonymous with the Bond franchise and Rolex seen as the epitome of success and sought after by every soon-to-be millionaire as the status of power, Longines may well be on its way to securing an equally strong connection with opulence here in Australia. "From a per capita basis, Australia is already performing very well," notes Michael.
"Australians are very big on celebrating memorable occasions, and we want to become associated with those special moments".
So readers, perhaps the next time a graduation, a birthday or an anniversary is in the cards, consider a Longines, instead of your standard jewellery pieces.
And to our male readers, just to be different, should a marriage proposal be on your mind, surprise your ladylove with a diamond-crusted Dolce Vita instead of a typical ring – you might be starting a new trend.
As Michael said to me at the end of our interview: "A ring may be linked with love and romance, but if women want shiny rings to show off to their girlfriends, why not go for a larger, statement piece? Why not go for a watch?"